As the dance world adapts to a new – and hopefully temporary – way of life, more and more dance studios, teachers and industry professionals are going online to stay connected with their communities. But what about the competitions and events? While postponing dates is certainly an option, how do these organizations keep the momentum going? Well, Artistic Dance Exchange (ADE) is going virtual.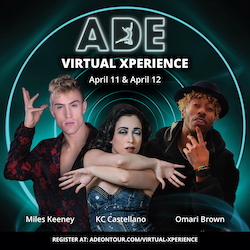 The ADE Virtual Xperience promises exclusive live master classes with some of the renowned ADE Faculty. This is a two-way event, with live interaction between the instructors and the dancers. And, perhaps most importantly, ADE will be donating a portion of the proceeds from the ADE Virtual Xperience to the NYC COVID-19 Relief Fund. This is about giving back to not only the arts community but also to those most affected by what is currently happening.
So, how can you get involved? Start by choosing your "Xperience Level". Level 1 dancers – beginner to intermediate – will take part on April 11 from 10am EST. On April 12, Level 2 dancers – intermediate to advanced – will have their turn. Dancers can even sign up for both levels, if they wish. Then, you simply need to register for your chosen level, and you'll be sent personal login details to use on the day.
ADE is taking steps to ensure that all participants have a high-quality experience. This means limiting the number of dancers in each session, and allowing one login per IP address. If you want to watch on multiple devices, you'll need more than one sign-up. Scholarships are also available; see more details here.
With three classes and a Q&A session with the faculty included on each day, this is as close to a live in-person dance event as we can get at the moment. For those of us missing dance, it's the perfect solution! ADE runs some of the industry's most sought-after live events and competitions, and we're sure the ADE Virtual Xperience will be just as in-demand. Grab your tickets while you can.
Find out more and register at www.artisticdanceexchange.com/virtual-xperience. You can also donate directly to the NYC COVID-19 Relief Fund by heading to www1.nyc.gov/site/fund/donate/donate.page.