From July 31-August 11, the Vail Dance Festival, a project of nonprofit Vail Valley Foundation, presents its 32nd season, featuring commissioned world premieres, new collaborations and partnerships, and debuts by acclaimed artists. Under the artistic direction of Damian Woetzel, the 2020 summer season continues in the Festival's tradition of creating innovative opportunities for artists and audiences, as it brings together more than 150 dancers, musicians, composers and choreographers for 11 performances, and numerous public events celebrating dance and music. Tickets to the 2020 Festival go on sale for the general public on March 3, and for Dance for $20.20 on June 20.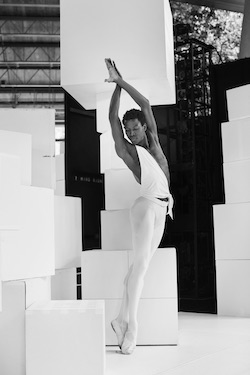 Highlights for 2020 include American Ballet Theatre's Calvin Royal III as Festival Artist-in-Residence, which will see him taking on new challenges as a dancer, including the principal role in a new work choreographed for him by Tiler Peck set to music by the Festival's Leonard Bernstein Composer-In-Residence Caroline Shaw. Since his first Festival appearances in 2015, Royalhas been an exemplar of how artists break new ground in Vail each year, making debuts over the past seasons in a series of iconic roles, including George Balanchine's Agon, Apollo and Stars and Stripes, Jerome Robbins' Afternoon of a Faun, and Christopher Wheeldon's This Bitter Earth, and was featured in new works by a range of choreographers, including Pam Tanowitz and Michelle Dorrance. In addition to performing during the Festival, Royal will teach master classes, make special appearances and participate in various community activities.
As Festival Director since 2007, Woetzel has emphasized the commissioning of new work from a wide range of creative voices in dance and music, and under his leadership, the Festival has presented over 80 premieres since 2007. This summer's season will feature nine commissioned world premieres, with choreography by Hope Boykin, Kim Brandstrup, Michelle Dorrance, Raja Feather Kelly, Lauren Lovette, Justin Peck, Tiler Peck, Bobbi Jene Smith and James Whiteside. In addition to formal premieres, the Festival fosters new collaborations between the diverse artists brought together in Vail's lab-like environment.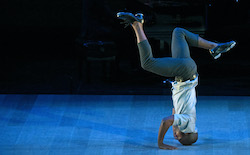 Each summer, an international cast is assembled, with newcomers added each year to a growing community of Dance Festival artists. This year, among the dancers appearing for the first time as individual artists are The Royal Ballet's Matthew Ball, Alonzo King's LINES' Adji Cissoko and Michael Montgomery, New York City Ballet's Mira Nadon, modern dancer/choreographer Bobbi Jene Smith, and tap dancer Byron Tittle, who will join returning artists including Alina Cojocaru, Herman Cornejo, Michelle Dorrance, Lil Buck, Joseph Gordon, Maria Kochetkova, Roman Mejia, Tiler Peck, Unity Phelan, Cory Stearns, Devon Teuscher and Melissa Toogood. Festival programming features these artists and many more in role debuts and new partnerships, fulfilling the mission of providing new opportunities for artists at all stages of their careers.
Extraordinary new collaborations of dance and music are an essential part of the Vail Dance Festival's work each year, and past seasons have featured a wide range of musical artists including Claire Chase, Philip Glass and Eddie Palmieri Jr. This coming summer, the Festival's Pulitzer Prize-winning Composer-In-Residence Caroline Shaw will again create music for several of the new dances, with featured musicians including Quartet-In-Residence Brooklyn Rider, indie singer Kate Davis, and new to the Festival this year, the acclaimed baritone Davóne Tines.
The Festival's UpClose series of rehearsal-style performances continues for 2020, this year focusing on taking audiences behind the scenes as the dancers prepare for new works and other Festival debut performances. In honor of the centennial of the passage of the 19th Amendment, this UpClose will include a special focus on women's artistic voices historically and in Vail, where they have been a fundamental and consistent part of the Festival's commissioned work and programming.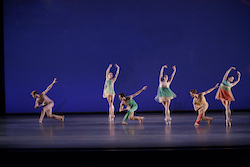 BalletX, Philadelphia's premiere contemporary ballet company, will return to Vail as Company-In-Residence with performances in all of the Festival's venues as well as in community settings, including Dancing in the Park and Dancing in the Streets. Among the company's Vail performances will be a world premiere choreographed by Hope Boykin, and the full-length production of Sunset, o639 Hours, a co-creation featuring choreography by BalletX co-founder Matthew Neenan and compositions by acclaimed New Zealand musician Rosie Langabeer, who also performs as part of this acclaimed collaborative ballet.
In addition to BalletX, the companies appearing at the Festival this year are New York City Ballet (NYCB) MOVES, and Dorrance Dance. Returning to Vail for the first time since 2012, NYCB MOVES will present ballets by George Balanchine, Jerome Robbins and Alexei Ratmansky. Dorrance Dance will offer a mixed bill of works, including Myelination, Three in One and Jungle Blues.
Beyond its theater-based performances, the Festival continues to expand its community engagement. The 2020 season will feature numerous free events, including the Dancing in the Park performance series and the interactive Dancing in the Streets program. Educational work will take place through master classes with visiting artists, and through the Celebrate the Beatdance and music education program, which is provided to local children at no cost. Lectures and locally recorded episodes of the popular podcast, Conversations on Dance, round out the expanding ways that Festival artists interact with the public beyond the stage.
For more information on the Vail Dance Festival and the 2020 season offerings, visit vaildance.org.