Colorado Ballet Principal Chandra Kuykendall, who has called Colorado Ballet and Colorado Ballet Academy home for 31 years, will take her final bow at the conclusion of the company's 2019/20 season.
Originally from Parker, Colorado, Kuykendall fell in love with ballet as a child and started taking lessons from a local teacher at the age of five. She progressed quickly, and at the age of eight, her teacher recommended she train in a more professional setting. She began training at Colorado Ballet Academy in 1988.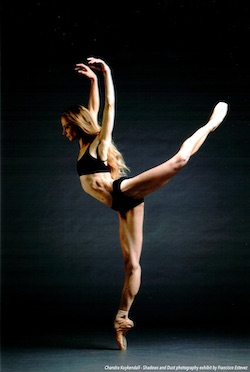 After nine years of training, she graduated from the Academy and immediately joined the professional company in 1997. Early in her career, she spent one season dancing in Germany with the Leipzig Ballet, after which she returned to Colorado Ballet, where she continued to develop and refine her talents over several seasons, dancing numerous principal roles. In recognition of her dancing, dedication and experience, Colorado Ballet promoted Kuykendall to principal dancer in 2007. She is currently in her 22nd season dancing professionally with the company.
When asked what has kept her going, Kuykendall replies, "The main thing that has kept me going for so many years is simply my love for this beautiful art form. I love that there is always something to work on and improve and that dance can never be perfected. I love the beauty that we create with our bodies, and I love the impact we have on the audience."
She also speaks to the physicality of ballet by sharing, "Over the years, I have found the importance of cross-training in strengthening in other ways than only ballet class. I have found that Pilates really helps my core and stabilization. When I need endurance, I find the bike and elliptical very beneficial."
Personally, she also acknowledges, "I could not have had the career I did without the love and support of my family." Her husband, Rob Kuykendall, whom she met at Colorado Ballet, their two children, Asher (age 10) and Levi (age one) and her parents have supported her in her unique career as a professional ballerina.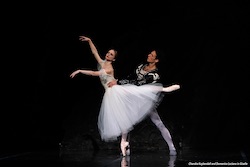 Growing up as part of and alongside the company provides Kuykendall a unique viewpoint about how the company and her place in it have changed over time. She recalls her very first performance with the Colorado Ballet was the The Nutcracker in December 1988. "I was a mouse in the battle scene," she says. "I remember my mom volunteering backstage and my sister being there, too. It was in the same theater that I will be dancing my final performance with the company. At the time, the theater was the Auditorium Theater, which is now the Ellie Caulkins Opera House post-renovation."
She adds, "The school and the company have changed in many ways, and in many ways they have not changed. For starters, the school and the company have grown tremendously by size and budget. The public is more aware of Colorado Ballet, and the audiences are much larger because of it. One thing that has not changed a lot is the repertoire. Colorado Ballet has always had a strong mix of classical and contemporary works in its repertoire."
Kuykendall will exit from the same stage she first entered as a mouse, but this time in the leading role of Crossover Girl in Twyla Tharp's In the Upper Room. "I've danced this role before," she explains, "and that last entrance is full of energy. I'm not sure how I will feel when I get into the wings, but I know my coworkers will be there to support me. My family will be in the audience supporting me as well."
Kuykendall continues, "Performing is why we are in this profession. When I perform, I transform and all the nerves go away. Then I get to go out on the stage and be in front of the audience sharing my passion. It is just simply the best feeling and definitely what I will miss most. Performing has been my life for so long that it's hard to let it go, but at the same time I feel like there's a whole other life waiting for me, and I'm so excited for what the future holds. For more than half my life, I have called myself a professional ballerina, but I am also so much more than that, and I'm so excited for all the new adventures and opportunities coming my way. I will miss the stage immensely when this season is over, but I feel so lucky to have this amazing career!"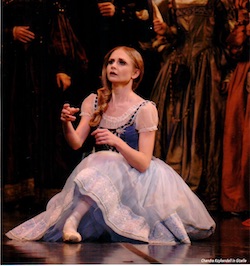 There was no single event signaling Kuykendall that the end of this season is the right time to retire. However, she does share, "At 41 years old and 23 years as a professional ballerina, I feel very fulfilled as an artist. I feel like the time is right to shift my focus to training the next generation and to spend more time with my husband and two boys. I am really excited to teach a lot more at Denver Academy of Ballet, the school my husband and I own. I do hope to continue performing with guestings here and there without the stress on my body that the full-time work demands. My primary goal for my first year following retirement is to slow down. I have pushed myself so hard mentally and physically for so many years, and I'm ready to release myself of some of those pressures. It is in my nature to be a hard worker, but I want to shift my focus and have some more down time. I am especially looking forward to more time with my boys and time to volunteer."
Kuykendall adds, "My proudest time at Colorado Ballet is right now. As a child and a young dancer growing up, I had so many dreams. I couldn't be luckier because I have exceeded all of those dreams. Thank you to all of my colleagues, coaches, teachers, friends, and a huge thank you to my family for always being there for me and supporting me throughout this demanding career. I love you all and can't wait to see what the next chapter has in store."
The remaining 2019/20 season productions for Colorado Ballet are Tour de Force (March 6-8), featuring Feast of the Gods, Celts and a world premiere by Julia Adam; and Ballet MasterWorks (April 3-12), featuring Theme and Variations, Petite Mort and In the Upper Room. For tickets and more information, visit www.coloradoballet.org.
By Emily Yewell Volin of Dance Informa.