Some collaborations seem destined. The cooperative work of George Balanchine and Igor Stravinsky is one iconic example. Their decades-long friendship proved to be one of the most prolific artistic pairings of the 20th century. And now, even in their earthly absence, their camaraderie is central to the first-ever collaboration of New World Symphony (NWS) and Miami City Ballet (MCB) being live-streamed as a Wallcast® event at New World Center on the 7,000-sq-ft eastern façade of the building at 7:30pm ET on Saturday, February 1.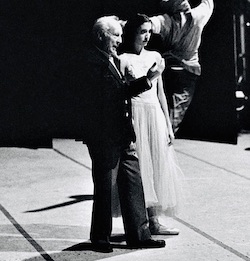 Curated by NWS Co-Founder and Artist Director Michael Tilson Thomas and MCB Artist Director Lourdes Lopez, who as young artists worked with Stravinsky and Balanchine respectively, the program includes Balanchine's Apollon musagéte; Balanchine's Stravinsky Violin Concerto, featuring violinist James Ehnes; and Stravinsky's Circus Polka: For a Young Elephant, originally choreographed for circus elephants and ballerinas by Balanchine on commission from Ringling Bros. Circus Polka is in its orchestral concert version, accompanied by immersive visuals by video artist Emily Eckstein.
Lopez shares, "It's interesting to think that, in terms of classical arts, Miami City Ballet and New World Symphony are considered relatively young organizations. Since our beginnings just over 30 years ago, we've been able to present, at the highest caliber, some of the most influential and iconic works of music and dance to the public, and I am extremely proud of our collective accomplishments. To have the world-renowned Miami City Ballet dancers perform live alongside the youthful and abundantly talented musicians of the New Word Symphony is a perfect union. A union more than 30 years in the making in which the audience will be able to share in and appreciate the astounding relationship between Stravinsky and Balanchine."
According to Lopez, the program's works were chosen "truly by chance. We [MCB] performed Stravinsky's Violin Concerto this season, which was on our first program, and we did Apollo the season before, so these were the perfect choices from my perspective because they were still fresh in our dancers' bodies. What I love about the program is that Apollo was Balanchine's first ballet and, like Serenade, continues to be a masterpiece and a work of such brilliant simplicity and modernity. So is Violin Concerto, which was choreographed so many years later."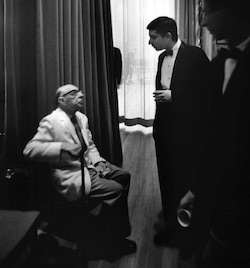 The collaboration of NWS and MCB, made possible by the generosity of the John S. and James L. Knight Foundation, is especially poignant for Tilson Thomas and Lopez because of their relationships with Stravinsky and Balanchine. Tilson Thomas had the privilege of working with the composer in a variety of settings — from rehearsals to recording sessions — and shares, "The fact that we are coming together to celebrate Stravinsky and Balanchine makes this occasion all the more special. I was very fortunate to have known and worked with Igor Stravinsky in Los Angeles, during the later years of his life."
Lopez joined New York City Ballet at the age of 16 at the invitation of Balanchine. He promoted her to soloist in 1981. Lopez was featured in countless leading roles in Balanchine's works, including Firebird, Serenade, Symphony in C, Agon and The Four Temperaments. She also danced and was coached by Balanchine in Stravinsky Violin Concerto and Apollo, two of the works in the upcoming program.
She adds, "Balanchine famously said, 'See the music, hear the dance,' and together, throughout their decades of collaboration, Stravinsky and Balanchine revolutionized how we see, hear and interpret dance." On a more personal note, Lopez shares, "I have so many memories of Mr. Balanchine. He was a teacher, choreographer, mentor, father, friend; he was so, so many things to so, so many people. He taught us how to dance, but he also taught us respect, humility, pride, grace and dedication. And the fulfillment of handing yourself over to something that is greater than you. He taught by example, and that is what I pass on. I don't expect any more than what I do. He passed away over 35 years ago, and dancers still talk about him as if he were alive."
This performance will be projected live on the 7,000-sq.-ft. eastern façade of the New World Symphony building for free to audiences in SoundScape Park and a live-stream will be available free to viewers around the world via Medici.tv and Facebook Live. For more information on New World Symphony and Miami City Ballet, visit www.nws.edu and www.miamicityballet.org.
By Emily Yewell Volin of Dance Informa.