As a dance parent, regardless of your own prior dance experience (or lack thereof), there are so many decisions to make for your young dancer. What studio should we attend? How many classes are enough but not too much? Should my child do any other activities besides dance? And with all the brands and styles out there, what shoes do we choose?
Here, Dance Informa turned to internationally recognized brand Eurotard Dancewear to help parents decide which shoes are right for their ballet, jazz or contemporary dancer as they progress.
The importance of the right fit
For the correct development of your young dancer – both in physical growth and in technical prowess – it is crucial for them to have a shoe that fits well and is appropriate for their style, age and level.
Laura Jenkins, shoe product manager at Eurotard Dancewear, compares it to Cinderella, who said, "A pair of shoes can change your life." "Your foundation is your feet, and for dancers, this foundation is vital to the success of their career and longevity," Jenkins adds. "Dancers' feet need proper support, with each type of dance shoe supporting the foot in a different way depending on the demands of the genre, as well as the skill level of the dancer."
For example, a young dancer taking her first ballet class shouldn't wear a split-sole canvas shoe because it doesn't provide the ideal amount of resistance on the arch. "By not developing the correct strength and dexterity early in a dancer's career, this can really impair him/her once they get to more advanced levels that require a higher degree of muscular strength and control," Jenkins says.
And parents should also realize that just as important as the shoe itself is the fit and design. Eurotard prides itself in shoes that are designed, tried and tested by dancers, so parents know they are buying high quality, expertly designed shoes that will support their dancers correctly. Even like a first pair of pointe shoes, Jenkins strongly recommends being professionally fitted for any type of dance shoe by your local dance retailer.
Ballet shoes: From baby ballerina to pre-professional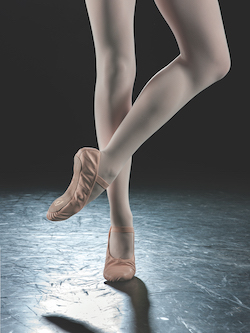 For beginning dancers, Jenkins says it's always best to start in a leather full-sole ballet shoe. "Having the full sole gives resistance to the dancer's pointing foot, thereby building the strength and dexterity in the arch and ankles," she notes. "A full grain leather shoe is best because it will adapt and mold to the growing foot."
For "baby ballerinas", Eurotard has two great options. The Tendu is a full-sole, full grain leather shoe with drawstrings, which Jenkins says are important for tiny dancers because it allows for a more secure, customized fit as they grow. The second option is the Passé, a full-sole ballet shoe without drawstrings, to alleviate some studio owners' concern of in-class distractions due to drawstrings. But the shoe still offers a secure fit with pre-attached criss-cross elastics that sit further back on the heel.
Intermediate to advanced dancers, once they've spent a couple years in a full-sole ballet shoe, may switch to a canvas and/or split-sole slipper. "At this point in the dancer's career, their feet are strong and conditioned to support their movement," says Jenkins. "The canvas material shows off their hard work by hugging the foot and really highlighting the beautiful shape of their arch and pointe. In addition to the aesthetic of a canvas shoe, it is more flexible than leather, which allows the dancer's foot to fully articulate."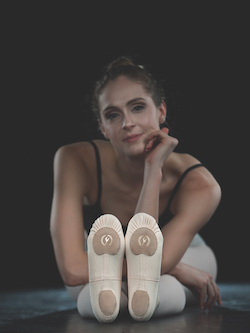 Eurotard's Assemblé Split Sole Canvas Ballet Shoe (available in both child and adult sizes) is a great choice for dancers with a few years of training under their belt. The shoe is made of multi-way stretch canvas for maximum hugging and flexibility, and the arch features a unique elastic casing, which keeps the shoe flush to the arch, both supporting the arch and enhancing the line of the foot. The Assemblé is drawstring-free and comes with pre-sewn criss-cross elastics. And those intermediate/advanced dancers who prefer a leather option may prefer the Coupé Split Sole Leather Ballet Shoe (also available in child and adult sizes), which has the same benefits of the Assemblé but with a full grain leather.
And how do you know if your dancer should wear canvas or leather ballet shoes? Usually, a dance studio will require one type of shoe depending on flooring, personal preference and even climate.
"Warmer studios or geographic regions would benefit more from a canvas shoe," Jenkins explains. "Canvas, by design, is more breathable, and the material glides easier in warmer/humid climates. Leather, just like skin, can get 'sticky' in warm, humid environments. For this reason, leather is a better option for cooler studios. Leather will keep the feet warm and provide a little more control against a slick, cool floor."
Jenkins adds that canvas reacts better to a Marley floor, while leather is better on wood flooring. When in doubt, ask your dancer's teacher or studio owner if they have a preference for shoe material.
Jazz shoes: From ball-change to fan kicks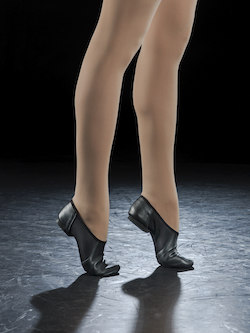 For jazz shoes, Eurotard is luckily a one-stop shop. The Axle, a full grain leather, slip-on jazz shoe, is recommended for all levels of jazz dancers, according to Jenkins. The shoe, which comes in black and tan, is popular because of the look, fit and ease of getting on and off the foot. It also features an arch insert.
"We purposefully do not use neoprene on our shoes!" Jenkins says. "Neoprene is designed to keep moisture in or out, which makes for a not-so-breathable environment for dancers' active feet. The Axle's stretch and flex arch insert is neoprene-free, meaning the dancer's foot can breathe and have full articulation without any feeling of discomfort or restriction."
Contemporary shoes: Finding the half-sole for your dancer
Contemporary dancers will most likely need a half-sole shoe. These shoes contain elastic straps that keep the shoe securely on the foot, while still allowing the dancer to feel the floor.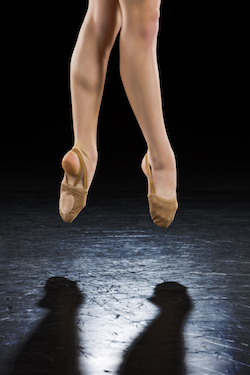 Eurotard offers the Hinge and Tilt Half Sole Contemporary Shoes. The Hinge is a full grain leather half-sole that is soft, flexible and durable. The Tilt is made with Eurotard's multi-way stretch canvas, making this shoe very light. The elastic straps are soft, and the pleating underneath the metatarsals is flattened and elongated to easily accommodate a wide variety of foot shapes and widths.
Top tip
When it comes to shoe fittings and finding what your dancer needs, never be afraid to ask for help.
"I always recommend that parents of all levels of dancers, but especially those of first-time or beginner students, visit a local dance retailer to be professionally fit," Jenkins suggests. "Dance retailers know exactly what sizes to recommend and know exactly how each style of shoe should fit. And often, they even know what the child's teacher/studio prefers! By going to a dance retailer for fittings, dance parents can take the guess work out of it."
For more information on Eurotard and the company's various shoe offerings, visit eurotard.com, or reach out to laura@eurotard.com directly.
By Laura Di Orio of Dance Informa.