Movement Headquarters Ballet Company, based in New York, is making its debut on February 16, at the Alvin Ailey Citigroup Theater. Artistic Director Barry Kerollis has focused the company's first year around the idea of "bringing ballet back to the forefront of concert dance in New York City". Dance Informa spoke with Kerollis to learn about how this #BringBalletBack rallying cry is not so much in opposition to what currently exists as much as a wake-up call to the potential of what could be.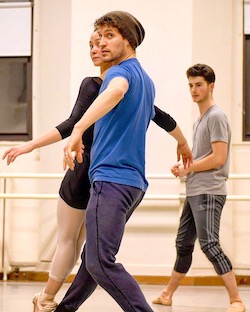 "Making a strong statement like #BringBalletBack has definitely stirred up conversation since we made it the motto of our company's launch," shares Kerollis. "In saying this, my intention was never to imply that ballet is dead or that there is no good work being presented. The major companies in our city are doing some fantastic work. But what I have noticed is relatively little growth in our ballet community outside major dance organizations. Many of the smaller companies that my peers are involved in have struggled to grow, both in budget and opportunity."
Kerollis himself is an award-winning choreographer and renowned dance educator offering a diverse background in ballet and concert-based contemporary dance. His professional performance credits include Pacific Northwest Ballet and Houston Ballet, as well as extensive choreographic accomplishments. Dance Magazine recognized him as "an innovator using unique media to connect with audiences" as a nod to his Pas de Chat: Talking Dance podcast. He has even developed a systemic curriculum to train classical ballet dancers in contemporary dance. In short, Kerollis is someone who sees a need in the dance word and tries to meet it.
"I have always been the type of person who enjoys getting involved in organizations beyond the title of dancer or educator," he shares. "Once I started working as a freelance artist, I developed skills as a writer and podcaster to share my experience and promote our art form. I also had to manage my career as I negotiated contracts and traveled around the country to perform. While never a straight line, I feel as if my entire dance career has inadvertently trained me for this moment. Having the opportunity to build a new ballet-based organization in New York City is a dream come true that allows me to put all of the skills I have spent the last 20 years cultivating into action."
The creation of Movement Headquarters Ballet Company is further rooted in Kerollis' knowledge that "outside of the now defunct Cedar Lake Contemporary Ballet, the most ballet-based company to grow into a renowned local organization has been Complexions Contemporary Ballet, which recently had its 25th anniversary. Essentially, no other local ballet company has risen to critical acclaim in a quarter of a century. This is a considerable stretch of time. I constantly ask myself if this is due to oversaturation, shifted interest to other forms of dance or a lack of audience support. But, as I have begun developing Movement Headquarters, I have felt an electric eagerness from the dance community, both dancers and audience members. Teaching on faculty at Broadway Dance Center has offered me this wonderful avenue to connect with dancers, dance enthusiasts and potential donors. I have been privileged to share my experience with this community, and as I have built Movement Headquarters, they have been overwhelmingly supportive. My network of donors currently extends from New York City, to as far away as California, Alaska and Japan. When it comes to funding from grants and foundations, I am still very much in a learning and making connections phase. I am actively seeking out community events, like Dance/NYC's recent Small-Budget Dancemaker conference, to learn about the local funding landscape. Also, Patch Schwadron from Actor's Fund/Career Transition for Dancers has provided very generous counsel to me over the years as I have transitioned from dancer to choreographer, educator and artistic director. Additionally, outside of dance, I have been pushing myself to show up at events that speak to me. I am actively seeking to connect with the LGBTQ+, Jewish and yoga communities throughout New York City. Building support for Movement Headquarters is not only a local effort. It has developed into an international push for support to build a global dance company."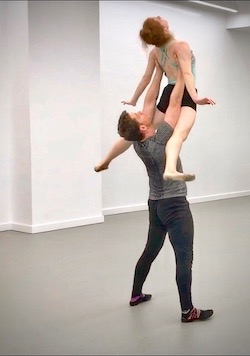 Movement Headquarters is also rooted in Kerollis' big dreams. One of the first, and most obvious, of those dreams would be to sell out the February 16th shows. "We decided to hold two performances (2pm and 7pm)," Kerollis says. "The house seats 275 people, which means we have 550 seats to fill. I feel I am taking a major risk by procuring a well-known theater in the heart of midtown Manhattan for our first show. But more than selling out the house, I would love to gain visibility for the local ballet community at large My hope is that other smaller ballet companies like Movement Headquarters will see our ambition and success, and it will pave a road that is easier for all of us to traverse."
This expressed desire is also central to the dialogue surrounding #BringBalletBack. Kerollis explains, "Since I first interacted as a performer in the local freelance scene in 2011, I have made a striking observation about the support for smaller ballet-based companies in our city. While there are vast opportunities here, including the Joyce's annual Ballet Festival, the fellowship programs at the Center for Ballet and the Arts at New York University, and Fall for Dance at City Center, it appears that these organizations tend to support artists and companies who already have major local credits or who are creating work outside of New York City. Obviously, there are always exceptions. But I can't remember the last time a local ballet-based organization without major New York company ties received an opportunity for visibility or support. Whether this is a reflection of the quality of work being developed or the vision of these organizations is not for me to decide. It is just important for me to take note and verbalize it for the public to digest."
Working in competition with that optimistic sentiment, though, is the persistent grit required by everyone involved to get a new company off the ground. Movement Headquarters bounces between rehearsal spaces at Mark Morris Dance Center in Brooklyn, and Gibney in the Financial District of Manhattan, with an "extra big shout out to Mark Morris Dance Center for the subsidized space program for non-profit and fiscally sponsored dance companies," Kerollis acknowledges. "I have been so lucky to have the most supportive dancers working with me. I probably wouldn't have gotten things off the ground without the push of two of my dancers, Ali Block and Shannon Maynor. After initially submitting my work for studio showings with these two ladies, other dancers began to follow their lead. I have felt a steady flow of new support growing from other local freelancers who are interested in my work and to whom our mission speaks."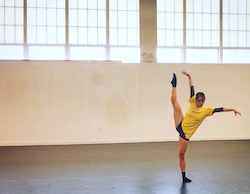 The value Kerollis places in casting freelance dancers, instead of those who have already made a name for themselves, is also paramount to the mission of Movement Headquarters. In focusing the conversation back on #BringBalletBack, Kerollis shares, "My biggest concern when it comes to local concert ballet is watching artists who are also contracted with major dance companies being given priority when it comes to certain freelance work. There are hundreds, if not thousands, of qualified dancers in this 'capitol of the dance world'. While I don't wholly believe work should be split up fairly, I do feel that it is important for qualified local artists to have a fighting chance at opportunities for artistic growth and the ability to survive financially. Of course, it is exciting to see your favorite dancers from major companies perform the work of other choreographers. But audience members often only come to these shows to see their favorite dancer. This doesn't create a sustainable audience. It is important for me to find dancers who aren't yet associated with major organizations because I want my audience to fall in love with my dancers. Dancers are the heart and soul of any company. I want audience members to want to follow their artistic growth. I want the audience to feel like they are part of our evolution. I want our audience to be part of our successes and to become excited as we evolve in the years to come."
Kerollis selected four works for the Company Debut program that will showcase his dancers and "because they offer audiences a glimpse of the range of work I hope to build as Movement Headquarters grows," he says. The first, Distinct Perceptions, mixes classical minimalism and electronic music and is a work Kerollis characterizes as "quintessentially representative of my voice as a choreographer and storyteller".
Kerollis continues, "Undecidedly Solo is a short, neo-classical pas de trois infused with change operation in which one of our onstage musicians designate which solos the women will perform in real-time. The Twiolins Collaboration is a world premiere with the German sister/brother violin duo, The Twiolins, who are also taking a classical art form and pushing its boundaries for an evolving audience."
Company Debut is tied together with Rite – A Modern Ritual set to Stravinsky's iconic Rite of Spring. Kerollis shares, "I feel it necessary to make a bold statement that we are more than capable of holding a place among others in our great dance community. I am so excited to show New York audiences this exhausting 34-minute modern day mating ritual. It is the most challenging piece I have every created and will be a whirlwind experience for the two dancers performing it, as well as the audience."
With long-term plans, including a commitment to provide for his dancers, develop an evening-length work focusing on the upbringing and gender aspects of the character Puck from A Midsummer Night's Dream and apply for grants to develop immersive contemporary ballet theater into public spaces around the five boroughs, Kerollis remains steadfastly committed to Movement Headquarters Ballet Company's ability to #BringBalletBack.
Tickets for Movement Headquarters Ballet Company's Company Debut may be purchased at tickets.completeticketsolutions.com/MHQ/Online/default.asp. Performances are Sunday, February 16, at 2pm and 7pm, at the Alvin Ailey Citigroup Theater. Tickets are $35. For more on the company, visit movementhqballet.org.
By Emily Yewell Volin of Dance Informa.