The Joyce Theater, New York, NY.
January 22, 2020.
Complexions Contemporary Ballet, now in its 26th year, remains one of the leading contemporary ballet companies. Its mission — to create groundbreaking art that transcends traditional boundaries and unites cultures, methods and styles from around the world. While I'd argue that Complexions is not nearly as revolutionary as it was back in 1994 (nowadays, we see non-binary partnering, diverse casting, popular music and fused dance genres in ballet as well as in musical theater, hip hop and modern dance), I wonder if that perhaps-perceived "failure" has actually elevated the company's fame. You know Complexions when you see it — limbs that seem to go on forever, impeccable technique (and a beautiful ability to play against that "classical" technique), 180° extensions, primarily classical partnering (i.e. a male dancer supporting female dancer), multiple pirouettes that stop on a dime, precise yet fluid ensemble work and a sort of mystical calm control through it all. Audiences go see Complexions because, to an extent, they know what to expect…that signature Desmond Richardson style in a more conventional contemporary ballet juxtaposed with a topical and trendy performance piece.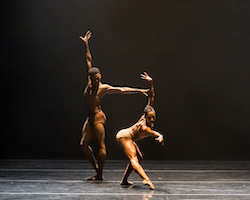 On January 22, I had the privilege of seeing Complexions perform Bach 25 and the world premiere of Love Rocks at the Joyce Theater. Bach 25 is what I'd consider more typical Complexions. As one reviewer described it, the nude leotard/shorts-wearing dancers resemble Italian marble statues. And if the dancers' bodies are sculptures, then their feats are Olympian. Paired with the classical Bach score, Bach 25 feels like you're walking into a piece of art.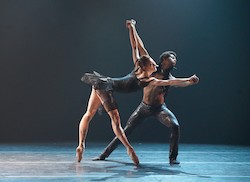 Act II, the world premiere of Love Rocks (with Lenny Kravitz music), takes a turn from Complexions' more "classical" contemporary of Act I but does not bring the same shock value or storyline as Stardust (2018, with David Bowie music) or Woke (2019, a much more politically-powered topical ballet). The movement vocabulary of Love Rocks doesn't quite live up to the driving rock 'n' roll Kravitz score. Had I been wearing earplugs, it would've been difficult to differentiate Act I from Act II (minus the costume change from nude leos to black toile skirts). 
I will always look forward to seeing Complexions perform. The dancers' technique and virtuosity are beyond compare. Having a mission to consistently be breaking new ground show after show is unrealistic. Without a "why", new work will just be "the same but different". Complexions will continue on the journey of its mission by doing what the company does well while evolving organically (rather than formulaically) with the times. 
By Mary Callahan of Dance Informa.