It's only January, but it's not too early to start thinking about the summer. Youth programs heat up during the summer months at Steps on Broadway. There are options for young dancers, classes for beginners and intensives for the most dedicated dancers. Steps' Youth Programs offer students from all around the country the chance to study in New York City with esteemed faculty.
This summer, the Steps Youth Program is offering a full-day Summer Intensive for students ages 10-18, as well as a special Summer Workshop for those ages seven to nine.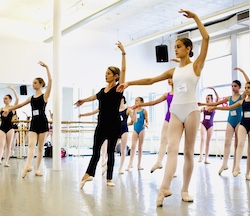 The Summer Intensive is a great opportunity for pre-professional dancers who are looking to "take risks and unlock their potential," says Pam Levy, director of Youth Programs at Steps, adding, "The Intensive features advanced level training in diverse forms of dance, preparing students to be dynamic performers who are sought after by companies, agencies, casting agents, and top conservatories and college dance programs."
The Summer Workshop includes classes and rehearsals geared toward helping younger dancers reach the next level of their technique, and it is similar to the Intensive but with a shorter day for the younger students' stamina level. "Summer Workshop students make enormous strides in their dancing each week as they study with Steps' vibrant faculty and guest teachers," Levy says.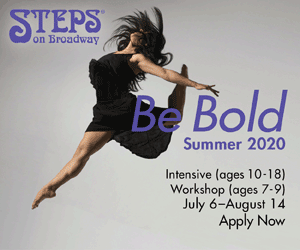 During the Summer Intensive, each day begins at 9am with a yoga or Pilates warm-up, followed by a ballet class and a modern class. After lunch, students take classes in styles that are required of today's versatile dancer, including jazz, theater dance, contemporary, hip hop and voice. Other workshops and seminars include Body Conditioning, Injury Prevention and Nutrition with staff from the Harkness Center for Dance Injuries, as well as Industry Professional Q&As with world-renowned professionals such as New York City Ballet Principal Tiler Peck, Broadway performers Corey Snide and Cameron Adams, Parsons Dance Principal Zoey Anderson, and representatives from Bloc Talent Agency and MSA Talent Agency.
Previous summer faculty for Steps' Youth Programs have included Al Blackstone, James Kinney, Nick Palmquist, Kurt Froman, Karen Gayle, Deborah Roshe and Michelle Cave, among others.  
Each week, summer students gain experience learning and performing unique pieces of choreography created specifically for them, or major repertory works by guest artists. The week culminates in a filmed studio showing on each Friday. Last year's performances included excerpts from Paul Taylor's Cloven Kingdom, set by Linda Kent; Bradley Shelver's Where There are Tongues (which was originally created for Ailey II); and original works created by Froman, Kinney and Grace Buckley.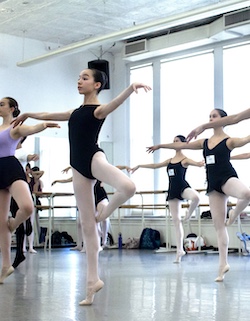 Dancers are able to create their own schedule by choosing to attend any combination of one to six weeks. "The goal of the summer program is to immerse dancers in multiple styles of dance, expose them to the rigors of NYC's dance scene and enable them to grow into more complete artists with a professional edge," Levy explains. "Preeminent and inspiring faculty, diverse range of dance classes and the opportunity to connect with the world's top professionals in the field set this intensive apart from others. Whether a student participates for just one week or for several weeks, they will gain remarkable growth and sophistication in their dancing and artistry. Our faculty members are deeply invested in each dancer's development, and each class brings students closer to their artistic and technical goals. This Intensive is equally positive and energetic as it is rigorous." 
This January and February, Steps will be holding live auditions for the Summer Intensive. Candidates can also submit a video audition. For both, students must register via Acceptd.
For more information on Steps' summer Youth Programs, and how to audition, visit stepsnyc.com/youth-programs/summer-programs.
By Laura Di Orio of Dance Informa.