Rosecliff Mansion, Newport, RI.
November 27, 2019.
Like ballet at large, a big part of The Nutcracker's allure is the space where magic meets reality — the superhuman meeting the human, the extraordinary meeting the ordinary. The former makes us "oooh" and "aaah", while the latter makes it all relatable and accessible. This year, as in many years past, Island Moving Company (IMC)'s presentation of the holiday institution painted a compelling, enjoyable picture of the space where holiday magic meets everyday reality.
The elegant and ornate Rosecliff Mansion, a living museum of the "Robber Baron" days, is a perfect setting for this picture of magic meeting realism. This was the company's 18th annual Nutcracker at this grand setting. The company is "founded on the belief that collaboration and a supportive environment enhance the creative process, producing great works of art representing profound expressions of the human spirit and experience," and "has become known for its creative use of unusual venues."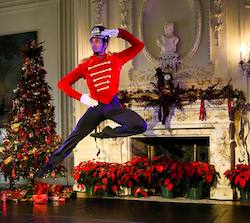 As in prior years, IMC's retelling of the classic tale began in Rosecliff Mansion's grand staircase. Drosselmeyer (John Carr) emerged, with a swish floating his big cape over children seated in front of the audience. He met the Winter Fairy (Katie Moorhead) at the top of the staircase. Mr. and Mrs. Oelrichs (the parents of the protagonist Tess Oelrichs, IMC's version's Clara — Rhea Keller and Jose Lodada) appeared at the top of the staircase, and Drosselmeyer and the Winter Fairy hid at its bottom. This theatrical touch implied that they were setting in place the magic to come.
Then came Tess (Malak Mohamed), elegant yet with an authentic youthfulness. The Vanderbilts and their children joined, dressed in a detailed yet not extravagant style — something that made them feel quite real as characters. They signaled to the audience to join them in the next room, outfitted with Christmas trees and other classic holiday decorations. It was also ornate, but not showy, and thus felt realistic.
The party guests exchanged greetings and pleasantries and then began to dance. All moved with a graceful, unassuming physicality. The children played movement games such as taking turns going under a "bridge" (in a line, joining hands and reaching up high). Inner and outer circles offered an enjoyable, energetic visual effect. The Winter Fairy and Drosselmeyer re-entered, there to sprinkle magic again (it did seem). Moorhead executed turns and footwork en pointe like it was as natural as breathing — a magic right there, it felt like.
Even more formalized dancing came, boys and girls branching off and having their own sections. Mohamed as Tess offered a striking length of line and a lovely ballon. The parents' dance was full of ease and warmth. The mothers' long skirts allowed for intriguing visual effects, continuing spirals from turns and adding to long lines of legs extended forward and backward.
We moved to another room, where Drosselmeyer shared his Ballerina Doll (Brooke DiFrancesco) and Soldier Doll (Raum Aron Gens-Ostrowkski) with the children, to their delight. DiFrancesco carried across that rigid doll-like quality but with an ease allowing her to glide through the character's quick, intricate movement. As Drosselmeyer picked up the dolls to exit, a bit of mayhem ensued — as does happen when transitioning with children around. Thus, this was another genuine, grounding touch to the narration. 
As guests exited, Drosselmeyer remained. A mouse ran across the room with a present, and he signaled for it to stop. It did for a moment, then kept going running away with the present. This action reminded me of the magic and otherworldliness at play. The battles with the mice and rats, led by the Rat Queen (Maggie Coen) ensued. The first part occurred in the ballroom, where the first part of the party played out. The second part occurred back on the grand staircase, diagonal lines of dancers moving up and down the stairs visually clean and compelling. I did wonder of keeping it all in one room would keep the momentum going and just feel more cohesive.
Yet when we re-entered the grand ballroom, it was beautifully transferred into a snowy winter wonderland — for the next section, Snow. Holding the battle in two different rooms seemed to be at least partly a practical matter of having time to dress the room. The ballroom, white and sparkly, felt so magical that it didn't matter to me either way. Movement and formations struck me as just as magical.
Moorhead and her partner, Timur Kan, exuded ease and command, even as they took notable risks (such as Moorhead moving slightly off-center to then return to center in a never-wavering, soft-yet-strong arabesque). A motif of two simultaneously, but oppositionally-spinning inner and outer circles took place here, as well; Snow Children and taller Snowflakes were in inner and outer circles, spinning in two different directions.
Per conventional Nutcracker sequencing, Snow ended the first act and the Sugarplum Fairy (Rhea Keller) opened the second. She welcomed in dancers from all different countries and cultures, who greeted Clara and then exited to wait for their turn to dance for her. There was glitz and glam but overall also a sense of understatement — one that brought a grounded, authentic feeling. Clarity of movement phrases and formations, multifaceted yet definitive, added to this sense of realism. Keller had an elegant épaulement and lightness, yet assuredness, to her presence.
Spanish Chocolate kicked off the dances for Clara, danced by Lauren Difede and Gregory Tyndall. Inventive touches, such as hands on hips and the duet partners circling around each other, reflected Spanish culture as well as added aesthetic interest. The musicality was enticing. Chinese Tea called upon a grounding visual element of a big blue ball for each dancer in the large group. Soloist Deanna Gerde moved with a pleasing quiet strength. The energy in the variation was festive and joyful. Moorhead as Arabian Coffee offered a memorable musicality — shaking her streamers along with the quick notes of the shaking cymbals. Her lines were energized and expanded to the ends of the room, yet also she danced with an assuming and gentle quality.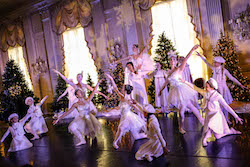 Candy Canes, led by Emily Baker and Raum Aron Gens-Ostrowkski, called upon a fun — yet also organizing and grounding — prop of large candy canes. It supported the clear formations and vivacious movement. Russian Trepak's Soloist Timur Kan cleanly executed high-flying, "wow-worthy" leaps. Mother Ginger and her Polichinelles was delightful and heartwarming as always. Folksy elements in movement vocabulary, such as crossed arms and heels out, were grounding and lively.
Visual intrigue and harmony came from changes in levels and circular formations — and, as always, from Mother Ginger's oversized skirt. All these prop elements added to both the magic and the realism of this Nutcracker rendition, and its approach of putting them side-by-side. The Flowers waltzed in, offering intriguing port de bras with musical patterns and overall expansiveness. Keller as Sugar Plum moved with a pleasing joy and vivacity.
The Grand Pas then took the stage. Keller brought a feeling of attack, even with a softness. Lodada as Cavalier delivered a notable focus and steadiness, calm and resolute. Moments of harmony, such as the duet partners swinging arms up and over to then chasse forwards together, made me smile easy. Act II characters — along with Clara and the Nutcracker — then re-entered, dancing in clean formations and their harmony in movement keeping my smile easy.
Most of these characters exited, leaving Clara, the Nutcracker, the Sugarplum Fairy and the Cavalier. They then exited in opposite directions, Clara with the Nutcracker and the pas de deux partners in the opposite direction. This seemed to leave open questions as to the origins of the magic, and where it would all go from there. Yet what seemed clear is that at some level, the magic and the realism co-existed. That could stand to remind us all that amidst the hustle and bustle of the holiday season, there is always magic to find and to treasure.
By Kathryn Boland of Dance Informa.