Boston Opera House, Boston, Massachusetts.
September 19, 2019.
The curtains rose on the first performance of Giselle on June 28, 1841, at the Paris Opera Ballet. Those dancing or attending perhaps knew that the ballet might be something big, but they couldn't have known that it would shine through the centuries as it has — becoming conceivably the quintessential Romantic work in the ballet canon. Arguably, when dance lovers think of Romantic ballet, they think Giselle.
Boston Ballet opened up its 2019-2020 season, new roster of dancers in place, with the classic. Choreography was after Jean Coralli, Jules Perrot and Marius Petipa, and the work was adapted by Larissa Ponomarenko. The aesthetic and dancing honored the truth of the work's classical origin while peppering in a modern sensibility through aspects of technique and aesthetic.
The beginning overture (from Adolphe Adam, conducted by Mischa Santora) had a light and airy element, but also a plunky harmony line that was grounding. The curtain rose on a set (designed by Peter Farmer) of a classic village that was colored in earth tones and a touch Spartan, but also with details creating realism. Villagers walked about, and Giselle (Viktorina Kapitonova) rose from a seat to also scurry at the sight of a young gentleman in a red cape — Count Albrecht disguised as the peasant farmer Loys (Patrick Yocum).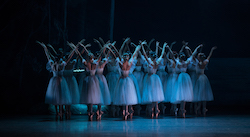 Giselle at first played coy but then submitted to his gravity. They danced, with and for each other — demeanor deferent and polite. Kapitonova danced with an effectively unhurried quality and peaceful ease, and Yocum with a pleasingly understated manner that let the movement speak for itself. There was a bit of an element of the chase, Albrecht following Giselle's jeté leaps in a circle around the stage. The drama built as Hilarion (Paul Craig), a village gamekeeper also in love with Giselle, entered. Thus began a love triangle that would drive the ballet's tragic plot. Craig moved with a strength and assertiveness that made his character feel very real and compelling. 
The mood became lighter with Giselle's friends entering and dancing joyously. Technically speaking, the movement was simplified such that the way ballet technique has progressed over the centuries was clear to me. Yet the Boston Ballet corps danced it with conviction and finish, and the group formations were quite visually pleasant, so I was very satisfied. In one memorable set of formations, lines moved to waltzing in a circle — looping Albrecht (still disguised as Loys) in with the group of young women. Moments like this began to build social dynamics and pleasing humor.
The mood shifted back and forth from joyful to mysterious, often dependent on the actions of those in the love triangle — Albrecht, Hilarion, and Giselle. Other characters included nobility and Giselle's mother Berthe (guest artist Elizabeth Olds), helping to construct an authentic feeling of a village community. Like the set, costumes, (also designed by Farmer) had enough detail to feel realistic but stopped short of superfluous showiness; less can be more, they demonstrated.
A key dance sequence was the peasant pas de deux, danced by Ji Young Chae and Tigran Mkrtchyan. The movement quality and choreography beautifully blended groundedness and effervescence. Chae danced with a soft yet clear finish to her movement, and Mkrtchyan with an ease and agility in fast movement like a floating butterfly. Giselle's friends returned to dance joyously, bolstering the celebratory feel. They danced quick, soft, and light petit allegro in lines, and then dispersed to mingle with their audience, the villagers. Elegant simplicity characterized it all. 
This joyous atmosphere wouldn't last, however, with Giselle discovering Loys's true identity. She moved across the stage as if taken by a spell of madness, her former grace gone — tripping, falling sideways, convulsing and dropping to the floor. She carried a sword, with which she had to be talked out of taking her own life. Her exhausted body and broken heart eventually gave out, and she fell to her death. The curtain fell, and Act I was complete.
Act II took place in a foggy forest, the home of the Willis — spirits of betrayed women. Led by their Queen Myrtha (Dawn Atkins), they would force any man entering into their domain from midnight to six in the morning to dance to their death. Farmer's set was pared down, with just the right amount of compelling detail, in this act as well. Lighting (designed by Brandon Stirling Baker) created an otherworldly, mysterious sense. Albrecht walked through, appearing to search, and saw Giselle before she was to be initiated as a Willi. She had a soft yet decisive quality in her movement, circling the stage with small leaps.
Albrecht exited, and Hilarion soon entered. The Willis were ready to make him dance to his death! Like in the first act, staging and movement vocabulary was simple yet somehow also intriguing and unique. Circles of Willis center stage moved into lines, sloped or straight, to the side — clearing the way for duets and solos (from the main players of Myrtha, Giselle and Hilarion who would also enter).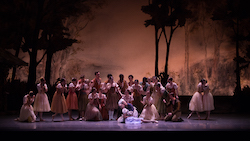 Arms in a circle shape above the head, fifth en haut, went off center and wrists crossed as the Wilis turned en pointe. This movement motif was visually satisfying as well as brought a sense of the other-worldly, the tragic, the ghostly. The blue of the lighting, fog streaming through and shadows of spiny tree branches and boughs running through it, added to this ethereal feeling. Moments of sustainment in movement, such as Willis holding arabesques, allowed the light to hit and shadows to fall in such a way that this ghostly feeling was all the clearer. It was all true classic simplicity.
Partnering work, though with that classic directness, had splashes of the more original and modern; in one memorable moment Albrecht turned Giselle while she held her body horizontally, arms in that fifth en haut, for example. Yocum still brought that effectively understated clarity, and Kapitonova still brought that unhurried quality — which felt even more skillfully true to character in this act. The drama built, and their characters stayed true as it did. 
The Willis closed in, dancing faster and more frenetically — crossing lines at center stage and into new formations at one point, for instance — the action all the while dynamic. 
Albrecht almost fatally exhausted from the Willis making him dance for hours, Giselle helped him to rise. The night creatures danced behind the two, kneeling and their torsos and arms moving forward and back — united and clear. As the sun began to rise and the Wilis lost their power, Giselle was released from their hold because her love transcended death. Albrecht was left in spotlight to think on all that just transpired. A man alone in thought — a simple, classic occurence indeed. A quintessential Romantic ballet such as Giselle, presented with the ingenuity and general excellence of a company such as Boston Ballet, can remind us of the worth of such classic simplicity. 
By Kathryn Boland of Dance Informa.