Leap! National Dance Competition is entering its eighth season, with fresh, fun and exciting dance experiences for all dancers – from the more recreational to the very competitive. It's the first and only competition to offer a Leaping Competition, and other special features include audience giveaways, state-of-the-art lights and sound, and unique trophies. CEO and Executive Director Andrew Vamosi sat down with Dance Informa for a quick look into his unique boutique dance competition, Leap!, and why his approach is different from the rest.
What's unique about this competition?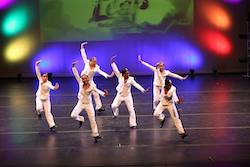 "I call Leap! a boutique competition. We do one city per weekend, so that gives me an opportunity to be at every single competition. I've never missed one over the last nine years. And I get to know the studios — all the new ones and all the ones that come back. I take that opportunity to really connect with the dance competition scene. It's one of those things where you can run a competition but not understand your customer base that well, not without having that boutique quality. I want it to be like a Tiffany's, rather than a big Walmart. We have about an 80 percent return ratio.
We're the only competition in the country that has a leaping competition. The kids sign up at the competition; it's only 10 dollars. The best leaper wins cash, prizes and a gift from Dream Duffle, who's been our sponsor since day one. The dancers go one at a time across the stage and do a big leap, or series of leaps. After they've all gone twice, we line them up across the stage shoulder to shoulder, and the judges either pick a winner or we have a 'leap-off'. In that case, the judges pick two or three kids they want to see one more time. Those dancers get a final shot at it, and then we bring them out together on stage and announce the winner. The place explodes. I've had dancers go right into tears. For some of them, they've never done a solo before; it's their one moment that they're leaping on stage by themselves in front of a captivated audience. I've had as many as 160 leapers in a weekend.
As far as everything else, we're state-of-the-art lights and sound, all flash animation and video, projected onto the stage and cyc. This year, the whole design and look is brand new. Everything is going wireless, from the speakers to the lighting to the headsets down to the cap mics on the floor, and it's all going to be run from a cellphone via Bluetooth. It's unbelievable, you can literally hit a button, and the entire lighting scheme will change."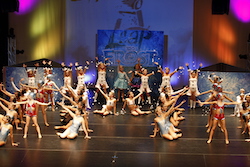 What's some of your background and history? How did you become a part of the competition world?
"I grew up as a dancer in Omaha, Nebraska. I made up a dance for a talent show, and it was in the paper, and then the next thing you know it was my career. I learned dance at a local studio, joined a ballet company at age 10, and went to college at Oklahoma City University (they have a huge dance program there). My very first show, I did a local community playhouse tour of A Christmas Carol, and somebody saw me in that tour and asked me to audition for a show of theirs, and the next thing I know I'm rehearsing on Broadway. It just all happened like that. I was lucky, I was one of those people, right place right time, and I had amazing teachers along the way.
I was one of the first judges for the competition, Showbiz, back in the day, and I really caught the bug. Then I started judging for Headliners. When I started Bravo with Brendan Buchanan, we put together 18 credit cards (you couldn't get a loan back then), and we bankrolled the whole thing on them. I flew to New York, and met with all the heads of dance magazines and begged them to help me out. I knew it was expensive to run ads, but I knew I needed to come out big. I promised the magazines lifelong advertising with the competition. And they all worked with me. Even though some of them are out of publication now, I stayed with them until the end. Bravo, overnight, became a success, and it's because we came out big. And I thought when we started Leap! and we go to the same cities as Bravo, we'll get some of the same students. But only 5 percent were returnees. Everybody else was brand new. It was a different look, different feel, and we got studios we'd never heard of. There are 26,000 dance studios as of two years ago in the United States. I can't imagine how many there are now. About 80 percent of those studios compete. So when people tell me, 'I'm thinking of starting a dance competition. Could you give me any advice?' I say, 'Sure! There's always room for another one because I'm capped.'"
What advice do you have for studio owners heading into competition season this year?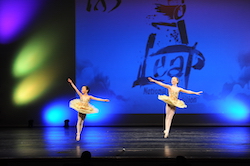 "You know, it's kind of the same advice as always. Number one, competition is great. It can be a learning experience. But with everything, you take it seriously, but you can't take it as seriously as a heart attack. It is so difficult as it is to be an artist on stage and dancing. And it gets harder when you add that component of competition. We can't keep people from getting overly competitive, but we can help. On a different day with a different set of judges, it could come out completely different.
Many people will talk about how dance is a sport, and it is not. They're wrong; it is an art. No one's keeping score against the other team. You might be adjudicated, it might be competitive, but there is no finish line to cross. It does have amazing athleticism. I think I would rather say that. You are not judged on scoring some goal that must be achieved in order to earn a point. It's true that 'are you hitting that split in the air' is considered, but the ultimate for us is expression. Above everything else, we are artists. The only goal is to be better."
For more information on Leap! National Dance Competition, visit www.leapcompetition.com.
By Holly LaRoche of Dance Informa.