HERE Arts Center, New York, NY.
July 30, 2019.
Dance art — it's a coming together of movement and costumes, lighting, and often music. Sisters Charly and Eriel Santagado, with their company mignolo dance, are challenging norms and expectations with how these artistic media intersect — most often to intriguing and satisfying effect. Supporting that effect, their movement vocabulary and staging is innovative and daring. All of this was on full display in their recent show Translations, with Guest Company Katelyn Halpern and Dancers.
The show opened with "We Are Particles", from Katelyn Halpern's Katelyn Halpern and Dancers. It itself opened with two dancers circling, their foreheads touching, slow and steady. Their physical relating began to be faster and more contentious with spinning faster and then movement that was almost wrestling. They spun off to separate sides of the stage, and a new section began. One dancer crawled in backwards and another walked in slowly. They moved arms in intriguing geometric ways, finding common shapes, before finally meeting.
Continuing the daring and memorable quality of the movement vocabulary from the show's opening, Ross Daniel walked up Halpern's body with his feet — going to something like a preparation to play "wheelbarrow", and then feet even higher. Movement following that was slow, even somewhat meditative, yet not so slow that I had to struggle to keep my attention on it. It came to unison with penchées in more released postmodern style, bringing a moment of harmony.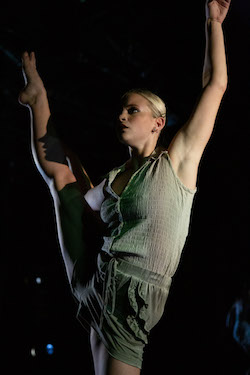 Then came bourrées with slight turns, which was a little balletic for the movement elsewhere. Yet the quality was easy and not rigid, so somehow it didn't feel incongruous. The male dancer began to speak about particles of dust in light relating to how we ourselves are just particles. There was a poetic and existential quality to this text.
Adding to the mysterious quality of this section, lighting was low and generated many striking shadows. Off-white costumes brought almost a nude sense, as if getting down to these dancers' barest humanity. At first focused on their own individual humanity, the piece closed with a lovely unison section with bending deep and rising to turn, arms circling in various patterns overhead.
Following that work was a duet from the Santagado sisters, "Translation Study #1". They offered unique articulations and gestures with accents in the score, "Konnakkol" by the Karnataka College of Percussion, what sounded like one for a kathak piece. They also explored varied ways of relating to each other — such as call and response, moving in opposition, in unison, and more. The ending of holding hands and rolling on the floor felt satisfying, a moment of closer connection and even sisterly loving contention. It might have been interesting to see more of that through this section, becoming something more thematic — as well as energetically and visually appealing — rather than something pleasing at the end. 
A larger group piece, "Translation Study #2" choregraphed by Charly Santagado, followed that duet. Black costumes popped just so against dim yellows of lighting, a cohesive and appealing aesthetic. As with prior pieces in the program, the score was classical while the movement was contemporary — something fresh and intriguing. Geometric arm patterns, such as a movement motif like a Greek statue of the runner (elbows pointed, one front and one back), were clear and precise. Yet softer movement brought appealing contrast. Soon lighting shifted to put the dancers into silhouette, which was visually satisfying. Also keeping my attention were frequent formation shifts. The work had much that was fresh and original to offer, and I was overall left satisfied.
The ending work, "Translation Study #6", had a funky, hip hop vibe. Helping to build this feel was quick movement along with musical accents, sharp articulations from hips to shoulders to elbows. These articulations also fit into a flow through the entire body, however. A particularly memorable section had dancers in a circle moving with their own signature movement — something that created an intriguing and energetically satisfying effect. Formation shifts were aesthetically pleasing, clear but not rigid.
In this work, perhaps we could say that a larger meaning was these women moving confidently and powerfully. The work began and ended with the dancers in silhouette. This creative choice was visually satisfying, and also intriguing in the idea of coming back to something, of continuance.
Fresh, innovative creative choices like that one were a true strength of mignolo dance's Translations. It seems that the Santagado sisters have things to learn from more seasoned artists, yet perhaps more seasoned artists could be re-inspired by their spirit of daring and risk-taking. Overall, for such relatively young artists, they dared and took risks with skill and thoughtfulness.
By Kathryn Boland of Dance Informa.