For as long as I can remember, I have dreamed of being in flight or a state of weightlessness. My performing years in dance date well before aerial dance was accessible to more than a select few, and I think I would have loved it. My dream of being suspended in space is probably also related to my lifelong struggle with complex issues of systemic joint pain. Many of my training years date before sprung floors were the norm in studios, and, as we all know, dance requires a level of athleticism that takes a toll on even the healthiest of bodies. Now that I am still considered youngish in calendar years, but old in dance years, I have tried countless workouts and classes in search of a balance between the athleticism I crave and the low impact format my body now requires. Suffice it to say, I pulled the car over when I passed a sign for a new and locally-owned bungee fitness studio known as Studio Bungee. When I walked in, the phrase "Harness Your Strength" was front and center, and I immediately felt at home.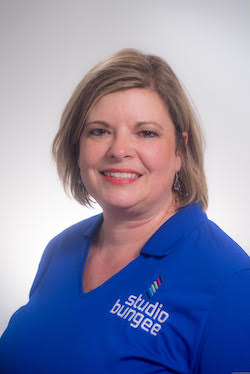 Founded and owned by Christal McNair, Studio Bungee, based in Marietta, Georgia, provides low impact, high intensity workouts taught by certified trainers in a small group setting. The class schedule includes dance fitness, ab blaster and stretch classes, in addition to the studio's multiple levels of bungee fitness offerings.
As a dancer, I love that I can mix and match my workouts throughout the week. Some days, I want the all-out athleticism of burpees, weight training and lunges. Other days, I want to tap into my more expressive side with a dance bungee class or add in a mindful stretch class to get physically and mentally centered. Regardless of the class(es) I take in a given day, each one is a core-based workout founded in principles of proper alignment and technique. I think these are the qualities I most enjoy about the experience.
Every class is a challenge, and Aleksandra and Terrance, the studio's personal trainers, expertly adapt workouts in real time if a client is experiencing an arthritis flare or a particularly low-pain day and ready for an extra challenge. Teaching bungee workouts does require some specialized education, but McNair shares that "Aleksandra and Terrance have been quick learners on a completely new way of exercising, and our clients love them." Whatever the trainer throws my way, I know the baseline of every workout will appeal to my lifelong fascination with proper alignment and technique. This is really different from what I have experienced in the countless big group classes I have tried at gyms and studios over the years.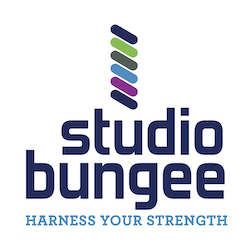 These personalized workouts are a strong appeal for the clientele of Studio Bungee. Nancy T., a licensed massage therapist, shares in a review, "The limited class size means that you gain a lot from the personal trainers who are very knowledgeable and personable. They go out of their way to make sure you are meeting your goals and needs. While attending classes, I saw a wide range of clientele. Non-ambulatory, domestic goddesses, career individuals, as well as athletes."
This emphasis on individualization is part of the studio's business plan, too. McNair created it from scratch – from concept to branding, implementation and management. She shares, "I wanted to ensure that I could focus on things important to me and to the clients we service. Also, being a banker for over 25 years has taught me that if you can create your brand, you can control price, day-to-day activities and not answer to the corporate team. I have watched many clients love franchising and think that it's great for the right type of business. I loved working with my marketing firm, Zenith Design Group, creating the logo, marketing and brand.'
Studio Bungee utilizes the Astro-Durance bungee system. McNair tried this system for the first time in Cape Coral, Florida, the home of Astro-Durance. "My mobility was impaired, and it hurt very bad to just walk around," she recalls. "I needed to exercise and try to avoid any further surgeries, so after seeing a friend take a bungee class in Canada, I began searching for options. I did not originally think it would be for me but found it was very interesting."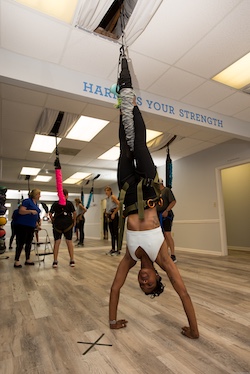 I want to be sure to not miss the opportunity to share that the resistance from the bungees also makes working out hooked up to them a lot of fun. The feeling of suspension is invigorating, but it's the bungee's resistance and how it requires me to engage my core at all times in order to balance on my own, instead of by the cord, that I find particularly challenging and sometimes entertaining. The system is easy and quick to customize. Every student gets a bungee set up for them based on weight and height, with the addition or removal of extra cords and positioning along a vertical latching system. Thanks to the dedication of Studio Bungee's contract engineer, its facility can support up to 1,000 pounds on each of its sets and accommodate students of all heights.
While bungee studios do seem to growing in popularity and availability, Studio Bungee is currently the only bungee studio in the state of Georgia. The studio celebrated its first anniversary this fall, and McNair says the studio is "constantly trying to educate the community on what it is we do. Our goal is to expand locations and incorporate some corporate on-site fitness plans. Mobility is many times taken for granted, and we hope to educate more people of the importance of movement and muscle activation. Being sedentary is not an option. My passion is to help people. I love the strength that bungee fitness has given me. I am not a fitness buff, but I have lived with chronic pain for over 10 years and do not want to be in that kind of pain forever. Pain is not fun and is heartbreaking. I have stormed out of more than one doctor's office crying after being told there was nothing they could do and I would just live with it for the rest of my life. Well, I may live with it, but I have found something that makes it a lot easier to deal with. We serve all fitness levels; you can be in the best shape or you could have never exercised before."
For me, the bungee system is the closest I have been to those sensations of weightlessness or flight I crave while remaining focused on body alignment and core strength. My joints are happy but so are my deeply ingrained priorities for athleticism and alignment.
You can learn more by checking out the Studio Bungee's website at www.studiobungee.com and following them on Facebook and Instagram.
By Emily Yewell Volin of Dance Informa.