With passion and pride, Ballet Hispánico celebrates Latinx culture through dance. Since its creation nearly 50 years ago, the New York City-based company founded by Tina Ramirez has worked to bring visibility to the Hispanic experience and to defy stereotypes. The pillars of performance, dance education and community engagement lie at the core of the of the company, and, according to Eduardo Vilaro, artistic director and CEO, the School of Dance serves as the backbone of the organization and its mission. Divided into three programs — Los Pasitos, Los Encuentros and La Academia — the school serves everyone from toddlers to adults, from recreational dancers to aspiring professionals. Not only does the school strive to provide its students with quality training, but it also seeks to increase accessibility to dance education and build community.
In honor of Hispanic Heritage Month, Dance Informa connected with Michelle Manzanales, the school's director, and Kiri Avelar, the school's associate director, to discuss the mission and work of Ballet Hispánico School of Dance and the difference the programs have made in the community.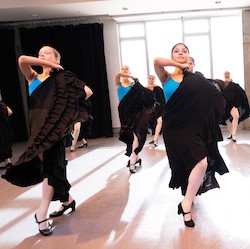 Upholding the overarching values of the organization, Ballet Hispánico's school aims to "[create] a space for dialogue and a platform for us to celebrate the many different cultures that come through our doors," says Manzanales. According to Avelar, fostering an inclusive and inquisitive environment is key in accomplishing this goal.
"We want to make sure that in our classrooms, you're seeing the diversity of what society looks like today in the United States, and that every child feels like they have a space here to participate," Manzanales explains. "But also, we're working to give a place to Latino artists — listening to Latino and Spanish music, learning about history — and doing it all through the lens of dance. So within our classroom, not only are you going to see our students learning technique, but you're also going to see them watching a video, talking to a musician about a certain compás [different rhythmic patterns used in Flamenco] or discussing the message of a dance."
Like most schools associated with professional companies, Ballet Hispánico's school offers high quality training in ballet, modern and jazz. What sets it apart is the inclusion of Latin and Spanish dance forms in the curriculum. Students study a variety of Latin dances, including Salsa, Bachata, Merengue and Mambo, as well as Afro-Cuban and Afro-Caribbean. Avelar further explains, "Within the Spanish dance program, students study Flamenco, Spanish folk dances, Esquela Bolera and Danza Estilizada, a stylized Spanish dance that includes work with castanets and Spanish props." Regardless of the genre, students "learn about the dance, the song, the history, the tradition, the culture, as well as where the style is moving today," Avelar adds.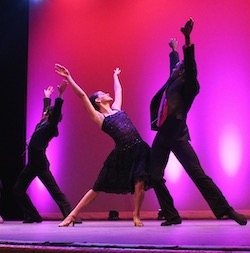 She continues, "The variety of styles our students study has naturally generated dialogues both inside and outside of the classroom about identity, place, voice and belonging. Each style is of equal importance, and honoring diversity in our forms honors the diversity of our students, faculty and staff. In that way, Ballet Hispánico shifts the hierarchy of what dance form is more important in our students' studies."
The celebration of Latinx cultures extends beyond explorations of style. A large part of instilling cultural pride in its students and the community is the school's bilingual environment. For example, the Hablando y Bailando class, which means "speaking and dancing", is a creative movement class in the Los Pasitos program presented in a bilingual fashion.
Manzanales explains, "The children are in an environment where they're hearing two different languages, English and Spanish, equally. It's exciting because there might be a child in there who has never heard Spanish before, and they're learning all this new information. There might be child whose first language is Spanish, so it's exciting for them to see how it's used in dance."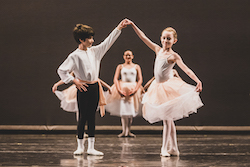 Other times, the style of dance necessitates a bilingual classroom. According to Manzanales, because the terminology in Spanish dance forms is in Spanish, "the students are immersed in the language." She adds that many of the teachers and students' first language is Spanish, so whether inside or outside of class, conversations are often bilingual in nature.
"It's not taboo," Avelar says. "It's normal, it's embraced, and whether you know Spanish or you don't, you're welcome."
"For me, it especially resonates," shares Manzanales. "My mother grew up in a time when the United States was all about assimilation, and when she was in school, if she was caught speaking Spanish, it would reflect negatively on her citizenship grade. It really left a mark. So to be in an environment now where I can encourage and create programming around and through dance that's going to make it okay for many cultures to be present in the space is very important and exciting."
Beyond a welcoming and inclusive learning environment, Ballet Hispánico School of Dance constantly works to increase accessibility to dance education through scholarships and outreach programs. For the past several years, the school has given over $150,000 in scholarships annually. In particular, Manzanales and Avelar take pride in the Nuestro Futuro Scholarship because it provides students with a full ride and reflects Ballet Hispánico's commitment to "providing children with high caliber dance training regardless of their family's financial situation." Additionally, Ballet Hispánico engages in a variety of community outreach programs, in the form of classes at schools, community centers and correctional institutions in New York City, around the country and internationally.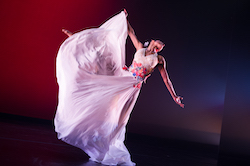 To launch the school year, Ballet Hispánico will host a block party. The event, which celebrates the many Latinx cultures, will shut down the streets surrounding the organization's home and will include free classes, live music and performances by the school's students. According to Manzanales, the block party is yet another opportunity to bring dance to the community. The theme of the celebration this year is unity, y por el amor de la danza y cultura, Ballet Hispánico will continue to unite communities for many more years to come.
For more information on Ballet Hispánico's School of Dance, head to www.ballethispanico.org/Classes.
By Carlee Sachs-Krook of Dance Informa.