The Joyce Theater, New York, NY.
July 23, 2019.
Freddie Falls in Love, a dance narrative presented by The Joyce Theater Foundation in association with Break the Floor Productions, was directed and choreographed by Al Blackstone and played at The Joyce Theater from July 23-August 4. It has a 16-member cast featuring Matt Doyle (The Book of Mormon) and Melanie Moore (So You Think You Can Dance).
There are many small props that help guide the narrative of Freddie Falls in Love, and the most symbolic of these is an old fashioned boom-box, which is "clicked" to start the show. Its constant reappearance gives the impression of a mixtape – one that somebody (perhaps his female best friend) made for the protagonist to symbolize the different periods of his life that are represented during the show.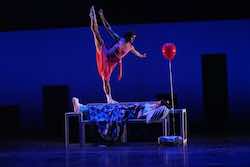 Other props include a symbolic red balloon, a parrot puppet and a mini Eiffel Tower, but perhaps the smartest props in the show are the black chalkboard boxes that are constantly rearranged and written on to represent seemingly countless sets: a living room (the go-to arrangement which had a Central Perk feel to it), a bar, a skyline, a jewelry store and even a bathroom are just a few examples. (I also appreciated the choice to never erase, leaving any chalk writing on for the duration of the show – a clever exemplification of the way that the past impacts us in the present, even when memories aren't the main event.) All of these scenes work together to tell a young man's tale of love, loss and the search for himself.
Our young man falls in love with Moore (and let's be honest, who wouldn't?), a charming, picturesque, non-traditional woman whose various peach-colored costumes throughout the show perfectly represent her ephemeral and dainty persona. After accidentally discovering that her lover is planning to propose to her, she ends things abruptly, and what follows is the trials of heartbreak and classic efforts to appease them.
The I'm-going-to-take-my-anger-out-through-a-video-game scene is a particularly successful example. Using green lights and the space odyssey theme song, this scene is funny and all too relatable. Other heartbreak highlights include half-hearted yoga, crying into pizza boxes, a visit to Paris and entertaining clearly unsuitable love interests.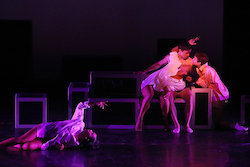 Additional triumphs of the show are its undeterred and quirky sense of humor (i.e. allergy attack à EpiPen in the butt scenario), paradigmatic musicality and seamless transitions between scenes. Blackstone's aesthetic of bright colors, use of songs with lyrics to advance the plot (with highlights including "Makin Whoopee" by Ella Fitzgerald and "I'll Be Seeing You" by Billie Holiday), the short (if anti-climactic) tap section and well-motivated phrase-work in perfect unison (Paris night club scene was to die for) all felt like clear allusions to the Broadway tradition. As with many Broadway shows, sentimentality was embraced, stereotypes were represented and reconnoitered, and audiences were met with a healthy balance of predictability and surprise.
There was one major question that my delightful experience as an audience member could not quite eclipse: Do we need another story about what it's like to be a young (if nerdy) white man in America? (And what's more, do we need it to be told by a cast with flawless technique and physique? Does it make sense for this commonplace, true-to-life storyline to be told by superdancers?) Despite this critique, it would be remiss to say that the show was an entirely old-school story. There were gay couples, drag influences and even play on the seemingly feminine habits of Europeans in comparison to the American standard of masculinity, all much appreciated gestures.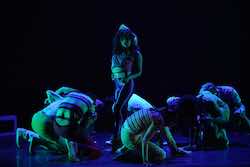 As many worthy plots do, Freddie ends with an unforeseen bang when we find out that the name Freddie does not belong to the main character but instead to his female best friend/the mixtape extraordinaire. While this twist is surely welcome, as with some other parts of the show, the reveal feels rushed and if you blink you might miss the "I LOVE FREDDIE" painted on the inside of the pizza boxes (but wow, what a clever way to reveal such a major plot point!). You won't want to blink too often, though, at Freddie Falls in Love because you never know when the musical theater mastermind, genre-bending choreographer Al Blackstone will deliver his next stroke of genius.
By Charly Santagado of Dance Informa.