Kibbutz Contemporary Dance Company (KCDC) is a well-known Israeli company that was founded by Yehudit Arnon in 1970. The company has been directed by acclaimed choreographer Rami Be'er since 1996, and consists of a main company and a second company, all of whom live at the kibbutz (a kind of Israeli collective community).
For the past decade, KCDC has been running what its calls "Masa" (Hebrew for "journey"), a pre-professional contemporary training program in its one-of-a-kind International Dance Village at Kibbutz Ga'aton in northern Israel. It is a five-month program, and some dancers stay on for two sessions for a total of 10 months. Dancers are known to come from all over the world, including countries like the United States, Switzerland, Finland, Japan, Greece, Italy and countless others. A few current company members were previously Masa participants, and other Masa dancers have gone on to join other Israeli dance companies like Kamea Dance Company, which is located in Beer Sheva.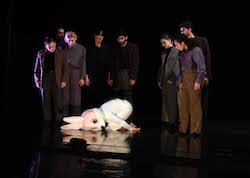 The Masa curriculum consists of ballet taught primarily by former Cullberg Ballet Principal Dancer Yamit Kalef, repertory classes with current company members, floorwork, dance conditioning, Pilates, Hebrew language classes and regular guest workshops. Dancers are required to create their own three-minute pieces to be performed at the end of month four and partake in a professionally produced Final Show at the end of the program, when they perform both KCDC and Cullberg Ballet repertory.
There are dorm-style accommodations for the dancers within the Dance Village and transportation options to the nearest city, Nahariya, where they can catch trains to Tel Aviv, Haifa and Jerusalem – Israel's three biggest cities. There is also a nearby Arab Market, where produce and other groceries can be purchased from street vendors. The Kibbutz is home to a small, homey café known for its Friday humus, as well as Pub Ga'aton, the local bar where dancers hang out on the weekends, and which also holds regular events including open mics and (a recent development) drag shows. While Masa dancers don't work directly with Kibbutz Artistic Director Rami Be'er, he stops in occasionally and attends all Masa shows, always on the lookout for new company dancers.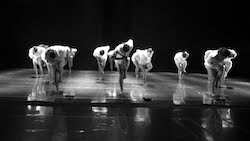 The group takes two major trips together: one to Jerusalem and one to the Negev Desert in the south. They also often attend other company shows like Batsheva Dance Company and Vertigo Dance Company together and volunteer as a group at places like hospitals and old age homes.
While the cost of the program is not low, dancers with Jewish ancestry can apply for grants that cover up to half of the program's expenses. The program fee includes everything but food, airfare and other optional expenses. KCDC's International Dance Journey Program gives dancers of all nationalities insight into the world of Israeli dance and immerses them in a community of dancers that can't be found anywhere else in the world.
For more information on Kibbutz Contemporary Dance Company and its offerings, visit www.kcdc.co.il/en.