There's a new dance festival hitting Los Angeles and you don't want to miss it! Break the Floor Productions, in partnership with The Montalbán in Hollywood will present, MOVES at The Montalbán this coming weekend. The inaugural festival will feature three diverse shows by the 2017 Capezio A.C.E. Awards winners: Entity Contemporary Dance company (co-directed by Marissa Osato and Will Johnston), tap company Rhythmatic (directed by Nick Young), and contemporary choreographer Lukas McFarlane.
The three-day festival will run from this Friday, March 15, through Sunday, March 17, inside the iconic, historic Montalbán theatre, with each performance ending with an exclusive Rooftop After Party for both the audience and performers.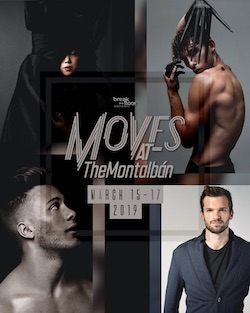 A long-time producer of the Capezio A.C.E. Awards, Break the Floor Productions is proud to bring the original inception of MOVES at The Montalbán to Los Angeles. 
Nikole Vallins, a producer with Break the Floor Productions, says, "We've wanted to create a dance festival here, in Los Angeles, for years, and we're thrilled that the recent winners of the Capezio A.C.E. Awards will be able to show off their talents to all of the dance fans in LA. Presenting this festival at the iconic Montalbán Theatre in Hollywood just adds to the amazing opportunity for these outstanding choreographers and dancers."
The four featured choreographers are just as excited.
"To get to premiere a new evening-length work at such a gorgeous theater in our hometown has been such a gift," says Marissa Osato.
Osato and Johnston's work explores themes of overconsumption, sacrifice, personalization and community.
"Entity Contemporary Dance Co-Director Will Johnston and I were really moved by Andrew Morgan's documentary, The True Cost, which investigates the human and environmental impacts of the fast fashion industry," explains Osato. "We had never considered where the clothes we brought came from and were inspired to continue researching this complex topic."
Their findings culminated in a new full-length work titled Transparent/see.
"We really believe in sharing relevant, human interest stories through our work, and this topic, in particular, affects everyone. We hope this work makes people think, and consider the next time they buy a t-shirt," says Ostao.
In contrast, Nick Young's extravaganza, Fuze, will be a toe tapping variety show celebrating dance at its many forms. Rhythmatic will present its own original tap work, but Young has invited several choreographers who push the envelope in their respective genres to bring their eclectic work to the stage, too.
Tap dance choreographer Young says, "We wanted to curate a choreographer showcase featuring some of my favorite artists and showcase other styles of dance. I pride myself on taking everything I have learned from training in other forms of dance and applying it to my own choreography, so it feels right to include as much variety as possible. I also just love watching other people do things I wish I could. I was lucky enough to have the freedom to choose anyone I wanted for this show, so the fact that I'm going to be doing this alongside some of my best friends and choreographers that inspire me the most is a dream come true."
The last premiere of the festival will be Astoria by UK choreographer Lukas McFarlane.
"My show is about a thriving and fantastical world called Astoria. As the reign of its beloved Queen comes to a sudden end, and the realm is thrown into turmoil, the main character is faced with a choice to reverse the tides of fate. Will a necessary sacrifice be worth it for the greater good?" asks McFarlane.
With inspiration coming from the song "Astoria" by Marianas Trench, this work will take the audience on an intriguing roller-coaster of high and lows. "They will be surprised and wowed every step of the journey as they step into the world that is Astoria," says McFarlane, who is honored to present work in Los Angeles.
"This is an incredible opportunity for me to present my work in a market I am trying to break into," he says. "My career as a creative/choreographer has been mainly based in the UK and Europe, so to have an opportunity to present a full-length piece of work with this level of production and reach here in the U.S. is truly a dream."
Young is similarly honored and excited about the opportunity. "Years ago, before I even submitted for the Capezio A.C.E. Awards, I saw Entity and Royal Flux perform live and I just remember being blown away," he says. "I had never in my life considered starting a tap company, and in an instant, I thought, 'Wow, this is absolutely what I want to do with my life.' I finally found my passion after a lifetime of wondering who I should be and what I should do. I look back on the last three years, and I still can't believe that this is my life. I get to do what I love and I have the right people around me to help turn my dreams into reality. The fact that I get to choreograph and perform alongside Entity and Flux this weekend is a wild full circle moment and the absolute icing on the cake."
Winning the Capezio A.C.E. Awards back in 2017 certainly has opened doors for these choreographers, and not just for the one-off, although coveted, chance to present work at the festival this weekend.
"Winning the Capezio A.C.E. Awards has given Entity Contemporary Dance incredible exposure and new platforms to present our voice," says Osato. "We are so grateful for this opportunity, and we hope to tour this new work. It has been a long-time dream for the company to consistently tour, and we're hoping this award will be a launching point for that goal to become a reality!"
Tickets for MOVES at The Montalbán start at $40 and can be purchased at www.themontalban.com/moves-at-the-montalban.
MOVES at The Montalbán
Friday March 15, 8pm: Rhythmatic and Special Guests
Saturday March 16, 8pm: Entity Contemporary Dance
Sunday March 17, 5pm: Lukas McFarlane 
By Deborah Searle of Dance Informa.