Beginning dance classes for your young dancer is similar to beginning any sport — you, as the parent, ask yourself several questions. When should my child start dance? What styles should they start with? What are the financial implications? What dancewear and shoes do they need? How do I choose the correct dance studio and environment for my child?
I was asking myself these exact questions this past summer. My two-year-old began her dance adventure this school year in August. As a dance teacher, I knew I wanted my daughter to dance, but I'm not the type to force her into something she doesn't love (especially at two years old). I found myself asking, is she ready?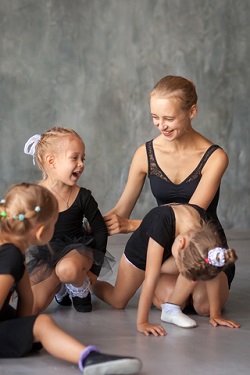 When are they ready?
The answer to that question was answered, of course, by my precocious toddler. She helped me realize that she was ready to take dance very early. She's always been coordinated, confident, independent and rhythmic. She knew all of the choreography to every Wiggles song by one year old.
It is important for you and your child to be on the same page about what they are taking on — yes, even if they're as young as two. I prepare her in the car on the way to dance every time: "Are you going to have listening ears today?"
Start with a summer camp
I started with a summer dance camp. That is advice I have given to many moms who don't know if their youngster is ready to begin dance, or not. I tell them to start with a summer dance camp because it is a short-term commitment, and you can really suss out whether or not they're going to be ready for a full dance year, or not. The camp was a two-hour princess fairy camp, and I did not stop hearing about it all week. "Mommy…mommy…I go dance now," my daughter said over, and over, and over again.
So, from then I knew — it was meant to be. However, it is not always guaranteed that because your dancer performed well in their summer camp, that they will ace the full term. You really have to trust your instincts and trust your child's teacher.
Find the right teacher for your child
Instead of looking for a perfect studio, I would first suggest finding the perfect teaching for your unique dancer. My daughter's teacher is from England and is Royal Academy of Dance certified — a rare find in metro-Atlanta, Georgia. She is energetic, knowledgeable, patient and disciplined. I knew she was going to be fun for my daughter, but even further, I knew she wouldn't let her get away with running around the room and hanging on the barres. 
Start with the basics
As a dancer my whole life, I've heard, "Ballet is the foundation of all dance," about one million times. But I never truly believed this fact until I began teaching. Ballet really is the foundation for all and incredibly important for strong and safe technique, and that is where I suggest beginning your young dancer's journey.
A fun option is a combination class – for example, ballet/tap class or ballet/gymnastics class. I would not suggest starting with a jazz or lyrical class because most of the terminology in those classes comes from ballet technique.
Are you financially ready?
If you have a two-year-old, the financial burden of dance classes is not too severe. It's usually just a monthly tuition and a recital costume fee. However, there are tights, leotards, ballet shoes, tap shoes (at least two pairs of each shoe because they grow so quickly) and a dance bag for their shoes to think about.
And if your child is anything like mine, be prepared to pay for dance for the rest of their life.
By Allison Gupton of Dance Informa.