Broadway Dance Center (BDC) will begin its Professional Semester audition tour on January 6.
Professional Semester is a unique program that offers technical training, as well as professional skills and powerful networking and performance opportunities, for advanced dancers, aged 18 to 27. The course is designed to be a valuable stepping stone for those who are ready to launch their professional career.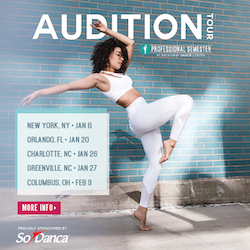 "The number one thing we are looking for is the right talent level and maturity level," says April Cook, BDC faculty and director of public relations. "We are trying to bridge that gap. We find that a lot of people have the talent, but they are not as aware of how to be their own brand and how to represent themselves. We want to make sure we polish them and open the door for them to network with the right people so they can get jobs – so we can make employed dancers when they walk out."
Auditions will be held in New York City at BDC; at Marshall Ellis Performing Arts Center in Orlando, FL; UNCC in Charlotte, and ECU in Greenville, NC; and at Ohio State University in Columbus, OH.
The auditions are free, and those selected will receive guaranteed acceptance to the course (fall 2019 or spring 2020) and a waiver of the application fee. 
Jim Cooney, BDC faculty and Educational Programs faculty advisor will be running the auditions alongside Cook.
"Most programs focus solely on the technique, artistry and craft of dance. While our students do take 12 classes from our open class schedule, and work with an advisor on their training goals, we spend an equal amount of time on the professional tools needed to have a sustainable career in dance," says Cooney.
He elaborates, "This includes how to best audition, how to work with an agent and negotiate contracts, what expected etiquette will be during rehearsals, how to manage their finances and how to market themselves."
Each student graduates the program with a professional website, a dance reel and tools for their social media. In addition, students are given constant opportunities over the four-month intensive course to meet and network with agents, casting directors and choreographers.
"The semester culminates with an industry showcase where many of our dancers get signed by agents," says Cooney.
And this is what brings Cooney joy — seeing dancers empowered and ready to launch their career.
"There's nothing better than watching these students go on to make their Broadway debut, dance for the top pop artists, and/or land a spot in the dance company of their dreams," he says. "It's so rewarding!"
For those interested in the audition, Cooney gives some great advice. "First of all, just be happy to be there! We know you're nervous, but those dancers who can still enjoy the experience are the ones who really draw us in. Second, dress for success. Make sure you look your best and that you're presenting the most professional version of yourself. Finally, have confidence. You've worked hard to get where you are; be proud of that. Shine the strengths you have. If you don't believe in yourself, it will be very difficult for you to get others to believe in you." 
For more information and dates, head to www.broadwaydancecenter.com/special-event/professional-semester-audition-tour. 
Expect a multi-disciplinary audition including ballet and jazz/theater. The NYC audition will include hip-hop and tap. There's no need to prepare a solo as all audition material will be taught on-site. But do make sure to bring headshot and résumé. 
By Deborah Searle of Dance Informa.