There are so many reasons to be excited about going back to school and back to dance. You're able to see your friends whom you've missed, you're able to meet new friends, you learn tons of new things, and you begin training hard core for the new dance year! Here are a few items and tips to help you survive a new school year as you head back to dance.
#1. A standout leotard
First impressions matter. Take the time to find a leotard that stands out in some way so that you may stand out from the crowd and feel confident about taking on a new dance year.
Treat yourself to the absolutely stunning and very flattering Loretta leotard from Só Dança. Its "princess cut" is reminiscent of a tutu bodice, and the microfiber material makes it a comfortable choice as well. And Só Dança's Cozy Rosie leotard is great for younger dancers, with its wide tank and gorgeous lace detailing on the shoulders.
#2. Broken-in shoes
There is nothing worse than developing a monster blister your first day back to dance. Need we say more?
If you are buying new shoes, comfort is key. Check out Só Dança's Bullet, a stretch canvas half-shoe. It hugs your foot while giving a barefoot feel, and protects the metatarsals from splits and scrapes. For ballet, a must-have is the Bliss stretch canvas ballet slipper. The shoe is incredibly soft, has a streamlined look and provides comfort and cushion.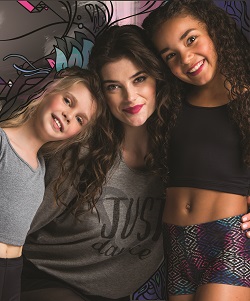 #3. Headphones
"Getting in the zone" with music may help you focus for class, but it also opens your mind up to new sounds, tones, accents and dynamics in music that you can use toward improving your dance quality. Finding new shades in music can help you find new shades and textures in your dancing. There is no such thing as listening to too much music, or too many varying styles of music. Soak it all in.
#4. Sewing kit
"My ribbon falling off on the first day of class was awesome," said no one ever! Make sure to pack a sewing kit in your dance bag just in case.
#5. Feel-good tights
Let's be real — does anyone actually feel 100 percent confident wearing pink tights? But there is something comforting about a really nice pair of good-feeling pink tights. A quality pair can always help get you into a true ballerina mindset.
Só Dança offers high quality convertible tights in 3 sizes and 15 colors! They're terrific for class, rehearsal and performance. Stock up!
#6. Warm-ups
Cover-ups and warm-up clothing items are necessary for the dancer who is on the go. Or even in between classes to stay warm.
Some warm-up must-haves include Só Dança Warm-Up Booties, legwarmers and shrugs. And check out the beautiful Sara Mearns X Só Dança Collection for some really fashionable but practical warm-ups that the New York City Ballet principal helped design herself!
#7. A positive mindset
If you head into a situation with a positive mind, you will generate a positive experience. If you're feeling blue that day, or out of sorts, try to meditate or focus on something positive before going into class. This will only help you. You will see residual effects from a positive attitude — you will respond more to what the teacher is correcting you on, and the teacher will respond more to you, as well as the other dancers in the class. One negative person in class can bring the entire room's energy down. Positive mind, positive results.
By Allison Gupton of Dance Informa.