Do you remember a time when you've hit a milestone and ended up looking in all directions? There can be reflection on the past, looking toward the future, and taking in what is all around in the present. This is where Julia Gleich (based in London and NYC) seems to be in this 25th anniversary year of her company, Gleich Dances. She's had a strong and diverse career – as a performer, professor and choreographer.
For 12 years, she's been Head of Choreography at London Studio Centre and an adjunct professor at Trinity Laban (both in London). She's put those positions behind her now, forging a dramatic return to her choreography. With a degree in mathematics, Gleich has also done groundbreaking research in movement and space-related studies, such as her work with vectors. To say her resume is impressive is an understatement. Rather than an intimidating giant of knowledge and achievement, however, she's quite personable and approachable in conversation. She shares that she's enjoying some time away from teaching, to have time to be reflective as well focus on new creative works.
In that reflective vein, one particularly poignant testimonial of her teaching states that she "breaks down the falsehoods of ballet." Gleich wants ballet to be fully alive, however. Gleich is somewhat ambivalent about the premise, and affirms that she can't make the tradition "better than it is." She contends that the "rites and rituals of ballet" are enduring. Gleich also finds those sort of trappings  "divisive", asserting that "women are not nymphs in my ballets."
All of that considered, she's certainly not afraid to push tradition in certain ways, so that it can grow into the world of 2017. For instance, she's challenged the Laban concept of "kinesphere" (the space into which we can reach and extend) to also include things far outside any one person's reach – as far away and gargantuan as other planets in our solar system. She's also certainly not afraid to be unconventional. In one work, for instance, she had one of her dancers recite in movement the numbers of the mathematical symbol Pi, without rehearsal – mostly for the experiment of it, just to see when memory would fail.
To understand what has helped shape Gleich, to understand her influences, it helps to step back in time to the New York City ballet scene of the 1970s and '80s. She describes this scene as "open for business" in the marketplace of ideas. There could have been postmodernism in the air. It could have been the creative forces of visionary, daring dancemakers such as Twyla Tharp and Agnes de Mille. Whatever it was, it appears to have opened Gleich up to the idea that tradition can be shaped and altered, and its essence still remain strong.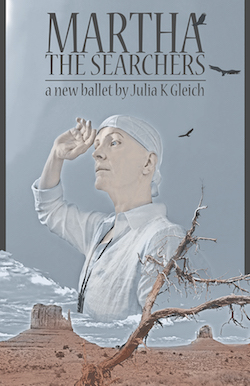 She also describes how, for her, mathematics has always gone hand-in-hand with dance. Similar to dance, mathematics is "precise, but there are often indeterminate outcomes," she asserts. She has also always been interested in the joining of artistic forms and ideas through collaboration, she explains. One might guess that her awareness of the unity of mathematics and dance allowed her mind to more easily open up to how other things might join with dance as well.
How is Gleich seeing the dance of today? She acknowledges a lot of good work out there. On the other hand, she sees television dance, such as So You Think You Can Dance, demonstrating a lack of framing dance around its social and historical context. Perhaps linked to that, she desires more effort among today's makers to reach across art forms and disciplines in artistic work.
She also believes the ballet world is very technique-driven nowadays. "As a choreographer, I'm as interested in the framing of the work as what's inside of it," she explains. She also discusses how she has sought to guide young choreographers not in the focus of what did or did not work but instead in what images did or did not emerge.
Looking toward the near future, Gleich is currently very engaged with a current passion project, to be performed in late October – a dance exploration of the life of Martha, a character in John Ford's iconic film, The Searchers. She explains how Martha (the work with the name of the main character, and a collaboration with the visual artist Elana Herzog) is all very non-linear, jumping around in her life – and even in the character Martha jumping around to different periods in time!
In this science-fiction sense, there seems to be a fluid coming together of the past and future. In this "modern western", Gleich is attempting to more accurately portray women for what they were — strong and stalwart, more like de Mille's cowgirl, than a Sleeping Beauty. Gleich also describes Martha (The Searchers) as theatrical and emotionally rich, like much of her work.
In that vein, it explores many emotions and the complexity within stories of the American west's past. She's thoroughly researched the topic and pursued other explorative work in order to build this ballet with due nuance and truthfulness. For example, Gleich immersed herself in a recent exhibition at the Denver Art Museum highlighting the influence of art in western films.
In this climate of social justice and equality issues on the front burner of the national ethos, Gleich wants to look at Martha's story in the fullness of what it was – rather than judging those from our past – she explains. "It's okay to be ironic, to be funny," she quips. All art, in one form or another, is reflective of its time, she believes. Martha may be a woman of the American west, but most of all she is a complex person. These conversations can be lacking, particularly in the world of ballet, Gleich feels.
For her, art is more useful as mirror – indeed, a multi-perspective house-of-mirrors – than as a mouthpiece for a particular social or political stance. As Gleich discusses these broad considerations, she's talking about things that impact the past, present and future. So may very well become one's mindset at pivotal turning joints on one's journey – of life, of art of career. Audiences attending Martha (The Searchers) (October 27-29, at the Mark Morris Dance Center in Brooklyn) can dive into these matters with her, as well as celebrate and honor her immense accomplishments.
For tickets and more information, click here. 
By Kathryn Boland of Dance Informa.