As of late this summer, Broadway Dance Center (BDC) has expanded its popular Children & Teens program. This program provides young movers premier training to achieve their full potential as artists. It delivers classes in a wide variety of styles and levels, plus performance opportunities in and around New York City.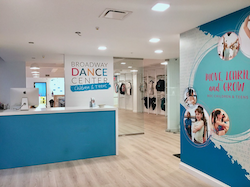 The Children & Teens program has previously offered training opportunities exclusively in BDC's state-of-the-art studios in Midtown but now it will offer training to kids in the Upper West Side too. BDC's new location on West 65th is near the famous Lincoln Center and it provides young dancers another quality studio to take class at and to attend special dance events.
The West 65th Studios—dubbed "W65" for short—will present Baby & Me classes, 16-week Semester classes for ages 2-18, and additional classes to expand on BDC's Midtown (West 45th) 32-Week program. The Grand Opening for W65 is Wednesday, September 13 from 5:30-8 p.m.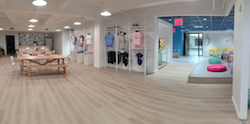 W65 Studio Director Katie Stewart said BDC's Children & Teens Program has been a "staple" at the W45 studios for over 30 years. She told Dance Informa, "We've been thrilled to watch it grow and expand over the years to become the elite dance training program that it is today. Along with that growth we realized that it was time to expand and give the young dancers in our city a place to train throughout the week as well as provide a safe community environment where they can thrive and grow as artists."
When asked why this specific location was so ideal for Children & Teens' new studio, Stewart said that it was already a thriving arts community. "The location is close to several major subway stops and to Central Park as well, so it's ideal for families coming from all over the Tri-State area," she said.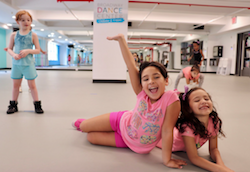 As Stewart was creating W65's class schedule, she decided to keep BDC's well-known offerings much the same, to stay in line with the organization's overall vision.
"Drop-in classes are the backbone of BDC so we're thrilled to be able to extend them to parents and caregivers so they can get moving along with their little ones," Stewart said. "We're excited to partner with GroovaRoo dance for babywearing classes as well as offering a variety of Baby & Me classes for young movers up to 4 years old."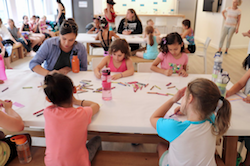 She continued, "The 16-Week and 32-Week programs really go hand in hand. It is our hope that many of our full 32-Week Season students will use the shorter-term semester classes to try out a new style of dance. We also have many students who are involved in other activities throughout the year, so the 16-Week Semester program gives them an opportunity to participate in dance training with a shorter commitment period."
Excitingly, many established Children & Teens faculty members from W45 are joining W65's instructor roster. However, new faces include Michele Moreno (new ballet faculty member) and Aspen Waddall (new jazz faculty member).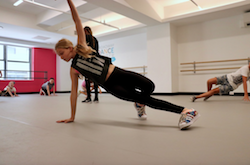 "We're also thrilled to welcome Justin Boccitio from the W45 adult drop-in faculty as the artistic director of the new Project Broadway program, along with Stephanie Card and Kelcey Matheny!" exclaimed Stewart.
Project Broadway will offer an "unparalleled learning opportunity" for aspiring performers. It will sample every aspect of what it means to be a Broadway performer, including dancing, acting, singing, knowing theater history, being comfortable with stage combat, being confident in audition technique, and more. This two-hour class for ages 8-18 will meet on Wednesday evenings and will run consecutively with W65's 16-Week Semester schedule.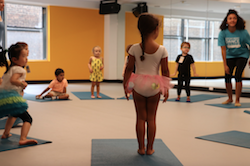 Looking ahead to next year, Stewart said W65 will definitely be providing more Summer Classes and Camps, along with even more special events and master classes for visiting dancers. But in general, her hope is that W65 will "become a thriving artistic space where dancers can receive the world-renowned training that BDC is famous for."
BDC wants the studio to feel like a safe space to young dancers, a place they can come to train or hang out between classes. This is why they created a comfortable spot for dancers to get homework done in the new studio.
For more information, visit www.broadwaydancecenter.com/w65.
Photos courtesy of BDC.