One of the initiatives currently being promoted by the National Dance Week Foundation (NDWF) is its "A Chance To Dance" Scholarships. The foundation, which has been bringing greater recognition to dance on a national level since 1981, has lately realized the great need for dance education opportunities for children with special needs. To help more teachers get the training required to offer adaptive and inclusive dance classes, NDWF is stepping in to award scholarships to instructors.
NDWF first offered the Chance to Dance initiative last year, but the organization soon realized that just one year wasn't sufficient.
NDWF Executive Director Cathy Graziano tells us, "Last year was so successful and the feedback was so encouraging we learned one year was not enough. A Chance to Dance is an important initiative because so many children with special needs and learning differences lack the opportunity to participate in a dance class. This is especially sad since most people know how beneficial dance can be not only physically but emotionally. Since then, I have gotten to speak with so many wonderful teachers who have opened classes especially for this purpose and others who would but shied away because they did not know how. But more are needed, so that is why we made it an annual event on our calendar."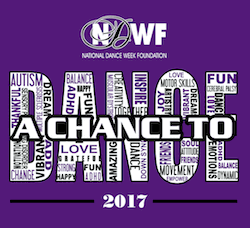 Scholarship winners will receive the opportunity to attend a Rhythm Works Integrative Dance Teacher Certification Workshop. This training incorporates "evidence-based practices in sensory integration, kinesiology, movement safety, and behavioral analysis" that will teach instructors how to assist students in reaching developmental goals. While the program focuses on working with students who have learning differences and special needs, the tools and knowledge gained are truly beneficial for all students.
In addition, scholarship winners will be given a Wingman program guide, which helps dance teachers implement curriculum in their schools in conjunction with their Rhythm Works training.
The deadline for applications is Friday, March 31. Any applications received after that day will be applied to the following year. Applicants must be those who either currently teach special needs dance classes, or those who wish to.
All Chance to Dance Scholarships will be awarded in April and then announced again during the next year's National Dance Week Celebration. The celebration always begins on the last Friday of February now.
Graziano requests that the entire dance community get involved to help raise the funds to provide these scholarships. She says, "To help create awareness, to fundraise and get more involved, we have a fun mannequin challenge and photo contest. These will give us the ability to continue to offer more scholarships, and the more we can fundraise the more scholarships we can offer."
She continues, "It is a joint effort. Dancers, teachers, dance students and studio owners can take the lead in getting everyone involved to take part."
Another opportunity for those who might be too busy to participate in one of the activities is to purchase A Chance to Dance t-shirt, as a portion of the sales goes toward the scholarships.
"Also, this year we are asking organizations and businesses to show support by having a 'Wear your A Chance to Dance T-Shirt to Work Day'," Graziano adds.
In total, NDWF was able to hand out four scholarships last year to teachers and studio owners. The hope is that many more will be granted in 2017.
On why this initiative is so important, Graziano states, "Dance is for everyone – from the advanced dancer to the beginner, or for the one with special needs. The positive effect about being inclusive is all benefit and all learn from each other. The more we can learn together or dance together it will create a positive spark that can continue to spread. Being positive is the best way to grow – and positive growth is great for the dance industry."
For more information on NDWF's A Chance To Dance Scholarships, the mannequin challenge, the photo contest or the t-shirts, head to www.nationaldanceweek.org. Teachers who want to apply for a scholarship should click here.
By Chelsea Thomas of Dance Informa.