Each year, since 1981, the National Dance Week (NDW) Foundation embarks on a mission to bring greater recognition to dance and to celebrate the art form and the joy it can bring to everyone. This year's week-long NDW is April 22-May 1, when fun dance-related events will be held throughout the country. There will be organized dance mobs, performances, library and pre-school reading programs, and even free dance classes. And to tie it all together, this year's theme is "A Chance to Dance", an initiative to provide dance education and opportunities to children with special needs, exemplifying what NDW is all about.
Cathy Graziano, executive director of the NDW Foundation, explains that NDW was originally formed when a group of dance organizations began a strong "grass roots" movement to bring more awareness to dance. The week-long celebration is always at the end of April, to include the birthday (April 29) of Jean-Georges Noverre, a 19th century French dancer and ballet master who was known at the "Shakespeare of ballet".
"I believe dance is for everyone," Graziano says. "NDW is a great way to encourage as many people as possible to celebrate dance and promote fun fitness."
The mission and passion behind NDW has spread since the organization's inception. Now, in more than half of the country's states, there are volunteer ambassadors who take the lead in their community in organizing NDW-related celebrations.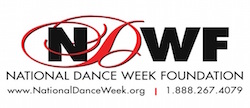 Peg Moore-Maioriello, a New York ambassador who has volunteered for NDW for over 35 years, says, "The first reason I had for getting involved was excitement about joining a group of creative people who formed a broad means to recognize so much of the inspiring, engaging and empowering art form that is dance and educating others about it."
This year, NDW has teamed up with Rhythm Works Integrative Dance, a teaching tool geared toward children with learning challenges, and the Wingman Program, designed for children with autism, for its "A Chance to Dance" theme.
"Children with special needs and learning differences are often excluded from traditional dance and arts programs," Graziano acknowledges. "Our mission is to provide the education and tools necessary for teachers, students and parents to effectively facilitate inclusion."
NDW hopes to raise money for scholarships to train teachers for special needs dance programs, which will, in turn, create more opportunities for dance for all. The organization will be selling NDW t-shirts, of which a portion of the proceeds will go toward these educational scholarships.
A popular aspect of NDW's celebrations includes the dance mob program, in which participants can learn a pre-choreographed routine found on the NDW website (or choreograph one of their own) and organize a flash mob in their area. Moore-Maioriello encourages flash mobbers to dress in the NDW t-shirt, to serve as a uniform and also to create dance awareness in their community. Specifically, Graziano hopes teachers and schools will share videos of events that feature special needs dancers, such as this pre-school dance mob video.
Other events will include poster and essay contests, opportunities for dance scholarships, fun photo uploads and nationwide panels about dance. "We do a lot of community outreach, inviting firefighters, police officers and government officials to participate in the activities, that helps community relations and is just plain fun," Moore-Maioriello adds.
Graziano assures that anyone can help raise awareness of the celebration of dance and to promote the inclusion of all people, allowing anyone "a chance to dance". She says no effort is too small. She encourages people to purchase and wear a NDW t-shirt, or to organize a dance mob or performance.
Following the spring NDW celebration, an autumn initiative called "Kick for Kindness" will take place in October. This anti-bullying campaign asks dancers to take a lead in their school or community and make a stand against bullying. A kickline-style dance will be choreographed and available to use as a flash mob. In addition, NDW is working on connecting with organizations that work with victims of domestic violence in the home.
Graziano says she loves working with NDW "because I care about dance and about people. I have met so many wonderful people who are also working hard to help create awareness to celebrate dance and promote fun fitness. These would especially be our ambassadors, who take the lead in their communities, not only for NDW but all year long."
For more information on National Dance Week, or to learn more on becoming an ambassador in your state, head to www.nationaldanceweek.org.
By Laura Di Orio of Dance Informa.
Photo (top): Angela Mannella-Hoffman with students at her studio, Moore than Dance. Photo courtesy of Cathy Graziano.