He is a MTV Music Video Award-nominated choreographer. He has taught just about everywhere – from the east coast's Broadway Dance Center over to LA's Millennium Dance Complex, and at popular conventions such as NRG, WILD, Intrigue Dance Intensive and Artists Simply Human, among others. And his choreography has been showcased in dance studios, companies, colleges and casinos across the globe. To top it all off, he has an incredibly strong background in martial arts (he was an undefeated black belt as a teenager), which has since informed his approach to dance movement.
He is TOKYO. And with a long list of credits such as those, he sure has a lot to offer as a choreographer and teacher. This December, TOKYO's company, TOKYOtheCOMPANY, will offer a three-day workshop and a performance with exciting guest artists.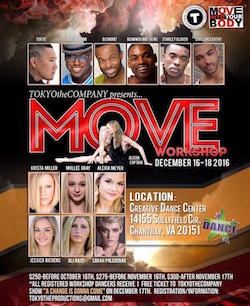 TOKYOtheCOMPANY's MOVE Workshop will take place December 16-18, at Creative Dance Center in Chantilly, Virginia. "The workshop is for prospective students who are looking to further their dance training and learn from real working professionals in a professional setting," TOKYO tells Dance Informa.
Faculty will include TOKYO and wife Alisha Captain, along with TOKYOtheCOMPANY members Ade Obayomi, DJ Smart, Nijawwon Matthews, Stanley Glover, Chris McCarthy, Mollee Gray, Alexia Meyer, Jourdan Epstein, Ali Nagy and Sarah Polednak. Together, these professional artists bring much experience and expertise, with performance credentials including So You Think You Can Dance and representation by top agencies such as The Movement Talent Agency.
"We are excited for the dancers to have the opportunity to train with dancers who are actively working in the professional industry," TOKYO says. "It is important to receive education from all aspects of the industry, and the more opportunities you have to learn from different experiences can only benefit your growth as a dancer and, more importantly, as a human being."
The cost for the three-day workshop is $300, which includes a free ticket to see TOKYOtheCOMPANY's performance, A Change is Gonna Come, on December 17, at the John Champe Theater in St. Aldie, Virginia. The show will feature dancers from TOKYOtheCOMPANY, the brand new TOKYOtheCOMPANY2 and students from TOKYOtheACADEMY.
"My company is comprised of dancers working in all facets of the dance industry," TOKYO explains. "Our dancers' careers have ranged from dancing with Complexions Contemporary Ballet to Lady Gaga, Disney movies, reality shows and so forth. Our goal is to showcase a non-biased approach and appreciation to a multitude of dance styles."
In A Change is Gonna Come, TOKYO yet again brings together top dancers in the dance community, and it's a rarity to be able to witness all of these popular talents in one event.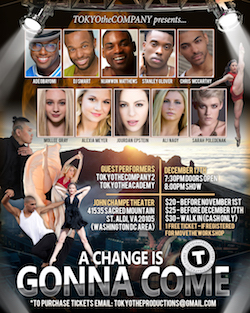 TOKYO, who has worked with the majority of the company dancers individually on other projects, says he has had great experience with each of them and sought out an opportunity to unite them all. "Bringing them all together as one unit challenges me to discover new depths of my craft," he adds. "I look forward to the challenge of bringing them all together and producing an unforgettable night of dance performance."
With TOKYOtheCOMPANY, TOKYO says he hopes his dancers and audience members simply have a great time. "Many times, as performers, we are trying to appeal to a certain demographic," he shares, "but in this instance, we are able to be free as artists and express ourselves without boundaries."
To register for the MOVE Workshop, December 16-18, at Virginia's Creative Dance Center, email tokyotheproductions@gmail.com.
For tickets to TOKYOtheCOMPANY's A Change is Gonna Come performance on Saturday, December 17, at the John Champe Theater in the Washington, DC, area, email tokyotheproductions@gmail.com.
By Laura Di Orio of Dance Informa.