Mississippi's capitol is home to Belhaven University, a private Christian liberal arts university whose history goes back to 1894. Belhaven puts Jackson on the map thanks to many of its academic programs, but one program in particular really makes it stand out: it's Christian M.F.A. in Dance program, the only one in the nation like it.
"Our dance department has a distinct program, in that we emphasize rigor and technique but go a step further to invest in the spirit as well as the mind and body," says M.F.A. Program Director Emily Wright.
The M.F.A.'s combination of faith and learning separates it from other dance departments in the country. Chair of Dance Cynthia Newland trusts that emphasizing both produces highly capable dancers as well as exceptional leaders.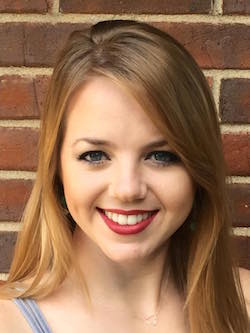 "Our program is meticulous and competitive, offering many of the same courses found at other institutions; however, we encourage our candidates to process all they learn from a view of being connected to the Creator, offering their gifts to honor God and to serve others," explains Newland. "The focus at Belhaven on offering a faith-based education equips our candidates with a greater foundation of understanding and purpose. We want our M.F.A. candidates to investigate their calling as artists and discover ways to serve using their God-given talents."
The M.F.A. program celebrates its first graduate this spring. Clara Grace Watson, from the local town of Grenada, first received her B.F.A. in Dance Education from the University of Southern Mississippi in 2011. After deciding to continue her education with Belhaven's master level program, she said she experienced an environment where she was "lifted up and guided in my faith and artistic goals."
Watson shares, "I realized that this environment was one I could flourish in and not be stifled. Here, at Belhaven, I have learned that both artistry and Christianity can be pursued synonymously; for it is through the Creator we find creativity."
When asked to expound on what makes this program "Christian" in nature, Watson says, "At the most basic level, all faculty are required to submit a 'statement of faith' upon the hiring process, so the mentorship one receives is from a Christian perspective and outlook. Each course has the freedom to incorporate, and welcomes, biblical application to act as a lens in which we view our curriculum."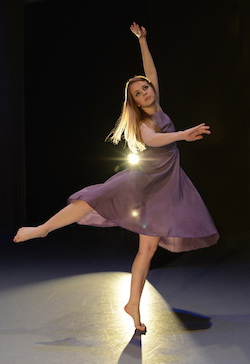 In addition to faculty and curriculum choices being centered on the Bible, Belhaven dance students also live according to "The Word". They put their faith into action and participate in a dance ensemble that serves the community through performances, outreach and community-based dance projects.
Since beginning her studies, Watson has received many opportunities to challenge and develop her artistry and leadership skills.
"I presented my scholarly research at the National Dance Education Organization conference during my second year in the program," she shares. "This research spoke to the relationship and implications of the transfer dance student (two-year to four-year institutions). As I experienced this firsthand, I was able to apply research methodology from my coursework, specifically that of ethnography and case studies, to the written word as a paper presentation at the NDEO conference. Upon presenting this information, I was able to network with other dancing artists and educators who wanted to uncover this issue further to provide advocacy and solutions in the arena of the community college dance transfer. This networking led to a panelist presentation at the following year's NDEO conference, and ultimately led to a community within the NDEO membership."
Watson has also enjoyed many opportunities to develop as a teacher. She's been able to instruct many lower-level university dance courses, such as Modern Technique, Performance Techniques and a dance appreciation course, as well as teaching dance in the public school system. This has been especially helpful to her, as her "ultimate goal is teaching dance within higher education."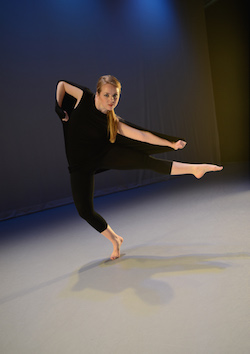 As a choreographer, she successfully presented her thesis concert in January, which explored the degrees to which spectators can become performers.
"The traveling, outdoor concert led participants (spectators) around the campus via performative guides and ended with a culminating movement experience in the theatrically transformed studio space," Watson explains. "I am currently formulating the written portion of my thesis, and my oral defense is scheduled for April 28, where the public is invited to attend."
As she prepares to graduate, she's thankful for Belhaven's three-year, 60-credit M.F.A. program and how it gives graduate students like her the chance to perform, present work and participate in regional and national festivals and conferences.
She expresses, "I feel that I could not be more prepared for my future, whatever God has for me."
Summarizing one of her biggest takeaways from Belhaven, she concludes, "We create for the Creator." 
Whatever her next step is, Watson is definitely filled with a divine purpose and peace.
For further information on Belhaven University's Dance Department and its M.F.A. program, visit www.belhaven.edu/dance. To see student dancers in performance, be sure to check out Belhaven University Dance Ensemble's Spring Dance Concert on April 8, 9, 15 and 16.
By Chelsea Thomas of Dance Informa.
Photos: Clara Grace Watson. Photos by Bryant Butler.