Do you have trouble consistently having enough cash to take dance class – as consistently as is necessary to propel your technique and artistry? Do you have time in which you could work to pay for those classes? There could be a good solution for you – serving as work-study student. Work-study programs (sometimes called "work-exchange" or "apprenticeships") allow dancers to assist studios in everything from studio maintenance to record-keeping, in exchange for free or discounted classes. Such programs are expanding in dance studios across the country.
They can offer dancers a means to keep taking class when money gets tight, as well as valuable networking opportunities and professional skills-building. It's important, however, to consider certain factors before committing to a work-study position, such as scheduling logistics and the level of exchange for your time. If you're thinking work-study could be right for you, look into programs in your area. (See below for links for work-study programs in some major American cities.)

Important things to consider are the types of ways you can serve (such as in studio cleaning, billing and other secretarial work, production assistance and more). Do those work with your present skills and personality? Maybe you're great at record-keeping and organization but not the biggest fan of cleaning mirrors and toilets. Be politely direct in asking those at the helm of work-study programs about what ways you might be able to serve. For the most part, they could use the help and are therefore very willing to work with you, so that the exchange can be good for you as well. That being said, some programs have more applicants than available slots, and some have rigorous entrance processes.
Secondly, look at whether or not the scheduling can work out for you. For instance, I clean studios and other spaces at The Dance Complex (Cambridge, MA), in mid-day shifts – the only ones available for that type of work (me personally, I prefer to clean than work with billing/other official business). I'm fortunate that, as a yoga instructor and freelance writer with a variable schedule, I can work those mid-day shifts. That wouldn't be possible for someone with a nine-to-five job, however.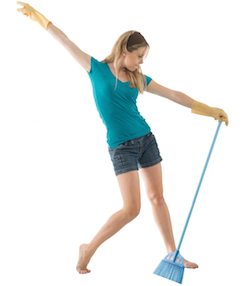 Then, also analyze what you would receive for your time in a work-study program that you are considering enrolling in. You can come up with a rough estimate of that by setting an average cost of classes at the program's studio/dance organization, and dividing that by the number of classes or rehearsal hours that you get for each hour you would work as a work-study. That's approximately your hourly pay for the work. It's possibly more worth your while to get a job elsewhere, and use some of the cash to pay for classes. Perhaps not – maybe such a job isn't available to you, and work-study really is your best option. Everyone's situation is different. It just takes some objective thinking to understand what the smartest option in yours really is.
True, work study isn't for everyone. Maybe the only available shifts would prevent you from taking the classes that are important for you to take, for your dance career vision (or amateur goals) to become a reality. Maybe your work-study position would require you to stand for hours on end, leaving your muscles tight and tired when it's time for your favorite class, and your dancing in the class would suffer. Maybe you spend so much time in the studio, that you'll actually be more dedicated and hard-working in class if you're not there for hours beforehand working. Again, every dancer and his or her unique situation is different, so take all of these factors (and others I haven't mentioned, that might mean something for you) into consideration if you are thinking about doing work-study.
With a job outside of where you take dance class, however, there are benefits that you might miss out on — those that a work-study position would offer. Such positions can offer training in essential dance-world skills – from marketing, to event booking/planning, to performance production (lighting, props, costuming). If you might feel as if you're not doing much more than signing people into the studio and selling classes (certainly important work), you can always speak up. Don't be afraid to ask for more responsibility! Administrators are usually happy to lighten their own loads by giving some of their (often more exciting and meaningful) work to those who show that they are capable and dedicated. In the present climate of the dance world, dancers can only benefit by gaining all of the skills that they can. Whatever dance world work might arise – from advocacy, to writing, to costume design – you could be ready with the necessary skills and experience, because of your time doing work-study.
Work-study positions can also position you to more easily do valuable networking. The more often you're working in the studio, the more likely you might run into, and potentially have a meaningful conversation with, an influential choreographer or artistic director. They could see your great work ethic, and maybe more likely have you in mind when they're ready to have an invitation-only audition, for instance. Contributing to your studio, from its day-to-day operating to its larger vision for future growth, can also make you feel more a part of its community.
From experience, I can say that it's truly fulfilling to see your work's positive effects on your studio and its community. It brings peace of mind to know that you won't have to stop taking class just because of financial issues. Overall in life, I think that you can't know until you try. So, if you don't already have a work-study position, or are considering taking one on, I encourage you to look at if it may work for you. It could be the start for you of a truly rewarding and beneficial new journey in your dance community.
Work-Study Programs* – Major U.S. Cities
-Boston: The Dance Complex
-New York: Broadway Dance Center, STEPS on Broadway
-Washington, D.C.: Joy of Motion Dance Center (multiple locations)
-Chicago: Lou Conte Dance Studio
-San Francisco: ODC Dance
-Los Angeles: Millennium Dance Complex
*This list gives examples, and is not exhaustive.

By Kathryn Boland of Dance Informa.