The Goat Farm Arts Center, Atlanta, Ga.
November 2013
By George Staib.
Take away the throngs of screaming, teary-eyed teenaged girls glued to their television sets in the 1950s and one might say that the impact of Israeli modern dance is not unlike the invasion of The Beatles. It is virtually impossible to escape the radical influence that artists from Tel Aviv and Jerusalem have had on the global dance scene. As word spreads, we see more and more of the distorted limbs and crumpled torsos that originated with Ohad Naharin's Gaga and the Batsheva Dance Company aesthetic. But just like American contemporary dance, Israeli work is exceptionally varied and multi-faceted.
In November 2013, at Atlanta's Goodson Yard, Niv Sheinfeld and Oren Laor presented Two Room Apartment, an adaptation of the 1987 duet by Liat Dror and Nir Ben Gal. The two men (who also presented the work at Rutgers University) made an Atlanta pit stop to contribute to the Tanz Farm initiative, now in its second year. Goodson Yard, a newly revitalized industrial warehouse at The Goat Farm Arts Center, provided an impressive backdrop for the work and allowed for an intimate viewing experience. 
Seated in the round, we watch as the dancers casually enter the space then divide the stage into two rectangles with white duct tape. The act of marking the space separates us from them but also us from each other.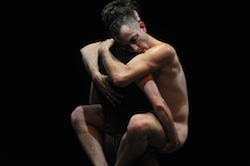 Then, with the sounds of military percussion in the background, Laor and Sheinfeld pace. They pace deliberately, focused exclusively on their own patterns, their own habits and yet somehow, remain tethered to one another by a delicate thread of immeasurable strength. Each unison pass in the space allows a gestural language to develop with sublime subtlety and nuance. Often, unison movement has remarkable appeal yet can wear out its welcome too quickly. But in Two Room Apartment, it is fodder for growth: a way to ask "are we losing ourselves in this relationship or becoming one person?" This language would be used consistently for the next hour, with Darwinian shifts that are as minuscule as they are transformative. We know this relationship. This is the one that has self-inflicted wounds but remains indestructible.
Two Room Apartment feels autobiographical. The two, who are a couple as well as artistic collaborators, reveal intimacy issues with courage, humor and depth. The delivery of the material, like their relationship, is steeped in trust; a certainty in their eye contact suggests, "I'm not going anywhere" and simultaneously reveals the tragedy in that sentiment: "This again?"
Midway through, Laor sheds his clothes, and here the use of nudity both creates and resolves tension and fosters a surprising connection with the audience. In one moment, Laor, vulnerable, naked yet somehow powerful, continually yanks Sheinfeld back by his legs; it is an act that begins aggressively but quickly reveals tenderness.
Just as many relationships are or become repetitive, the piece follows suit but brings us full-circle to manageable emotions and easier-to-navigate times. No Hollywood ending by any stretch, but certainly not dark or pessimistic; the conclusion feels unresolved and reflective of real life. In perhaps the only unsuccessful moment of the evening, Sheinfeld and Laor sing to a cover of Elton John's "Goodbye Yellow Brick Road" as it plays in the background. Awkward and redundant, it force-feeds the message; we are already full.
Two Room Apartment is an invitation to examine personal boundaries at one moment, cultural differences the next, and our own relationships throughout. As the movement segues into volatile partnering and acts of desperation, we grow closer to the subjects. We see the calculating, we sense the aggravation, we feel how vulnerability can entice a partner as much as it can repulse. And while the vocabulary follows a pattern, familiar movements begin to develop with the addition of intertwined arms, abrupt grabbing, trips, falls, pushing and pulling. Slowly, the dancers reveal a sincere telling of their story, also so familiar to us.
The piece begins to dissolve as the dancers begin stripping away the duct tape – a symbolic demolition of the walls in the apartment. As the mood shifts, we are left with the understanding that what we have seen is both new and wildly familiar.
Photos by Gadi Dagon.