By Christine Dion of Mode Dion.
There is nothing better than doing what you love and getting paid for it. When it comes time to take your talent to the next level you'll need a professional headshot to present at agent interviews, auditions and castings.
Most professional dancers perform in commercials and stage shows which usually require a head shot that shows the "real you".  This "look" is a natural makeup application that enhances your features enough to make you stand out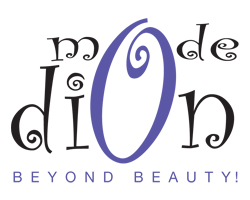 on camera. This is not a character, fashion,
glamor or dramatic look. Those will be needed for certain jobs, but for now let's focus on your most important look: "The Real You".
Get The Look

This video tutorial will help you apply a professional polished makeup look for your head shot photo shoot.
Tips to remember are:
Use matte colors and avoid shimmers. Even lips should be matte. A little natural lip gloss on the lips to add focus to the smile can be added, but keep the color soft.

Avoid dark eye shadow shades like black. Instead of eye liner pencils in black use an eye shadow cake and a wet liner brush to create more of a smudged soft line.

Use black mascara to make eyes come alive and soft natural false lashes, only if needed.

Use white or beige eye pencil on ridge of lower lash line to whiten and widen eyes.

Groom, shape and define brows perfectly. They come into close focus in a head shot.

Foundation, concealer and face powder should match the throat and create a flawless, full coverage matte finish.

Use a shade lighter face powder to highlight features like down the center of the nose, cheekbones, forehead center, sides of mouth, below nostrils, center of the chin and down the front of the throat.

Use a contour cheek shade (pink/brown) or face powder one shade darker than skin to contour sides of nose, cheekbone, sides of forehead, sides of throat and jawline.

Choose cheek and lips in a soft peachy pink for fair skin and brownish rose for deeper skin tones.

Blend well the lip liner edges into lipstick so there's no noticeable lip liner.
Save Money with Preparation
Pictures are expensive, so be sure to prepare before your photo shoot.
Tips to prepare:
Don't change your hairstyle or hair color unless you're sure to keep it for a few years.

Whiten teeth for a bright smile. Brushing with Baking Soda a few weeks prior can really brighten a smile.

A week before the shoot really pay attention to your skin. Begin exfoliating a few times a week if you have not been keeping up with good skincare. You want the skin smooth and pores as small as possible. See modedion.com "At Home Facial" in "How To Videos" for a great way to minimize pore size.
Be sure to style your hair how you would show up at an audition and keep it natural looking and not "too done".  Adding a fan to blow the hair softly away from the face can enhance features and add a little life to your photo.

The night before, avoid anything high in sodium or alcohol. Go to bed early with an extra pillow under your head to prevent puffiness so in the morning you look rested.
Clothes Make or Break
The focus of your head shot is you not what you're wearing. Be cautious of anything that distracts from your face.
Wear clothes that are comfortable and make you look great.  Don't overdress.

Avoid clothes with logos or branding, lots of prints or stripes, very bright or have rhinestones, glitter or designs that detract from your face. White is not the best choice unless worn under something.

Simple shirts or blouses in dark or medium tone colors attract less attention away from your face.

Make sure clothes look brand new and are neatly pressed.

Bring a variety of necklines and styles as different styles change the shape of you face.  It's always better to have too many choices than not enough.

Turtlenecks and scarves are not a good idea as they crowd the face.

Don't worry about shoes unless you plan to also do a full length shot.

Keep jewelry small and simple. You don't want to distract from your face. In a head shot you are the star!  No facial piercings or multiple earrings.
Strike a Pose

A face usually looks best with a slight angle pose. Either the body or shoulder shifting to the side or the chin. Move your chin slightly to the side and think of the line of your jaw. Avoid lifting your chin too high which draws attention to the nostrils, or too low which can enhance dark under eye circles, a pronounced forehead and add double chin shadows. Study in the mirror and feel what looks best.

Show emotion in your eyes. Gaze into the camera with purpose, focus, with confidence and convey an attitude. Do your eyes smile? Do your eyes say I'm confident?  Make eyes smile by tightening upper cheek muscle a bit which helps prevent crinkling at the sides of eyes. Practice by looking in the mirror and covering the lower half of your face with a piece of paper.

Avoid "Dead Fish" eyes. Look down and then with intensity up into the camera. If you begin to lose the feeling look down and then up again.  This is also very helpful for when bright lights are in your eyes from reflectors or sunlight,  which are often used by the photographer to give a nice look to your skin.

Keep mouth slightly open, soft and relaxed.

To lower chin correctly pull your face slightly forward and bring jawline down. This elongates the neck and prevents a double chin look.

Even though this is a head shot, remember posture. Slightly lift chest up, shoulders back and align ears to shoulders.

If you wear glasses, including sunglasses, you must take them off at least an hour before a shoot to prevent marks at the sides of your nose.
Re-Touching Risk

Your head shot needs to look like YOU!  After the photo shoot be careful not to re-touch every wrinkle or blemish. Too much re-touching can cost you a job.  A professional shows up looking like their head shot.  Be your best, but be real. After all it's your talent that will close the deal. Happy shooting!
Be sure to visit modedion.com for more great beauty tips, how to videos and products. Sign up at modedion.com for more tips and updates on Mode Dion Cosmetics & Training Facebook, Newsletter and Twitter.
KICK OFF THE SEASON DISCOUNT SPECIAL
Dance Informa Readers take 20% off all Mode Dion Retail items!!!!
Does not include Discounted Kits items. Offer lasts through Nov. 15th. Just mention Dance Informa when purchasing.

Photo (top): One of Christine Dion's models showing nice, natural makeup and non-distracting clothing for a head shot. Photos courtesy of Mode Dion.