By Rain Francis.
1. Ethan Stiefel is the current Artistic Director of the Royal New Zealand Ballet. His name was made more famous in mainstream culture after he starred in which popular movie?
a) Step Up
b) Center Stage
c) Honey
d) The Princess Bride
2. Who is the current Artistic Director of Rambert Dance Company?
a) Christopher Bruce
b) Christopher Wheeldon
c) Marie Rambert
d) Mark Baldwin
3. Who succeeded Monica Mason as Director of the Royal Ballet in 2012?
a) Kevin O'Hare
b) Darcey Bussell
c) Antony Tudor
d) Christopher Hampson
4. Which American company did George Balanchine co-found in 1948?
a) American Ballet Theatre
b) San Francisco Ballet
c) Miami City Ballet
d) New York City Ballet
5. Which famous dancer, who would go on to direct the Paris Opera Ballet, starred in Sir Robert Helpmann's 1973 film Don Quixote, with artists of The Australian Ballet?
a) Sylvie Guillem
b) Mikhail Baryshnikov
c) Rudolf Nureyev
d) Cynthia Harvey
6. Graeme Murphy and Janet Vernon were directors of which famous Australian dance company from 1976 to 2007?
a) Sydney Dance Company
b) Chunky Move
c) The Australian Ballet
d) Queensland Ballet
7. Name this famous choreographer and artistic director: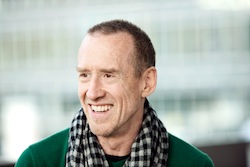 8. In which country would you be if you were visiting studios of the dance company once directed by Jim Vincent?
a) France
b) Great Britain
c) The Netherlands
d) USA
9. True or false: Alvin Ailey is the current artistic director of the Alvin Ailey American Dance Theater.
10. Who founded Complexions Contemporary Ballet with Desmond Richardson

a) Robert Battle
b) Dwight Rhoden
c) Rasta Thomas
d) Charles Anderson

Answers:
1 – b; 2 – d; 3 – a; 4 – d; 5 – c; 6 – a; 7 – William Forsythe; 8 – c; 9 – false; 10 – b 
Photo (top): Desmond Richardson, courtesy of Complexions Contemporary Ballet.