By Tara Sheena, with Jennifer Jancuska.
Brought to you by Broadway Connection.

It's no secret that the life of a Broadway performer can be hectic and exhausting. Constant rehearsals, learning new tracks and up to eight performances a week, every week, is enough to fill up anyone's schedule.
Luckily, Dance Informa and Broadway Connection have teamed up this month in a series of "Curtain Call" interviews with some of today's most exciting Broadway performers. We caught them at their call times in the few moments they could spare to discuss what it means for them to be a teacher for Broadway Connection and how being a student still affects their lives as professional performers.
Tara Sheena spoke to Jonathan McGill (Wicked, First National Tour), Tricia Tanguy (Sister Act, National Tour), Michael Fatica (Newsies, Broadway) and Tiffany Howard (Motown: The Musical, Broadway) right as they were gearing up for show time. Read their thoughts below and check out their candid "Curtain Call" pictures they snapped just for readers!
On Teaching
For all of these performers, teaching is about inspiring younger students to strive for more. "Teaching is a way for me to share my knowledge and creativity with my students," Jonathan McGill says.
They all realize it is a way for seasoned performers to pass down their experiences to younger generations, as Tricia Tanguay notes, "There is going to be a little Tricia in my class who, in 10 to 15 years, is going to be in my shoes."
It's evident that each class gives each teacher an opportunity to connect with students, many of whom are familiar with the Broadway shows their teachers are a part of.
Michael Fatica remembers when he first started with Broadway Connection as LeFou in Beauty and the Beast; he encountered many young fans in his classes. "It's fun for me to see how excited they get," he says.
And that enthusiasm is something that Tiffany Howard thrives on as a teacher. At the encouragement of her own teachers as a young dancer growing up in Virginia, she got her start teaching while still in high school. Her current position as a teacher with Broadway Connection allows her to break up the monotony that tends to occur after doing the same performance eight times a week on Broadway. "I find every time I teach, it reignites my passion," she says. "It reminds me why I fell in love with performing in the first place."
On Being a Young Student
It's no surprise that habits and influences of each performer's young lives still have an impact on their roles as a teacher and, more importantly, a student. Tricia Tanguy specifically credits her childhood teacher, Heidi Glynias of The Dance Center in Ohio, for encouraging her to be versatile in her dancing but, also, in the way she markets her skills. Tanguy recalls Glynias making clear that "the more you can do, the more valuable you are as a performer."
Jonathan McGill experienced a similar kind of encouragement from teachers as a young student growing up in Los Angeles. At his teachers' advice, he made the move from L.A. to New York City for college at NYU's Tisch School of the Arts, only intending to stay through graduation. However, making the move opened him up to opportunities that would not have come his way otherwise and, after nearly a decade in NYC (including four years of performing in Wicked on Broadway), he is happy to remain in the city he was once so skeptical of.
Similarly, Tiffany Howard has found that the guidance of her childhood teachers has set her up for maintaining good habits, as both a student and performer, in her adult life. "My teachers and my parents were good with helping me not become competitive with my art. They encouraged me to enjoy it and learn as much as I can for myself." Howard plugged away at classes in many dance styles and local productions as much as she could manage. The discipline and routine in taking class is something she is happy she developed early on in life, as she is quick to admit that keeping up a rigorous training schedule gets more difficult the older she gets. "[Training and going to dance class] was always something I did. Now, I feel like I am benefitting from the rewards of that discipline."
On Being a Student Today
As noted, keeping up a professional performance schedule is daunting enough, so the thought of regular class-taking presents itself as a challenge for many professional dancers. Whether on tour or taking up residence in a big city, the intense show schedules—from rehearsals to costume fittings to staging—are something that barely leaves time for a dinner break, let alone a full dance class. Regardless, the "Curtain Call" performers realize learning can take place in many forms, and not always inside a studio.
Tricia Tanguy thinks that simply "sitting on the sides and watching my fellow actors" is something that has helped develop her practice of constantly learning new roles and performing new tracks.
As Dance Captain of Newsies, Michael Fatica knows that attending regular class helps him through a heavy performance week, especially in a show ridden with endless jumps, turns, flips and high kicks. He makes an effort to explore classes that will help him expand the movement he is so used to performing in his Broadway show. "Being in Newsies helps you with a certain type of movement so I am really finding the soft side and the delicate side [of my dancing]. I want to be able to use my training to do any sort of style," he says.
Both McGill and Howard realize that being a student never ends, something that has become clearer as they have had more and more opportunities as professional performers.
Howard explains that it is easy for her to be stubborn or lazy when it comes to stepping outside her comfort zone in dance class. She is "trying to focus on being open to being that student again," whether that means seeking out new classes or teaching her own. "I hope to always be a student," she notes.
Remaining a student is something that is important to all of the Curtain Call performers, as Jonathan McGill sums up nicely: "Part of my main focus as a student is to remember that I am still a student and don't know everything," McGill says. "There are still things I can learn and improve on."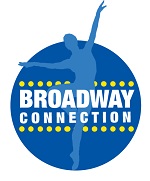 About Broadway Connection
Broadway Connection brings Broadway to performing arts students at studios, schools and universities worldwide. Without the cost of travel and lodging, schools now have the opportunity to have the current stars of Broadway teach in their home space. Broadway Connection teachers are traveling to a city near you with every Broadway touring production. During Broadway Connection Master Classes & Workshops, students learn to stand out in front of directors, choreographers and professors when auditioning for top universities or the Broadway role of their dreams. Each class ends with a Broadway Connection Q & A where students and parents ask questions and receive detailed advice on education, auditions, Broadway shows and more. Whether polishing dance technique or perfecting triple threat skills, students leave their Broadway Connection experience inspired, energized and focused to continue training hard and reach new heights! www.BroadwayConnection.net
Photo (top): A scene from Sister Act National Tour. Patina Miller and the company in Sister Act. Photo by Joan Marcus.