By Kathleen Wessel.
Last summer, choreographer Michelle Fletcher, two dancers and a small film crew went on a pilgrimage from the bustling metropolis of San Francisco to the rural West Virginia countryside. Their destination was a beautiful but dilapidated 18th century stone house owned by dance legend Dan Wagoner. Built in 1789, the house is an unlikely sanctuary for Wagoner, a former dancer with Martha Graham, Merce Cunningham and Paul Taylor, who so fondly remembers the many years he spent in New York City as part of a community of experimental artists. Perhaps it is this dichotomy – the fast-paced, quirky sensibility coupled with well-worn familiarity and wisdom – that has attracted so many people to Wagoner's unique choreographic and teaching styles.
Fletcher is among those admirers, and she envisioned "The Dan Wagoner Project" as a kind of gift, a way to thank and honor him. She is quick to point out that the finished product will not be a documentary but rather a dance film inspired by Wagoner and the choreographic aesthetic he cultivated during the 25 years he directed his company, Dan Wagoner and Dancers. As for the setting, his farmhouse in West Virginia seemed not only desirable but necessary to the success of the project.
"He's losing his sense of purpose," said Fletcher in reference to Wagoner's frequent laments over the loss of his physical capabilities as he ages. "I was thinking about what would bring him joy. He loves dancing, and he loves his farm."
To combine the two seemed like the perfect solution and the perfect way to capture Wagoner in his element. The youngest of 10 children, Wagoner has spent his life surrounded by family, many of whom still gather at the farm every year for a reunion. With motherly fondness, Fletcher added, "He's also a big baby. I don't think his feet touched the ground until he was 12."
Fletcher and Wagoner, although they are more than 50 years apart in age, have formed a deep bond since their meeting at Florida State University in 2005. Fletcher was a graduate student in the School of Dance, Wagoner an esteemed professor and eventually her mentor. From the start, Fletcher, a highly trained ballet dancer, gravitated toward Wagoner's wacky movement style and abstract aesthetic.
"He saw a lot of potential in me," she said, "and he pushed me in ways that felt right."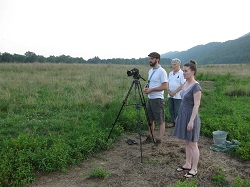 During her last semester at Florida State, Fletcher's father passed away; he was 79 years old, about the same age as Wagoner. She had a strong, loving relationship with her father, and she says those feelings easily transferred to her mentor.
"I was a kind of surrogate," said Wagoner, "she cast me in the same mold." For a while, Fletcher's feelings for Wagoner, because she was grieving for her father, were dominated by a sense of impending loss. But she soon realized her mentor was still alive and still a part of her life. She wanted him to know how influential he had been and that she was grateful for the bravery he continued to instill in her.
When Fletcher first approached Wagoner to discuss the possibility of making the film, she admits he was skeptical. In order to convince him, she said with a laugh, "I felt like I had to get in his face." So she got on a plane, flew to Tallahassee, and told him of her plans in person. Soon after, Fletcher launched a campaign on the crowd-funding site Indiegogo and raised enough money to fly her small crew of dancers and filmmakers to West Virginia where they spent a week on location.
She said Wagoner was happy to host them but nervous that they wouldn't like the rustic conditions; the house doesn't have electricity or running water. Fletcher assured him that it would be an adventure, like camping. To me she confessed, "I basically came up with a project in which to facilitate my dream of hanging out with Dan on the farm."
Despite his reservations, the pull of creation was too strong to keep Wagoner away from the action. "As soon as we were rolling, he clicked into performance mode," said Fletcher. The two friends bounced ideas off of each other, and though most of the choreography is Fletcher's, Wagoner was heavily involved in the process. On one day of shooting, dancer Michelle Kinny performed a solo in the middle of a field, and Wagoner hiked out with the crew to watch and give feedback. Wagoner also worked with dancer Andrew Chapman as he learned and performed a solo originally performed by Wagoner himself in 1975.
That solo, incidentally, was part of a dance film Wagoner choreographed for WGBH-TV, Boston's public television channel. Entitled, "George's House," the film was shot at a cabin in New Hampshire then owned by Wagoner's partner and artistic collaborator George Montgomery. At the time, dance for camera was not yet a recognized artistic genre, and Wagoner's film was a pioneering achievement. The significance of this connection was not lost on Fletcher who said she might title her film "Dan's House" or "Dan's Farm."
It was important to Fletcher that all the dancers possessed what she calls "body memories" of Dan Wagoner's work. Kinny and Chapman, along with New York-based dancer Kit McDaniel all graduated from Florida State where they spent years studying under Wagoner. In one scene in the film, Wagoner sits in his rocking chair on the expansive 10-by-46 foot front porch (which Wagoner restored himself, years ago) and performs a gesture. The dancers, seated around him, then respond by copying the gesture. As the call and response continues, the dancers' movements expand in size in tempo, eventually bursting into a dynamic whirlwind of gyrating pelvises and quaking bodies. Anyone who has studied extensively with Wagoner, as has this author*, will smile and nod in understanding.
Wagoner, a notoriously demanding choreographer and highly specific dancer, has not seen some of the choreography that will end up in this film, but he trusts Fletcher's ability to echo his aesthetics.
"She has done my dances," he said, "and it gets transposed: her idea of what she thinks my ideas are. It can add a kind of tangential depth, a quality you couldn't have added yourself."
Then, with characteristic tangential insight, he relates this comment to poetry: "[Robert] Frost said poetry is what's lost in translation." But, he said, some of the poets he knew in New York City were "interested in what's gained in translation." He continued, "It will be interesting to see if something is lost or gained. It's like life. We get one idea, and that fades away and comes back into focus as another idea."
It is perhaps this spirit of creative experimentation that has given Fletcher the courage to trust her choreographic instincts. In the gems of wisdom that so often flow from Wagoner as he teaches his classes, countless people have found guidance and encouragement. Musician Alex Davis, who is a former Florida State School of Dance accompanist, credits Wagoner for helping him become more confident in his ability to play live for class. In recognition and gratitude, Davis is composing the film's score.
When asked about his impact on others, Wagoner said, "I'm trying to garner their courage. There is something so beautiful about dancing. I want everyone to embrace and be moved by it and to find a richer life."
Fletcher certainly has. And she hopes others will find inspiration in the life and words of this extraordinary artist. She has entered "The Dan Wagoner Project" into a few San Francisco film festivals and hopes to screen it at Florida State as well as the Wagoner family reunion on his farm. "I just want to show it to people who love Dan," she said. That will be a very large audience, indeed.
*Full disclosure: The author attended Florida State University at the same time as Michelle Fletcher. She also studied under Dan Wagoner, and he mentored her master's thesis concert in 2007.