By Stephanie Wolf.
Ambitious, self-motivated, earnest work ethic – these are all attributes of a successful ballet dancer. These are also adjectives used to describe a successful entrepreneur. So, it's not so surprising to hear of individuals who triumph in both professional realms.
Meet Julia Erickson and Aaron Ingley. Both have illustrious careers with Pittsburgh Ballet Theatre (PBT), though Aaron no longer performs with the company. In 2010 they used their business know-how and gumption, gained from the University of Pittsburgh, to start their own venture. From a grassroots at-home project to a nationally sold product, Erickson and Ingley are making leaps and bounds in both the dance and business worlds.
The inspiration
Erickson became fed up with snack options during rehearsals for Odette/Odile. She needed something that wouldn't fill her up, but would keep her body and mind alert enough to dance the demanding role. Wary of turning to protein/energy bars because of their "nary resemblance to real food," Erickson turned to her kitchen and began to experiment with some "esoteric health foods, such as hemp seed and flax." Eventually, she developed her own "chunk of yummy goodness."
The resulting concoction was exactly what she needed. "It was like rocket fuel for my rehearsals—it gave me amazing energy, yet I didn't feel overly full or weighed down." Happy with her new go-to snack, Erickson shared it with her PBT colleagues, who gobbled the treats up enthusiastically. "I kept supplying it, people were asking for it, asking to buy it from me, and [Ingley] took that thought to its natural next juncture and said 'why don't we start a little business?'" Thus began the journey of the little nutrition bar that could.
Real ingredients you can pronounce
Dreamed up by dancers and made by dancers, Erickson and Ingley insist Barre is great for any active individual. "Barre is specially formulated to contain the perfect mix of slow and fast burning carbohydrates, protein, healthy fats, fiber, and naturally occurring electrolytes to help dancers and others who demand exceptional nutrition perform their best." Erickson assures the product will "satisfy and sustain you without weighing you down," thus, making it an ideal on-the-go snack.
Names like Ballerina Spirulina, Pirouette Cinnamon Pecan, and Black Swan Chocolate Berry effectively convey the thoroughness, creativity, and of course, grace that goes into making each nutrient-packed treat. Every Barre contains natural, wholesome ingredients like agave nectar, dried fruit, nuts, cocoa, flax seeds, sunflower seeds, and more, that are free of allergens like soy and wheat and are sourced from a "vetted list of farms and other suppliers in the United States." Devised to provide a powerful boost of energy in every bite, Barre is packed with electrolytes, Omega-3s, and zero refined sugars to give your body and brain the extra boost they need.
So, who gets to name each new flavor? "The both of us," says Erickson. "And sometimes a few trusted advisors are allowed to weigh in as well. Sometimes a Barre names itself. What else rhymes with Spirulina?" And, fortunately, fans of Barre can expect new flavors in the near future, including a nut-free bar for those with nut allergies.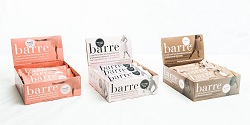 Entrepreneurship 101
"We didn't really know where to begin," says Erickson of those initial years. At first, they thought they could adopt the Yumiko leotard model, having dancer liaisons sell Barre at their respective ballet companies. "Then we realized the scope of the market was really much larger." From young dance students, to their parents, to professionals, and really to any active individual in "today's harried world," many could benefit from this healthy snack.
With the help of friends and family, they began to make and sell Barre. But, as the demand grew, they knew they had to take the business to the next level. They employed the expertise of their fathers, who are both veteran entrepreneurs/businessmen. "Having advisors that you trust and ask stupid questions are invaluable."
Now, Ingley tackles the day-to-day operations, while Erickson—who miraculously juggles dancing fulltime with PBT—focuses more on the bigger strategic and marketing picture. The fulfillment and customer support aspects are delegated to their other employees. But, Erickson expresses, "there are many people, not just our immediate team, that do big and small things to help spread our message about Barre."
As for other dancers debating about starting their own business, Erickson and Ingley encourage them to take that leap of faith. "Take time to hone your vision and your strategy (to the best of your ability), then go for it, even if you don't really know where to begin. One of the coolest parts about entrepreneurism is the continued learning. As in life, nothing about it is static, nor would you ever want it to be. It's a crazy fun journey."
Erickson and Ingley share some of the entrepreneurial lessons they learned along the way:
"You cannot do it alone.

Seek advice.

Don't be shy.

Every day is a new learning experience.

You will make mistakes along the way, most of which will cost you money. It's all part of the learning process. Being honest with yourself and your advisers may not keep you from making a $5K mistake, but it can save you from making a $100K mistake!"
Barre's national presence, at both dance institutions and local food markets, grows more every day and Erickson and Ingley are always looking for ways to evolve their business. "We hope to increase our flavor selection, diversify our product line, and continue to be receptive to the needs of dancers and other active people," says Erickson in regards to Barre in the coming years. But she expresses that it "takes a village" to sustain any new endeavor. If you want to help spread the love and nutritional goodness of Barre, download a Barre Request Form by visiting http://realfoodbarre.com/media/files/BarreRequestForm.pdf. Then bring it into your favorite market or dance studio/store.