By Tara Sheena.
You've seen his smooth moves gracing promo events for the high-school-hopefuls on Oxygen's The Glee Project; you've caught his tightknit choreography on Extreme Makeover: Home Edition featuring beloved Broadway beauty, Kristen Chenoweth; you may have even witnessed the exciting chatter erupting after his class at Broadway Dance Center (BDC) on a Tuesday afternoon, but do you know the man behind this diverse spread of choreographic terrain? It is none other than Jim Cooney, Broadway vet and master teacher, who currently spreads his knowledge and know-how four days a week at Broadway Dance Center. Cooney not only teaches four high-energy classes weekly, but he advises the elite Professional Semester training program as well as the Summer Intern program.
Given all his roles within the BDC community, it is evident that Cooney is passionate about teaching students of all levels. In one week, he can encounter up to 200 different students at the busy NYC studios and says it is "seeing them succeed is the most rewarding and gratifying experience." In particular, it is the students in the Professional Semester and Internship programs that fuel this joy. Cooney works intimately with them to acquire skills to sustain a career in dance. Those skills range from technical training to developing audition prowess, but the most important, according to Cooney, is developing performance skills.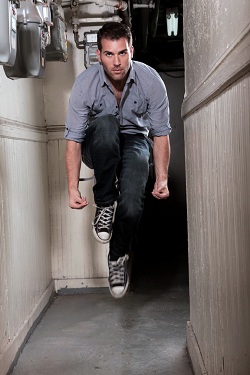 "It's the way the dancer interprets and executes the movement that matters most," Cooney explains. "I often tell my dancers that your face is indeed part of your body and that their dancing doesn't happen from the chin down." One of his methods is to encourage his students to approach dancing like an actor would approach interpreting a script. This means asking questions like, 'Who am I?', 'What do I want?' and 'How do I get what I want?' Cooney feels it's essential to know why you are doing each step before you do it; he encourages his dancers to think about their personal connection to the steps he gives them— "only then will it be organic and true," he notes.
Being a former dancer himself (he's been a dance captain for eight major productions!), Cooney understands what a vulnerable experience this approach can be for many aspiring professionals. For this reason, he strives to ensure the classroom environment is as safe and supportive as possible so the "students feel secure to let go." Cooney also believes this environment enhances what it means to be a professional dancer.  "The more we work together, the more we can create," he states, "Being cutthroat or negative does not in any way help you get a job. More importantly, it doesn't feel good to have that animosity in your heart."
Cooney's classes are more than physical training or an amalgamation of repertoire. His views and approaches reflect important life lessons that any individual, dancer or non-dancer, can benefit from. One of the largest pillars of his approach is the lesson of gratitude. He knows pursuing a career in professional dance is a tough business that can be made more difficult with competitiveness in class, rejection, and the relentless toll that performance can take on the body and mind. To thwart this oftentimes-unpredictable lifestyle, he tells his students to think of ten things they are grateful for every night. "It puts you in the practice of knowing how many wonderful things you have in your life, and also let's you fall asleep in peace," he says.
Remembering gratitude, maintaining professionalism, and giving an authentic performance each and every time, sounds like the ideal performer to me. And, it works. Cooney's students have gone on to win leading roles in Broadway and national tours, and professionals consistently pop into his weekly classes.
"We're blessed to be able to do what we love for a living everyday," Cooney states. And, for the students and professionals who have taken class with Cooney, I am sure they all agree.
Catch Jim Cooney's classes weekly at Broadway Dance Center.
Photos: All photos courtesy of Jim Cooney.