By Stephanie Wolf.
Thoughts of 'making it' as a dancer can conjure up images of scenes from the 1970s Broadway hit A Chorus Line, with leotard-clad dancers singing, "I hope I get it!" Jump to more than 40 years later and, while the sentiments have not changed, the audition scene is a very different game. As part of its intimate Artists Talk Series, Steps Beyond, the performance and special event division of Steps on Broadway, addresses the concerns of finding employment in the dance field. Panel discussion "Getting the Job", featured guest panelists Joshua Bergasse (Choreographer for NBC's Smash), Ruthlyn Salomons (Resident Dance Supervisor for The Lion King), Lucille DiCampli (Director at MSA Talent Agency), and Tiffany Little Canfield (CSA, Telsey & Co).
Auditioning is a necessary evil in the dance profession and it's crucial for dancers to be prepared and open for opportunities at all times. The good news; according to MSA's Lucille DiCampli who has worked in every avenue of dance, is that there has never been more dance work available. Dance is in high demand across multiple entertainment mediums and, as it mainstreams, there is more employment and compensation to be had. However, this dance explosion also means fiercer competition. Directors and choreographers' expectations are higher than ever and company dancers are now jumping on the bandwagon, wanting to be a part of dance's integration into pop culture.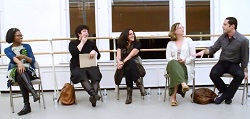 Steps' panel of dance experts all had an opinion on the ever-evolving dance profession and how to hit the audition scene running. "One of the things you have to think about as an artist in general is staying current, connecting to what is happening right now," DiCampli says. Now, dancers need different tools and the panel was unanimous in pointing out that dancers need to be Jacks or Janes-of-all-trades. "There isn't anything they don't expect you to do," says DiCampli. From all styles of dance, to singing, to acrobatics, partnering, and improvising, dancers need to show up to auditions with their full bag of tricks in tow; the modern day dancer is a multi-faceted artist.
With all of this in mind, how does one prepare for an audition? From years of experience in casting, Tiffany Little Canfield insists that having a resume, photographs/head shot, and a well edited reel—all of which are accurate and "show how special you are"—are important in getting a job.  DiCampli adds, "Do your research. Walk into an audition and book it because you understand what they are looking for."
Both Salomons and Bergasse chime in, explaining that personality is just as important, if not more, than technique. "[The dance studio is] a very sacred place," says Bergasse. The choreographer likes to "fill the studio" with positivity and strong work ethic, allowing the freedom to create. "[Choreographers] hate being in the studio with jerks," he laughs. But all joking aside, a dancer needs to show that he or she is a good fit for a position on all levels. In a long-running Broadway show like The Lion King, a new dancer needs to mesh well with an already established "family" of dancers, actors, and singers. When considering new hires, Salomons and the rest of the show's creative team evaluates whether or not a dancer can put an optimistic spin on the audition process, learn quickly under pressure, and execute the steps well despite nervous energy.
Additionally, physical fitness should always be at the forefront of a dancer's mind. Salomons comments on the rigors of performing eight shows a week, stating that cross-training and taking class is essential to surviving the strenuous costumes, props, and repetitive movement. Little Canfield agrees, "It is insanely physical on Broadway right now." She stresses that dance is not merely a paycheck, it's a lifestyle. To have a successful dance career, a dancer must eat well, get enough sleep, and stay in shape. A dancer must invest in his or her body.
Ultimately, the thing to remember is that the creative team is actually on the dancer's side. Every audition is a chance to network and be seen by someone important in the industry. It's impossible to plan out a career, but sometimes the stars align and the right person sees a dancer in the right setting. "You don't even realize the people you are standing next to," DiCampli says with an upbeat tone. Additionally, patience will take an individual a long way in this profession because no one actually becomes a star overnight. "Life is not a reality show," says Bergasse. "You got to put your time in…and build your career." Look good, feel good, and give off good vibes. There's no exact recipe to getting a job, but it takes much more than walking into the audition room and saying, "Here I am!"
Be sure to check out Steps on Broadway's upcoming panels.
Step's Artists Talk Series facilitates a safe environment for both student and professional dancers to engage in conversation, network, and expand their knowledge about the vast dance community around them. For more information on Steps' Artists Talk Series or to learn about other Steps Beyond programs, visit them at www.StepsNYC.com.