By Stephanie Wolf.
Eight years after the unfortunate collapse of the Dance Theatre of Harlem, the world-renowned institution is ready to re-launch its full time dance company. Founded in 1969 by New York City Ballet alum Arthur Mitchell and former Ballet Russe de Monte Carlo member Karel Shook, DTH was pressed to temporarily dissipate due to difficult economic times. Now, after strategic rebuilding and reorganizing, the organization is scouring the nation, looking for a crop of energetic, talented dancers to kick off its return in the fall of 2012.
In December, DTH made the official announcement that it would be reinstating its full time dance company, providing some of the nation's top dancers a stable artistic home in the heart of New York City. DTH Artistic Director Virginia Johnson stated, "I am grateful to be able to continue the work, artistry, and traditions established by our founders. The story that I hope [DTH] will tell again is the power of the arts to transform lives."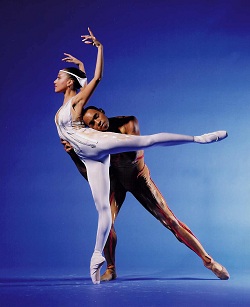 Transform lives indeed. The company will employ dancers for a full season, giving them the opportunity to grow artistically and dance classical and Balanchine repertoire, as well as experience working with some of the best contemporary choreographers currently creating innovative dance. Interested dancers have two options for applying: submitting an online application or attending an in-person audition.
To apply online, dancers should visit the DTH website and have until February 20, 2012 to submit their reels, resumes, and a $20 application fee. Details on the required video content are also available on the website.
DTH's audition tour kicks off January 14, 2012 in San Francisco. From California, the artistic staff will travel to Miami (January 28th), Chicago (February 5th), and New York City (February 25th), auditioning dancers for full time positions.
Executive Director Laveen Naidu is thrilled to see DTH back on track. "Returning the company on stable footing is a tremendous undertaking," he said in a press release.  Thankfully, DTH didn't have to go about their rebuilding alone. Chairman Kendrick Ashton Jr. led the reconstructing of DTH's board of directors, while the organization engaged in proactive fundraising and worked diligently to strengthen educational programs. Organizations, such as the Upper Manhattan Empowerment Zone, The Rockefeller Foundation, The Andrew W. Mellon Foundation, Bloomberg, LLP, and The Ford Foundation provided additional funding and resources to aid DTH's mission towards stability and growth. "We are grateful to our donors, large and small, who value this organization's unique role in the community and around the world … we are set to have an exciting year."
Having DTH back on solid ground is a huge achievement for the New York arts community. With a full performing season, educational programming, and more assertive fundraising tactics, the company has the potential to accomplish great feats for New York's dancers, advance the art form, and reach new audiences.