By Deborah Searle.
Dee Caspary is a creative soul with a passion for choreography and music. Recently known for his work on So You Think You Can Dance, Dee choreographed and was Director of Staging for Justin Timberlake's 2007 tour.  He has a long list of stage, screen and commercial credits as both a performer and choreographer and used his expertise to artistic direct the Nvitational dance festival in Los Angeles this past month. 18 days of inspiring, jam-packed dance and music performances at the historic El Portal Theatre, the inaugural Nvitational was a must attend event for all dance lovers.  Dance Informa sponsored the festival, attended many of the performances and sat down with Dee to discuss his vision for the festival and his career.
What was your vision behind the Nvitational?
My vision was to give choreographers an opportunity in Los Angeles to showcase a work on a theatrical stage. To give choreographers an intimate environment to allow them to create whatever they wanted to on a beautiful stage.
How was the festival received?
I feel like there were a lot of choreographers that did very well. I think it takes a couple of years, if you're not used to doing theatrical works in a theatrical environment, to realise what kind of opportunities you can create. I think that the choreographers did a great job and I think every year it will get better because people will see what others are doing in that environment.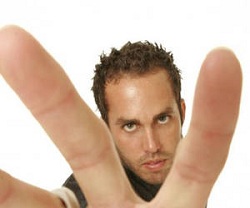 Tell us about your dance background
I grew up in a dance studio called Studio C run by my parents. The letter C stood for our last name 'Caspary'. I was always surrounded by dance, with my older sister and older brother both professional dancers. I was more into sports growing up, but I did love to dance. I never really wanted to be a dancer. I loved music. The thing that made me become a choreographer was music and bringing a different kind of element to contemporary, or lyrical (as it was called back then).  I grew up in the competition world. I wasn't too familiar with the concert world or the modern world. Living on the West Coast we didn't see too much of that. My style is nothing in particular, it changes with what I put into my work, which I think is all driven by the music – how you hear, what you hear, what you're trying to speak, what you're trying to translate in a performance.
So were your parents dancers?
My parents were just the business side of it. My mother and father cannot dance – we would not allow them to [laughs]. They just saw something in my sister when she was very young. She had a lot of teachers tell her that she needed to get into something more serious than dance competitions. So Mom started bringing my sister up to LA. She was taking class in LA when she was like 11 or 12 years old. I think back then you had to be 15 or 16 years old. They were allowing her in the classes because she was a remarkable dancer. She was beautiful.
What projects are you working on at the moment?
Right now I'm working on next season's Nvitational in my head and I'm teaching a lot. I'm going to be abroad teaching for a week in the first week of September. I do a lot of dance intensives and other festivals as well – teaching and speaking at seminars. I'm also just trying to relight the fire in myself for creating new works this season and for whatever opportunities come my way. A lot of things start to pick up in the Fall, so I won't be in LA very much. But I will be around the country and in Canada and Italy over the next month.
What do you look for in a dancer?
I look for clarity in a dancer, someone that is very aware of their body and you can really see it. And most importantly someone that is musical, someone that can really see and listen at the same time. I think that a lot of dancers and choreographers have great moves and great steps, but it really takes a talented individual to make the moves of the choreography emulate a little bit of self and be aware. I think being aware also translates into listening to the music. You can tell those dancers that really hear, feel and listen.
As Choreographer and Director of Staging for Justin Timberlake's FutureSex/LoveShow tour, what was it like to work with him?
Justin is a pro. Working with Justin on that tour was so motivating because during breaks Justin would be on the drums playing around or be on the keyboard trying to do things. You could just tell that the guy gets it and he understands his opportunity. You can tell the guy works extremely hard. He's so talented because he works at his craft. You get a sense that everyone else wants to be great because he is, when you're in that working environment with him. As much of a professional that he is, he's also just a good guy.
What has been the highlight of your career?
Working with Justin Timberlake was a highlight. To get a job like that was truly amazing because of what I got to see and what I got to learn.
When I was young I did a lot of stuff. I was on Kid's Incorporated as a dancer and I danced with Paula Abdul on a couple of her videos when I was 12 years old. As a child I don't think I really appreciated what that high was or the rollercoaster it was. I toured with New Kids On The Block when I was young. That was kind of like the last thing I did. I remember thinking 'wow, does it get any better than this?' I know that that was really special when I was a kid.
As far as a choreographer goes, I've really embraced SYTYCD and the opportunity it gives to do duets. I love it. But the pinnacle for me was when I was doing my own shows at the El Portal Theatre. I was working with dancers and creating my own projects and that's again why the Nvitational is so important to me. I remember how fulfilling it was and how great of a process it was. Nowadays people can't afford or don't want to pay the rent, or the labour, to put on a show. Nobody's just doing their own shows anymore, or as much as they used to. Doing my own shows was a great thing for me in my career and a great time to be creative. It was really remarkable.
What are your future goals and dreams?
I definitely want to direct someday. I want to direct vision movement. I don't know what that entails or if that's more on the lines of videos or on the line of short films, but I want to tell more stories with music. I think a lot of musicians don't realise how influential music is in the dance world. Ever since MTV started to go to the reality side and show less music videos, it's been disappointing. It would be really cool to see music videos come back. I would love to direct and collaborate with artists. When I did the light bulb piece for SYTYCD this year I used a song called Skin and Bones by Dave Roch. Ever since I used it on the show, it's now on iTunes all over the States. Dave emailed me and said 'I don't know if you're the one to thank, but now my stuff is hitting the States'. I was like, 'well let's take it to another level, let's create a video'. So that is what I'm looking to do. I'm looking to get more in contact with artists and do things that are really special and different.