By Deborah Searle
After launching a successful Broadway career at the young age of sixteen in the first revival of On The Town, multi-award winning Director/Choreographer/Writer/Teacher and Mentor Chet Walker has garnered acclaim onstage across the globe, in television, film, music video and all commercial media. His Broadway credits include Lorelei, The Ambassadors, and four Bob Fosse musicals: The Pajama Game, Pippin, Dancin' and Sweet Charity.
Perhaps best known as Creator and Co-Choreographer of the Tony and multi-international-award-winning FOSSE, Chet has directed and choreographed original new musicals, as well as having mounted extraordinary recreations of classic musical productions in close collaboration with shows' original creators. His original works range from Cirque du Soleil, to dance works created for Compania Internacional De Teatro Musical, the international Jazz/Musical Theater Dance Company which he co-artistic directs in Buenos Aires, and Jacob's Pillow where he serves as Director of the Jazz Program.
What makes you proud to be Chet Walker?
That I still am alive with new projects and energy to create and inspire others to live life to the fullest.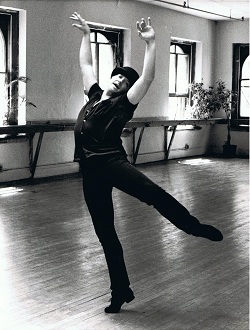 What are your passions?
My passions are travel, meeting and teaching students in jazz, American jazz – Jack Cole jazz, and musical theater techniques for dance, acting and singing. It is my desire to help make jazz and musical theater recognized as art forms. I do that in every country I travel to, with my work at Jacob's Pillow and with the classes that I teach at Steps, NYC. Check out their website (stepsnyc.com) for information on the Jack Cole Jazz Classes and also (jacobspillow.org) for my work there.
What is your career highlight?
I hope it hasn't come yet. I really mean that. On my last day on this earth I guess I can answer that one.
You have directed and choreographed so many famous musicals. Do you have a favorite?
I know this sounds crazy, but it is the work that I am working on at that moment. I love what I do. I can't imagine doing anything else
What are your current projects?
My current project is THE JACK COLE PROJECT, that I'm teaching at Steps with my friends. We had a residency at Jacob's Pillow this year regarding the work and technique of Mr. Cole. We receive an NEA Grant to do that. I'm also working on a new show for Las Vegas with the working title Jazz on Jazz. 
I am working with Queens Theater and my company WALKERDANCE on some projects relating to the greats in the jazz music world. I am going to London to work on a new show. I directed and choreographed Cabaret in Belgrade, Serbia and that is still playing currently. I direct the Jazz/Musical Theatre Dance Program at Jacob's Pillow each summer and for the past five years I've directed The Jazz Happening where I bring people from Broadway to come and perform with the students.
What makes a great musical theater performer? What do you look for in an artist?
What makes a great musical theater performer is a person who is a triple threat and who knows and studies his/her craft. What I look for is personality, intelligence and someone who has a hunger for work and the process. 
What is the future of musical theater?
I think the future of the Musical Theater is bright. New people, new ideas and new exploration of the human condition, and the joy that the theater has always given people, will continue.
How can we as dancers help Musical Theater thrive and keep audiences strong?
I think dancers need to hone their craft. Know the history of the art forms and read, read, read about the people who have come before. Know our history because knowledge is power.