By Alex Little & Sari Anna Thomas
At Feedback, you'll find musicians against the studio mirrors, painters to your right, a photographer observing the room, a lighting designer setting the mood, a poet with pen in hand, a film student documenting the experience… and DANCERS everywhere.  Welcome to Feedback:  A two-hour journey where art inspires art.  "Feedback is the beginning of a new movement that combines every type of artistic expression into one class", says Feedback student and dancer Kathryn McCormick of So You Think You Can Dance Seasons 6 and 7. "Feedback gives you the space to discover how much you have to offer."
Feedback's mission is to provide a space for artists of all genres to gather, co-create and inspire one another. So far, it has accomplished just that. The structure of the class, danced to live music, includes a warm up, an across the floor moment to loosen up and an improvisation section for all dancers and musicians to 'feed off one another'. This is then followed by a dance combination for an hour. After class all are encouraged to mingle around the 'Artist Xing' table where artists post their info and promote themselves and their products. This is where painters show their works, bands sell their CDs, and upcoming events are shared.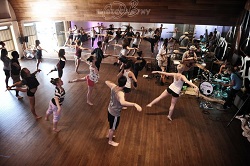 Founded by Alex Little, a Los Angeles-based dancer/teacher/choreographer, Feedback was an idea that has rapidly gained momentum. Alex's goal was to get rid of the stereo and create a class she could teach to 100% live music. "There is nothing like moving and being one with the piano, the guitar, the voice… essentially the story. In this awareness your dancing changes. It deepens because the sounds are visceral and you feel the presence of a connection between one another's artistry. As a dancer this experience awakens a sense of awe and gratitude that spurs your discipline to dive more deeply into your senses and find a more developed musical self. It enhances the purpose and intention in your movement – it's just contagious!"
Alex teamed up first with musical director Steve Maggiora. Alex knew Steve's voice and musicianship would lend itself beautifully to the project. Steve suggested using local bands for the sound and shortly thereafter began scouting the scene and lining them up. Next Alex recruited teacher and choreographer Sari Anna Thomas who became her partner. Not only does Sari help develop and produces the events, but she also co-teaches each class with Alex. All three felt extremely passionate about the need for this community -based project to begin, where artists could not only be offered another outlet to work on their craft, but could find one another.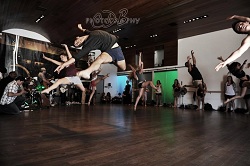 "For the last decade I have wanted nothing more than for the world to see and hear how talented my friends are! We can start with the community- then the world", Alex says regarding singers, artists and musicians she can't wait to have be a part of the class. Feedback's first class was held at Elevation Studios with local band "Four Stops to Freedom". With 35 dancers, a photographer and a painter attending the first class, they knew they had begun something unique, and ever since the word has spread like wildfire.  Today, Feedback is attracting fine artists from all realms, and is quickly growing into a creative haven for all artists to be challenged and inspired.  "The people attending are there to live, love and learn", says dancer Alex Blitstein. "This is not a class, it is an experience. I only wish Feedback could be in so many more places at once… I see so many wonderful things for Feedback's future."
Currently, Feedback is held once a month at the state-of-the-art facility, Foresight Studios in Los Angeles, but there is the potential to utilize other venues. "Feedback is hoping to expand to theaters by the end of the summer. We feel that one of the real backdrops for this class is a theater", says Thomas. "By removing the mirror and allowing space for an audience, Feedback will finally be able to take the shape we envision." Feedback has already been invited to take place at a few different venues in LA. "We are also thrilled to take Feedback on the road as we are now offering it as an in-studio workshop", Thomas adds. The Feedback team sees their class in other site-specific places, such as the lawn of a museum, at the beach, and even at an art gallery. Painter Amber Helmstetter has painted at each class since the beginning. "I feel honored to take part in such a unique blend of music and dance… the energy and vibe of the experience brings out imagery in my paintings that I know is inspired by the dancers."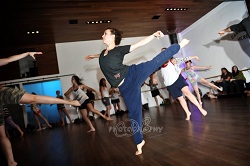 Dancing to live music is as old as time and The Feedback Experience hopes to honor the tradition that has brought communities together throughout history. "In the middle of an industry where there is so much competition for work as an artist, we hope that for these two hours, our class will transcend all of that" adds Little. "When everyone feeds off each other, the walls of fear and judgment seem to dissipate. I have witnessed the surrendering process happen and when pure authenticity comes out the body, the fingers, the paint brush, the lense, the pen, the mouth, the mic, the amp. … it is profoundly beautiful." As Phillip Attmore, So You Think You Can Dance Season 6, Top 20 contestant, put it, "I felt like I was in New York again… it was simply a forum of artists gathering together and sharing their passions with nothing to prove."
For more information, view videos/photos or contact the FBX, please visit the website www.theFeedbackexperience.com www.facebook.com/thefeedbackexperience
Photos: Cheyenne Boivin, CDB PHOTOGRAPHY