By Emily Yewell Volin
You may have heard about First Lady Michelle Obama's Let'sMove! Initiative:  America's Move to Raise a Healthier Generation of Kids (www.letsmove.gov). You may not be aware that Beyoncé and the First Lady teamed up to create a music video to help families, schools, and communities get moving.  The song is adapted from Beyoncé's "Get Me Bodied" single and called "Move Your Body".
Schools across the nation and the world are getting involved by using the official Let's Move! workout instructional video, led by choreographer Frank Gatson Jr.,  to teach the 'Move Your Body' flash workout to students of all grade levels, teachers and staff.  The workout includes eight easy to follow and fun to stylized 'missions',  Knees Up, The Shuffle, The Dougie, Jump Rope, Cumbia, Running Man, Dancehall, and the Bounce and Snap, and incorporates the Beyoncé Bounce, the Cat Daddy and other signature Beyoncé moves.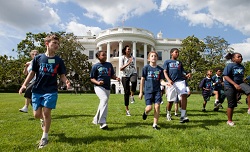 Everyone's feeling the grove and I've heard of 8th graders teaching the workout to kindergartners with great success. All involved reaped the benefits of the increased feeling of school community and fitness as a result of preparing for the flash performance.
Take a look at the official "Move Your Body" mashup – Let'sMove! video to see thousands of students from around the country, and the globe, share their dances.
Keep current with "Move Your Body" by selecting 'like' on the NAB Education Foundation Facebook page (http://www.facebook.com/NABEF) and follow NABEF on Twitter at www.twitter.com/NABEF.
Summer is around the corner and many young people will be heading to camps – what a perfect place to organize a "Move Your Body" flash workout!  Let's implement this tool created by First Lady Michelle Obama, Beyoncé and the NABEF and help end childhood obesity through something we already love – dance.
Get fit, build community, and dance; move YOUR body.
Official "Move Your Body" Mashup – Let's Move! video:
Video: Courtesy of youTube.
Dance Informa/Dance News International takes no responsibility for the content of any videos viewed through youTube.
Photo: Courtesy of Bossip.com