A New Baby for Broadway
Broadhurst Theatre, New York City
April 2011
By Deborah Searle.
Still in previews, Baby It's You is a new show for Broadway with a similar script to the stage and screen hit Dreamgirls. The strength of the show is its infectious sound track of popular 50s and 60s music that has the audience dancing in their seats. With a score of famous tracks like "He's So Fine," "I Say A Little Prayer," "It's My Party," "Shout," and "Rockin' Robin", this show is set to be a huge success!
Inspired by the life of Florence Greenberg, the woman who in the late 1950's took the male-dominated music industry by storm, Baby It's You tells the story of a woman trying to change her life and the music industry. Along the way she pushes social boundaries, falls out of and in love and changes the lives of four young African American singing hopefuls. On a trailblazing journey from New Jersey housewife to record mogul, Greenberg launched the careers of some of the biggest recording stars of the 50s including one of the greatest girl groups of all time; 'The Shirelles', and Baby It's You is a tribute to her success.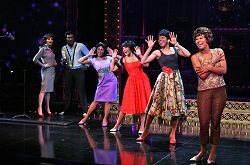 The show starts with a bang, immediately engaging us with an energetic song and dance number and we know straight away that we're in for an entertaining night. This energy doesn't falter and after the interval the show starts off again in fine form with an explosive song that draws us straight back into the story.
Tony Award winner Beth Leavel plays Florence Greenberg and is perfect for the role. She is believable, passionate and a consummate performer. Leavel is backed by a brilliant cast that brings the story to life with impressive acting and piercing vocals. There isn't much dancing in the show, but Kyra Da Costa as one of the Shirelles, is the strongest dancer of the cast, outshining the other performers with her obvious training and technique, and is a joy to watch.
Although the second act was a little drawn out, overall Baby It's You is thoroughly entertaining and empowering. It's the popular music that will drive the audience in, but it's the convincing acting, interesting storyline and even the backdrop (complete with ever changing imagery across large screens) that will keep audiences strong.
Baby It's You had me entertained, educated about the 50s/60s music scene, and literally dancing in my seat. Although I didn't grow up in the story's era, I enjoyed the show immensely proving that Baby It's You is a great show for both young adults and Baby Boomers.