USHER is currently on tour across the world with a team of very talented and dedicated dancers. One of those dance divas is Saidah Nairobi. Saidah has recently danced for Beyonce's I Am…World Tour from 2009-10, performed at the BET Awards in 2008 and 2009, the 2009 MTV VMAs, the 2009 European Music Awards, and has featured as a principal dancer for Beyonce, Ciara, Tami Chynn, Rick Ross, The Dream, Sean Garrett and Drake. Now touring with USHER she has the world at her feet!
What is your dance background and training?
I started dancing in Atlanta at my performing arts high school with a southern crank dance crew called 'Isis Gold'. When I went to college in North Carolina, I was a part of a hip hop dance group from a college organization called Couture Productions. I moved back to Atlanta in fall 2005 and started taking classes, go-go dancing as a means of extra income and freestyle practising, and going to any audition I could attend to start booking jobs. I'm not technically trained, I just love to dance.
How did you get your 'big break'?
I was booked by Jamaica Craft to go on tour dancing for The Dream which was the opening act for Jay-Z and Mary J. Blige's 2008 Heart of the City tour.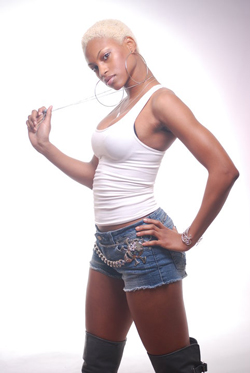 You have danced with the likes of Usher and Beyonce, what has been your career highlight so far?
Working with Usher and Ciara are definitely two career highlights. Ciara was the artist that helped me realize my dream to be a professional dancer in this industry. I most connected with her choreographer Jamaica Craft's style. It has become Ciara's signature movement. It's raw, it's swag, it's groove, flavor, high-energy, and it just feels good. Every move sits in the pocket of what feels right with the music.
I remember studying Jamaica on Usher's Truth Tour. I loved how she was the shortest with the most hair [laughs] and I just felt her rawness and energy through the TV screen. I loved her style. I LOVED Usher's classic choreography in the U Don't Have to Call, You Make Me Wanna and Caught Up dance videos and was thinking "I want do those moves!" Seeing the dancers on Usher's Truth Tour just made me hungry to be on stage going full out like they were.
What were the rehearsals like for the Usher tour?
Very physical and strenuous. We had only five weeks, but the choreographers utilized that short amount of time to make sure all the dancers were precise, clean, capturing the full essence of the
movement and feel of each movement, and it wasn't easy because there were so many different styles that we had to capture and master. We had Todd Sams, Flii, Marvelous, Rio Henderson, Ed Moore, SuperDave, Punch and Goofy, Oththan, Lorriel who was an aerialist – that's ten different styles and sometimes a combination of styles in just one number! But the militant style of rehearsals made us stronger as dancers, in addition to the workouts we did before every other rehearsal.
What is it like to dance for Usher?
It's fun! There's a lot of on stage interaction between the dancers and Usher which makes you feel that much more a part of the show! The female dancers get to wear flats and heels, we have eight different outfits we change into, and we use props throughout the show so it's constant movement, constant energy, constant sweating!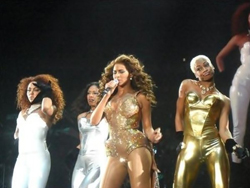 What are the challenges of being on tour?
Missing my family, friends, and my puppy. Traveling with luggage can become frustrating especially when the time away from home is pretty lengthy and you need at least two suitcases for the road. The last thing you want to do after a show is walk through the airport with two or three suitcases and a book bag! And, eating healthy can be a challenge at times.
What are your plans after the tour concludes?
I plan on going on a vacation! I plan on making my first major purchase which is buying a new car! That's going to be my personal treat for the hard work I've put in over the last couple of years. I definitely plan on looking into investments with the money I've saved and then I'm focusing on pursuing my other passions in life – music, book writing and modeling.
What advice would you give to young commercial/hip hop dancers? How can they too have such success in the industry?
My advice is to always follow your heart and always stay encouraged, even if it seems like your goals and aspirations are out of reach, because they aren't. But you also have to be realistic and STUDY, STUDY, STUDY the artists that you are aspiring to dance for.  Get familiar with the choreographers and dance styles of those artists and what type and look of dancers are usually hired for those artists. And please take ballet classes, even if you're very fluent in hip hop. It'll
make you a much better dancer, because your body will be conditioned to do more than it could if you didn't take ballet.
Saidah Nairobi is represented by Xcel Talent Agency.
www.xceltalent.com