By Deborah Searle.
Musical theater performer David Rossetti is on his way to Broadway fame. Dancing across the country in national tours of Hairspray and Fame, David is no stranger to the stage, but you may not know of him – yet.
Introducing David Rossetti…..

What's your success story?
I'm fortunate to have been a working actor and choreographer for more than 10 years and I am grateful for all my opportunities.  I have had the honor of performing in two national tours, as well as at several prestigious regional theaters; including Atlanta's Tony-winning Alliance Theatre.  While I haven't made it to Broadway yet, I like to say that I'm "en route." I've had callbacks and close calls for a few Broadway shows, but the perfect fit hasn't come along yet. Broadway remains my ultimate goal, and who knows, 2011 just might be the year.
How important is it to be able to sing and act, as well as dance?
It's absolutely essential. Gone are the days of separate singing and dancing choruses in musicals. Even if you consider yourself primarily a dancer, I think it can only add to your skill-set to have a working knowledge of the other areas. It not only makes you more marketable/hirable, but it also makes you well rounded.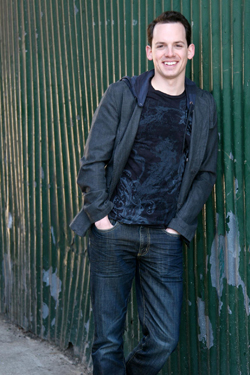 What's been your favorite dance experience? Why?
Dancing Hairspray's finale 'You Can't Stop the Beat' every night on tour was incredible. Not only were all of us dancing (and sweating) up a storm together, but the audience members would go crazy too. They would be dancing in their seats and you could feel their energy bouncing back to us.  It was electric! That was one of the happiest years of my life!
You just finished choreographing a production of Singing in The Rain. Where will we see you or your work next?
Currently I'm hard at work on The Wiz at Aquinas High School in the Bronx. It is a real honor to get to work with young performers and they are so dedicated and fearless!  This is my third year working with Aquinas and I'm looking forward to a fantastic opening night. I've also got some other projects in the works, including choreographing a production of Oliver! at the renowned McCarter Theatre in New Jersey. 
What are your goals for the future?
Besides making my Broadway debut? Well, I'd love to direct and choreograph more. I've really come to enjoy being part of the creative team. I love casting and shepherding a show from the first conference calls to opening night.  And then, way down the line, I'd love to be the Artistic Director of a theater. In New York?  Maybe. I'm open to life's possibilities about where I do it, but that's a big long term goal of mine.
What's your best piece of advice for musical theater performers?
Don't let your success define you. Painfully so, it's true what they say about hearing "no" more than "yes", but don't take it personally. There are so many factors you don't know about before you even walk into the audition room (trust me). It's pointless to worry too much. Also, find some other hobbies that aren't related to the business. It will keep you sane. Everyone needs a little distraction in their lives, right?
FUN FACTS
Tour must have 
An iPod! Tour buses are usually full of many different personalities in a very confined space. An iPod and some ear-buds instantly transport you to your own place that you can control the volume on.
Studio snack
Crazins, a protein bar or almonds – and I'm obsessed with coconut water.
Nerve neutralizer
I meditate or just focus on my breathing. It usually gets my mind off any butterflies I have, though I've grown to enjoy the feeling these days. It's part of the excitement of performing.
Costume crush
I would LOVE to wear one of those body stockings you see in modern dance where just the hands and feet are poking out. I just think it would be so much fun to explore dance in something like that.
Keep track of David's achievements on his website at www.davidrossetti.com