Dance Place, Washington D.C.
January 23
By Angella Foster
Tonight I ventured out into the cold to catch a performance of TAKE Dance at Dance Place in Washington, D.C.  Based in New York City, TAKE is a small, athletic company of ten dancers, including Artistic Director Takehiro "Take" Ueyama.  No stranger to the D.C. area, Ueyama performed here many times during his eight years with Paul Taylor, but this weekend was special. It was his company's debut in our nation's capital.  I had never had a chance to see TAKE before and I wasn't sure what to expect, so I happily grooved to the pre-show mix of 80's hits ready for anything.
As the curtain opened, a single female dancer stood in a stark block of light performing a series of small, direct gestures and repeating them with increasing intensity and speed.  Soon, a whole company of dancers, three men and six women, dressed in quasi-business casual were barreling into the space with newspapers in hand.  Alternately springing into the air, crashing to the floor or racing through the space, the performers created a moving wall of frenetic, desperate energy that was more corporate than personal. It was an excerpt from a full length work entitled Salaryman which will premiere in New York later this year. I wonder how the final work will end?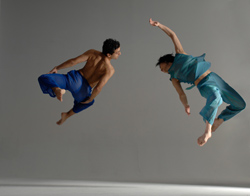 Linked, the second piece on the program, was upbeat and full of Taylor-esque virtuosic dancing.   Full of explosive jumps and break-neck turns, Linked was exciting and beautifully executed. However, it turned out to be the least captivating work of the evening.  It was lovely, but it faded in my memory as I watched the final work of the evening unfold.
During intermission, the stage was transformed into a winter dreamscape complete with snow falling gently through a foggy haze, accumulating in low drifts across the stage.  Closing the program, Footsteps in the Snow began with an intimate duet featuring Artistic Director Ueyama, whose commanding presence served as the work's center of gravity.  The remaining ensemble layered in slowly, moving with small, deliberate steps that barely disturbed the drifts of faux snow.  The movement seemed spacious and completely present even as the momentum built. At times it was punctuated with ecstatic moments when the dancers tossed handfuls of snow into the air.  For me, it was like being immersed in a landscape of memory, at once permanent and fleeting – like the dancers' imprints in the snow.
When I asked Ueyama himself about Footsteps, he seemed reluctant to translate the work into words and just smiled, suggesting I talk to his dancers.  During the reception that followed the show, I had the chance to chat with dancer Jill Echo, who also serves as TAKE's Assistant Director. For her, performing Footsteps is like a spiritual practice, "throwing the snow in the air, it is as though I am remembering the joy I had here, in this place, before it passes away."  The thoughtfulness of her response was reflected in the power of the performance from the whole company.  They seemed to really know what they were dancing about. It was a joy to experience.
Although Ueyama didn't elaborate on what his dancers had already spoken so clearly on-stage, he wasn't shy about offering up his advice to aspiring young choreographers. "Be true to yourself", he said. "When I started choreographing, I thought I was an American, a New Yorker.  Then I started realizing, I am Japanese.  This is who I am.  I have to stick to this".  Full of wise words, Ueyama also advised that "too much information can be dangerous" because it can tempt young artists to borrow from other sources rather than develop their own voices. 
Ueyama has certainly developed his own voice, and if he continues making works like Footsteps in the Snow, he should stick to it!
If you're in NYC later this year, you can see TAKE Dance for yourself at Dance Theater Workshop May 18-21, 2011.