With Memorial Day behind us, it's unofficially the start of summer! While day trips to the beach and relaxing days by the pool should definitely be a part of your summer break, be sure to also take advantage of any opportunity to focus on your studio, your teaching skills and prepping for back-to-dance this fall. And the Dance Teacher Web (DTW) Conference and Expo is the perfect place to do this. Plus, with a setting like Planet Hollywood in Las Vegas, it's a vacation within itself!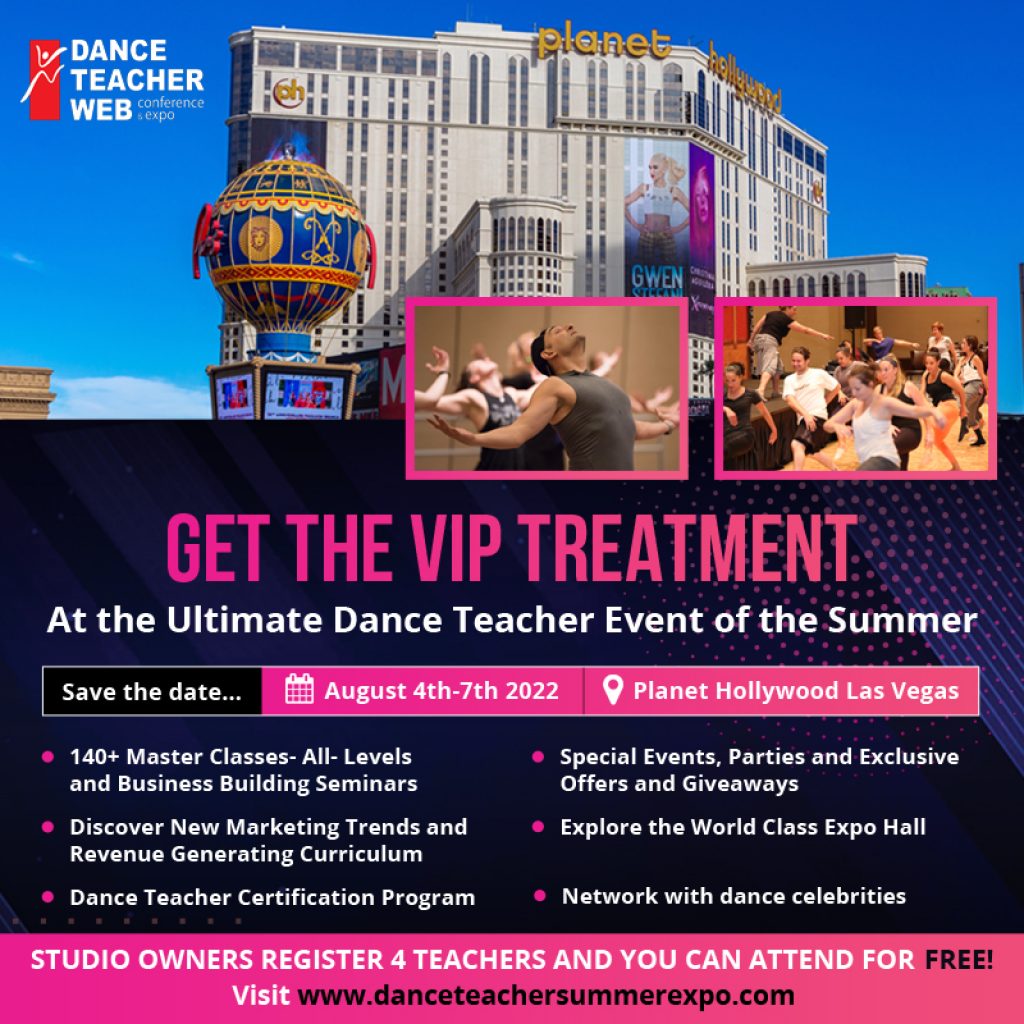 The DTW Conference and Expo, held this August 4-7, will be the ultimate dance teacher event of the summer. Participants get fresh content in ballet, jazz, hip hop, tap, contemporary, musical theater, pre-school work, injury prevention and recovery, and much more. As a studio owner, you can discover new marketing ideas, revenue generators and unique studio retention plans. There will also be a Teacher Certification Training Program with University of Nevada, Las Vegas, as well as special events, networking opportunities and parties. And, as always, there will be an Expo Hall with over 80 exhibitors, exclusive giveaways and money-saving offers.
Dance teachers and studio owners are sure to leave feeling inspired by a faculty of renowned industry professionals. The all-star lineup includes DTW Founders Steve Sirico and Angela D'Valda Sirico, along with James Whiteside, Bonnie Story, Richard Hinds, Misty Lown, Ray Leeper, Mike Minery, Aaron Turner, Tony Coppola, Tricia Gomez, Mandy Yip, Tiffany Henderson, Jason Marquette, Brandi Vickers and more.
The schedule for the weekend is now live, and it looks exciting, with 140 movement classes, business seminars and special sessions. Some classes include Elemental Tap Teaching, Strengthening Allegro, Partnering in Hip Hop, Across the Floor with Style, Studio Tech Tools, Turning On and Off Pointe, Marketing: Bringing in New Students, Mini Tumblers, Sensory Impacts on Behavior and Learning, and so many more. For the full schedule, click here.
For a taste of the valuable, educational classes you could take at DTW Conference and Expo, we've highlighted some below. (Also, all participants will receive three-month access to the Event App to watch all videos and review notes.)
Jazz master class with award-winning choreographer Mandy Moore 
In this class, award-winning choreographer Mandy Moore, who calls herself a "jazz baby at heart", teaches a jazz combination. Right from the start, she encourages the dancers to do this for themselves, and to "be weird, be awesome." Moore creates a warm and welcoming environment, a place where no one will be judged; it's a wonderful thing for dancers to have this safe space.
With her assistant Christian demonstrating beside her, Moore starts teaching a combination that is detailed, arm-specific and fast. She is so clear in her teaching, emphasizing focus, and where and when the weight shifts, and uses imagery such as "bow and arrow" and "drawing with your ribs" to really help teach the movement. Moore is incredibly inspiring as a teacher because she is in no rush. She really takes the time to walk through the combination, step by step, arm by arm, well before putting anything to music, to really get the choreography into the dancers' body. And, as a result, the dancers look clean and well-rehearsed, which should be a goal for any recital or competition routine.
After all of this detailed teaching and coaching, she puts the combination to music – Janelle Monáe's "Tightrope" – and dancers perform it in groups. Afterward, Moore asks the dancers for their thoughts and questions; her class feels like a collaboration.
Moore's choreography is super fun, clear and captivating, and teachers viewing or taking her class would surely walk away with some movement ideas or steps to give to their own students. But teachers can also learn something by watching Moore teach – her attention to detail, with every nuance, head/eye focus and specific hand motion clearly articulated, really makes for a polished dance.
How to maximize ballet technique, Part 2
In this video session, Dolly Kelepecz, former ballerina with Los Angeles Ballet, Nevada Dance Theatre, Zurich Opera Ballet and Houston Ballet, discusses elements of ballet training that are crucial for the aesthetics of the classical art form – including creating a proper arabesque line and shaping the foot in sur le coup de pied. In this particular lesson, she focuses on passé and retiré (and the difference between the two – the action and the held shape). She leads teachers through corrections to give their students to maintain a proper retiré position – pulling up on the standing side, relaxing the gesture leg's hip and maximizing their personal turnout. She emphasizes the importance of the retiré position, as it is crucial in many ballet steps including pirouettes and developpés.
For more classes like this, and incredible chances to meet other teachers and studio owners and to network with industry pros, register now for this summer's DTW Conference and Expo. Conference registration includes all sessions, seminars and services, opening night party, breakfast, expo special events and afternoon breaks, attendee welcome gifts and access to expo resources, as well as access to DTW's virtual platform with conference sessions on-demand for 90 days post the event. You can register online, by phone or by mail. For more information and to register, visit www.danceteachersummerexpo.com.
By Laura Di Orio of Dance Informa.