Several years ago, I wrote an article in Dance Informa about Theater Arts Preparatory School (TAPS) in Las Vegas. Now in its seventh year, this amazingly successful training program was created and designed by Don Mirault who directs the program. I am honored to continue as the program's Tap Master, alongside Ballet Master Don Bellamy and Voice Instructor Steve Judkins. We bring decades of professional experience to the program and are intensely dedicated to nurturing, improving and seeing the TAPS grads succeed.
Judkins expresses so well the viewpoint of the faculty when he says, "We set out to not only improve the existing skills these dancers bring with them but also add new skills like singing and acting. These new skills give our dancers a wider range of job opportunities. As the voice teacher at TAPS, I get an enormous thrill watching these students grow into such well-rounded performers. Everyone loves a true triple threat."
My former article described how the program emphasized versatility and professionalism in preparation for a successful career. I will now give an overview of the TAPS curriculum and talk with some of the alumni on how this program prepared them for a professional career.
TAPS is an intense six-month program divided into two semesters. Aside from training in all genres of dance, the program includes vocal training, acting, audition technique, dance history and research, and the business side of a performance career. The program is flexible in that it allows for specialty classes such as silks (aerial), conditioning, acting for commercials, ballroom and one-on-one evaluations. In addition to the resident faculty, guest teachers and choreographers are brought in every day. They not only teach class but also give advice and provide industry contacts. As the term progresses, evaluations and critiques are individualized to help prepare each student for the industry. To allow for this, admission to the program is selective. TAPS runs five days a week. The following is an example of three of those days:
Sample Day 1:
9-10:30am: Ballet
10:30-11:30am: Acting
11:30am-12pm: Lunch Break
12-1:30pm: Jazz/Guest Teacher
1:30-3pm: Hip Hop/Guest Teacher
Sample Day 2:
10-11:30am: Tap (level based on student experience)
12-12:30pm: Private Voice Lesson
*Not all students have Sample 2 Day on the same day so that students receive more individual attention.*
Sample Day 3:
9-11:30am: Mock Vocal Auditions and Ensemble Voice Class
11:30am-12pm: Lunch Break
12-3pm: Audition and Industry Seminar with a Casting Agency
The six-hour dance day is intense, and the adjustment demands focus, dedication and passion. TAPS alum Shealagh Boyajian expresses the value of being "open-minded and prioritizing your career while training." The industry demands versatility, and occasionally some of the dancers come to TAPS with far less experience in some genres than others. TAPS is often the first introduction many dancers receive to voice, tap and acting.
While the adjustment may be challenging, the TAPS students have a built-in support system as they share apartments with their peers in the program. They also have the opportunity to connect and network with TAPS alumni. Because of this, training doesn't end when TAPS students leave the studio each day. They are expected to be good roommates, which will bode them well as cast members in future shows.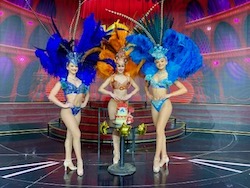 Several of the TAPS alumni express how much more intense the program was from their previous training. It doesn't take long for them to get into the swing of things and realize how much more prepared they will be for the industry.
TAPS alum Cassandra Blanc expresses the transition in the following way: "TAPS was my bridge from the competition world to the professional world."
"I can't thank Don Mirault and the rest of the TAPS staff enough for believing in me and pushing me to become the professional dancer I am today," says Claire Piccirillo, whose performance credits include American Music Theatre and Kanye West's "DONDA" performance.
"TAPS created so many connections and opened so many doors for me to become a professional dancer and make my dreams come true," says Andy Kastrati, whose credits also include American Music Theatre and Kanye West's "DONDA" performance.
"Theater Arts Preparatory School is incredible. It's given me the connection and foundation that has fueled my career," says Josh Bergner, who has worked on Norwegian Cruise Line, national commercials for Panda Express and Zappos, Latin Grammys, and America's Got Talent.
Alum Kileigh Boatwright adds, "TAPS taught me that consistent good work and balance is even better than motivation and (instant) gratification. Dancing full-time in WOW – The Las Vegas Spectacular is a dream come true."
Jenna Obman, who is presently touring with Do Portugal International Circus, says that TAPS is "the hardest work you'll do for the best reward!"
I am constantly motivated and inspired by the students who come through the TAPS program and go on to become the kind of performers that I myself truly enjoy watching.
For more information on Theater Arts Preparatory School, visit theaterartsprepschool.com.
By Tony Coppola of Dance Informa.
Tap master Tony Coppola is also a former All-American gymnast and a percussionist. He has taught at conventions and judged competitions for several decades. Coppola directs and choreographs the Las Vegas-based Coppola Rhythm Ensemble.
Special thanks to Kalila Webster.