Various premiere dates.
Available streaming at Ailey All Access.
Movement has the potential to convey soulfulness — the strength and resilience, the depths of feeling within the human soul. Even if abstract, the emotion and transcendent expression at hand get the message across to keen witnesses.
More than understand, we can feel that soulfulness and its deep meaning in our very flesh and bones. Alvin Ailey's concert dance work in particular draws upon that potential, a legacy that his namesake company proudly and commendably carries forth.
Works within the company's Fall 2021 All Access Season — available free of charge to anyone around the globe with internet access — were certainly no exception to that carrying forth of deep soulfulness in movement. I viscerally felt the performers' profound commitment and the thoughtful choreography (supported by top-notch design, scores and execution of concept) even while I watched through my laptop.
This review focuses on Jamar Roberts' Holding Space and Ailey's Cry (performed by Jacqueline Green). Other works within the Fall 2021 Ailey All Access Season include Ailey Artistic Director Robert Battle's Ella and Mass (both high-energy and luminescent in their own ways), Matthew Rushing's Testament (an evocative and chilling illustration of the journey of those within the African Diaspora), Roberts' A Jam Session for Troubling Times (its joyful suave and cool just the thing to soothe tired hearts and minds), and performances from students of AileyCamp and The Ailey School.
Roberts' Holding Space paired design elements with movement, both bold and memorable, to illustrate the power of moving human bodies in resonant space. Lighting effects in the black box space built an ethereal, almost mystical aesthetic, with light and shadow from the back and side of the space lights creating a dreamy atmosphere (lighting by Brandon Stirling Baker).
The airy quality of the electronica score enhanced that effect (music by Tim Hecker). Further building an ethereal feel were the white costumes of the large ensemble (costume design by Roberts); one could even think of the dancers as some sort of angelic beings — those not sticky-sweet or cherubic but rather bold, fierce and independent.
They seemed to move improvisationally; improvisational scripts from Roberts (most likely) kept the visual picture and energy at hand cohesive rather than chaotic. Short unison parts interluded following sections, strengthening the sense of order within novelty and unpredictability.
At other points, individual dancers had moments to shine with their own movement — moving passionately and with deep kinesthetic wisdom — as the rest of the ensemble slowly walked. In those moments, it felt as if they were a protective force for the dancer bearing their personal truth through movement.
Just when my critical eye began to look for a change in aesthetic or atmosphere, lighting shifted to illuminate the dancers — also now fewer of them — in a fresh way. The same score held steady, a lightly pulsing force that came to feel meditative.
They continued moving passionately and thoughtfully, as if enraptured in every shift of a joint or contraction of a muscle. It's an incomparable experience to watch artists thus lose themselves in their work.
A particularly memorable section about halfway through the work juxtaposed a dancer moving alone in a square frame of thin, black sides, and two other dancers mirroring each other, moving diagonally across the space while facing each other and replicating each other's movements (scenic design also by Roberts).
I thought back to the title; the pair of dancers were holding space for each other, in the interpersonal sense, through movement, while the dancer in the box was holding literal space. Her directional clarity embodied the geometric quality of the shape that contained her.
Soon, four other dancers entered the frame and began to move the structure, and she continued to dance. This continued as they moved the structure forward and diagonally. This was a unique and compelling choice, and no doubt challenging to execute (particularly for the soloist, who had to coordinate moving with the box while performing intricate movement vocabulary).
Soon, she moved out of the box and another dancer took her place, just as successfully navigating the challenge of moving with the ambulating structure. These role switches continued until all of the dancers had a chance to move within the structure — holding space in their own way, with their own unique ways of trying on the layered, complex movement vocabulary.
Dancers spun the structure at points, adding on more dimensions of movement. If one were to draw lines of all these directions of movement through the space, it would have been a fascinating maze of diverging and intersecting energies.
Soon, the ensemble returned, under the lighting from above and from the wings that they had in the beginning — a chorus of movers to each hold space in their own ways, yet also as a cohesive, united force. Precise lines and curves characterized much of the movement, but rolling joint isolations and spinal releases softened that precision — like a long, hearty exhale.
Lighting shifted to gold and then purple, and then filled the dancers' white costumes with those colors — illustrating possibility, versatility and adaptability. This color palette across the costumes was also simply visually fascinating. Signaling a shift into an ending, the lighting from the wings from above brightened to the point that the dancers seemed even more of a mysterious, ethereal force.
They slowly walked off, and the lights dimmed — an effective way for the energy of the piece to dissipate and gently release its own holding of the space (often I find that endings of concert dance works feel abrupt and less thoughtful than the piece of a whole — likely because of legitimate reasons such as choreographers running out of time or even creative inspiration and energy).
It felt to me like the space was humming with the energy of the physical expression and commitment that it just held. Just as the dancers held space, it held them.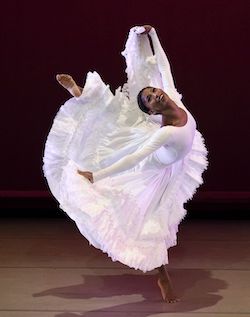 Alvin Ailey's Cry was first danced by the iconic Judith Jamison, and Jacqueline Green carried her torch by performing it in 2021 — and, I daresay, did her quite proud. Ailey premiered the work on his mother's birthday, as a birthday gift to her. His dedication was "to all Black women, especially mothers." The 2021 version opened with this same dedication — a profound bridge from the past to the present.
Another buttress on that bridge was the iconic long-sleeved white dress with a long billowy, ruffled skirt which Jamison wore dancing Cry — just as much adding majestic beauty to the already beautiful movement with the shapes and visual layers it contributed.
The score, jazzy with mysterious inflections, began even before the lights came up. The lights, for their part, cast compelling light and shadow and gently spotlit Green — but otherwise let Green's impassioned performance keep the focus.
Green's movement slowly gained size and force, moving from subtle, emotion-filled gesture to sweeping motions of limbs and her torso — no less emotion-filled. Early on in the solo, Green danced with a long, thin white cloth. It added dimension and further layers to her movement, but that movement remained the main focus.
Soon, she folded the pristine white cloth and shifted into a different kind of exploration: moving lower and higher in space, finding grounding and greater proximity to the grace of the heavens, exploring expression and the contours of the space with side-to-side motion.
The movement exploration evolved into action versus stillness, stop and go — yet, Green masterfully kept motion suspended rather than stopped, the kinetic energy continuing through her. Despite a heaviness at certain points, she found moments of ease while turning and extending limbs, appearing to float.
The tone soon evolved to something much more somber and reflective, the score retelling challenging memories but hope being present despite those memories. Green's gesture was full of strength yet malleability. She brought those qualities to every movement, every breath. She filled the very large spotlight with her presence, and offered a masterclass in performance artistry.
In another satisfying contrast, she kicked high yet bent deep — and toward the end of the section found the ground itself, perhaps feeling comfort in its support. Yet, she rose again — gestures embodying struggle yet nonetheless persistence. Then came a truly groovy and powerful score, and Green's technical command and artistic commitment was clearer than ever.
Along with an even greater sense of strength, there was a new playfulness in this section; she swished her long skirt side-to-side, her torso freely rippling with its motion, and smiled lightly as her leg floated up toward the heavens. This joyful movement continued as the lights faded down. It was clear that what she could experience, enjoy and persist through would continue.
That is soulfulness: struggle, persistence, rising above to bask in pure joy. If it wasn't already crystal clear, works in Alvin Ailey American Dance Theater's All Access Fall 2021 programming — and Holding Space and Cry in particular — demonstrated that this company can paint it in motion like no other.
By Kathryn Boland of Dance Informa.