It's been one long intermission since American Repertory Ballet (ARB) last performed in a theater, in front of an audience. COVID paused the dance world at large and left dancers and companies like ARB unable to perform as usual for a year-and-a-half. But now, things are starting to pick back up. And artistic directors like ARB's Ethan Stiefel are feeling excited and optimistic about returning to the theater where they belong.
Stiefel, a former principal dancer with American Ballet Theatre, became the ARB's artistic director just this past July, after the announcement of his new position was made in December of 2020, at the height of the pandemic. And now he is embarking on the opening of the company's much-anticipated 2021-22 season, featuring classic favorites and exciting works by emerging choreographers.
ARB is starting the season with a month-long "bubble" residency at Kaatsbaan Cultural Park. There, the dancers, artistic staff and newly appointed Artistic Associate Gillian Murphy will rehearse and develop new repertory in Kaatsbaan's remote environment which can safely accommodate ARB's roster of 13 company members, three apprentices and five ARB2 dancers.
Following the residency, ARB will return to its home venue, the New Brunswick Performing Arts Center, for a series of live performances from October 22-24. The program, Emergence, will feature Stiefel's Wood Work, along with works by Amy Seiwert, David Fernandez and ARB's own Ryoko Tanaka.
Winter will keep the company busy with performances of The Nutcracker at various theaters across New Jersey, from November 26-December 19; as well as a mixed repertory program at NYC's Kaye Playhouse in February 2022. The spring season will continue with Stiefel's reimagining of A Midsummer Night's Dream in April, and a new works program titled Movin' + Groovin' in June, featuring world premieres by choreographers Ja'Malik and Caili Quan.
With clearly an exciting and busy season ahead, Dance Informa chatted with Stiefel about how it feels to be back and what he hopes audiences will take away from these live performances, finally.
How does it feel to be getting back into the studio with your dancers after this long pause?
"For me personally, it felt like an extremely significant moment and one that provided me with more than one instance to pause and reflect upon how lucky we are to be here and doing what we are passionate about. At the same time, it didn't take long for things to begin to feel as familiar as ever."
During the pandemic and lockdown, was ARB doing any virtual classes/rehearsals or 'bubble' rehearsals? How has the transition been going back to normal?
"ARB, in constant consultation with medical professionals and the local health department, used best practices in rehearsing and presenting both a digital and an outdoor season safely and therefore successfully. This included installing ionization air purification systems in our New Brunswick, Princeton, and Cranbury studio locations, consistent testing for all personnel, splitting the dancers into respective 'pods' (dancers spread out across multiple studios), strict mask policies, holding a good number of performances outdoors, minimizing unnecessary contact, gallon upon gallon of hand sanitizers, and a myriad of other protocols adjusted to the ever changing nature of COVID. Because the pandemic is ongoing, we are pleased that we have the opportunity to kick off rehearsals for the upcoming season with a 'bubble' residency at Kaatsbaan Cultural Park."
What are you most excited about this coming 2021-22 season?
"Returning to live performances and presenting so many works that have never been seen live before by our audiences."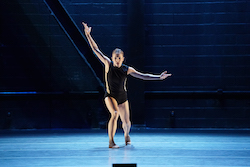 There are some exciting programs and new works by emerging choreographers! What made you choose the repertory and choreographers? Is diversity, in terms of both style and choreographers, important to you?
"I developed the programs based on seeking to provide both our artists and audiences with a diverse, enrichening and entertaining experience, in terms of both the content and the people involved in bringing the shows to life."
Audience members are probably so excited to get back to live performance, too. What do you hope they take away from this season?
"I am hopeful that anyone and everyone feels invited to come to the theater and once again connect, converse and reaffirm the value and meaning that ARB, dance and live performance has in uplifting our spirits and our communities."
American Repertory Ballet will present Emergence at the New Brunswick Performing Arts Center from October 22-24. For tickets, visit secure.nbpac.org/emergence. For more information on ARB, head to www.arballet.org.
By Laura Di Orio of Dance Informa.