Teachers and studio owners, we are craving connection and inspiration. After a long two years, it is time to be creatively re-energized and re-connected with other teachers and studio owners who share your passion.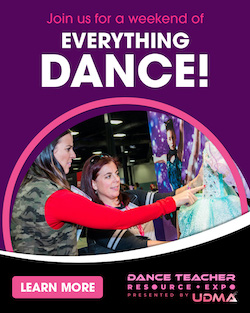 What a privilege to be in person at three different locations this year — Orlando Metro Show, New York City Metro Show and Dallas Metro Show. Nothing compares to feeling the collective energy from fellow artists in a movement class, face-to-face learning in a business seminar, or feeling costumes swish and testing out new flooring. As dancers and artists, we want to feel the passion and connection in a room to be inspired. UDMA has incredible faculty, guest speakers and vendors with valuable knowledge and a passion for helping you.
United Dance Merchants of America (UDMA) is the place to get inspired, motivated and connected. UDMA's "Dance Teacher Resource Expo" is perfectly named – a resource expo! There will be movement classes, business classes and an Exhibit Hall with vendors who will provide you with everything you need. Truly a one-stop-shop for every resource that you need to grow your business.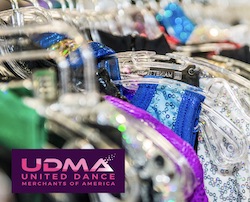 This year, tickets are customized to be exactly what you need. An Exhibit Hall-only ticket gives you all-day access to the Exhibit Hall where vendors will be available to help you with everything from costumes to ballet barres to curriculum to ticketing and more. A Business Track ticket gives you access to all business seminars as well as the Exhibit Hall. Business class topics will vary from city to city but are centered around growth practices such as utilizing social media, increasing profitability, expanding enrollment and more. A Movement Track ticket gives you access to all movement classes and the Exhibit Hall. Movement classes also vary in each city but include topics such as teaching tips for students with special needs, beginner hip hop, feel good funk and more. If you are interested in all of the classes and seminars, the All-Access ticket will get you into everything — movement classes, business classes and the Exhibit Hall. The speakers, teachers and vendors' main goal is to share their knowledge and help set you up for success.
It is difficult to inspire your students when you are not inspired. Register today and invest in two days of classes for yourself and your fellow teachers to gain inspiration, tools and practical skills to apply to your business. You will walk away from the weekend overflowing with ideas.
We hope to see you there!
UDMA's Dance Teacher Resource Expo will be held in Orlando, FL (September 25-26); Secaucus, NJ (October 9-10); and Dallas, TX (October 23-24). To learn more and to register, visit events.udma.org/events.
By Mary Scott of Dance Informa.