The Verdon Fosse Legacy will present a debut performance for New York City Center's 2021 Fall for Dance Festival.
The Verdon Fosse Legacy, whose mission is to promote, preserve and protect the artistic work of Bob Fosse and Gwen Verdon, was founded in 2012, by Fosse and Verdon's daughter, Nicole Fosse.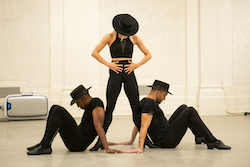 The Legacy will present a world premiere trio of dances all originally performed by Gwen Verdon for television in the 1960s — and never before seen in succession. Historically, the trios are thought to have been choreographed by Bob Fosse, but after much research and experience over the last decade or longer, Nicole Fosse believes these dances to be predominantly choreographed by Verdon with assistance from Bob Fosse. In honor of her mother, Verdon will be credited as a choreographer and the collection of trios will be titled Sweet Gwen Suite.
Linda Haberman, who performed in Bob Fosse's Dancin' and Pippin and served as assistant choreographer to Bob Fosse on Big Deal, will direct, reconstruct and provide additional choreography for Sweet Gwen Suite. Lynne Shankel will orchestrate and arrange the musical pieces of Herb Alpert, Lalo Schifrin and Johnny Mandel. Georgina Pazcoguin, "Rogue Ballerina" and soloist with New York City Ballet, will dance Gwen's roles.
Sweet Gwen Suite is commissioned by New York City Center for Fall for Dance, an annual dance festival with a goal to introduce new audiences to a wide variety of concert dance. Fall for Dance will run October 13-24, and The Verdon Fosse Legacy will open the program on October 13-14. Tickets (all at $15) go on sale September 19, at 11am ET.
For more information on The Verdon Fosse Legacy, visit www.verdonfosse.com.